'Creation From Catastrophe': a RIBA show explores building's disaster response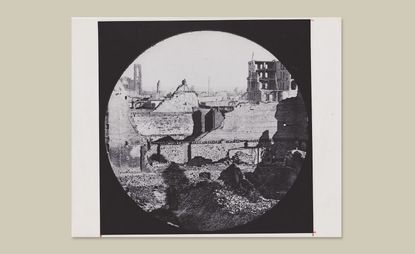 (Image credit: TBC)
RIBA's 'Creation From Catastrophe' focuses on ten projects spanning four continents, addressing the role of architecture in the aftermath of a state of emergency. Pictured: the Great Fire of Chicago in 1871 destroyed 9km of the inner city. The Chicago that rose from the ashes became a melting pot for capitalism, technological advancements and architectural talent.
Our planet can be a fickle and unforgiving place. News reports seem to be constantly detailing the next impending threat of natural disaster, with recent examples including the Cumbrian floods and the USA's monster blizzard, which wreaked havoc throughout the eastern states.

When calamity does strike, there is a pressing urgency to restore and improve what existed before; reconstructing in a way that buffers the occurrence of such events. This process also presents a unique opportunity to radically rethink and redevelop cities and communities for the better.

Approaching the topic from this angle, the Royal Institute of British Architects (opens in new tab) is hosting a new exhibition, 'Creation From Catastrophe', which focuses on ten projects spanning four continents, addressing the role of architecture in the aftermath of a state of emergency.

Opening with Sir Christopher Wren's master plans for the reconstruction of London after the Great Fire of 1666, the exhibition journeys through 18th century Lisbon, 19th century Chicago, 20th century Skopje and into the present day via projects such as Dayra Kahn's women's centre in Pakistan, built to be resilient in an area that is prone to flooding; the flood prevention plan drawn up following Hoboken's flooding during Hurricane Sandy; and Pritzker Prize winner Alejandro Aravena's project with his practice, Elemental, in his home country of Chile, which sets out to help – together with the local government – communities left devastated after this year's tsunami.

The exhibition includes an array of drawings, photographs, films and models, all highlighting pivotal moments in time in which humanity has managed to bounce back from various disasters (both manmade and natural). The show draws upon a common theme of rebuilding with a bigger picture in mind, using a 'bottom up approach' to reconstruction.

'Creation From Catastrophe' has been designed by young practice Aberrant Architecture. Working with natural raw cork against an opal acrylic grid and playful mirrored head-height borders, the architects created a space that gradually transitions into a raised platform, from which the visitor can enjoy an overview of the show as 'urban topography'.
In response to Nigeria's changing climate, architecture practice NLÉ developed two ecological buildings – the Makoko floating school and Chicoco Radio – built to withstand fluctuating sea levels. Pictured: rendered design for a water-based community in Lagos
In 2010, one fifth of Pakistan was submerged by floodwater. Working with architecture students, Yasmeen Lari trained local residents to re-build their own homes. Pictured here: Women's Centre, by Yasmeen Lari, located in Darya Khan, Pakistan.
INFORMATION
'Creation From Catastrophe' is on view until the 24 April. For more information, visit RIBA's website
ADDRESS
Royal Institute of British Architects
66 Portland Place
London, W1B 1AD
VIEW GOOGLE MAPS (opens in new tab)