Making history: highlights from the 2017 Chicago Architecture Biennial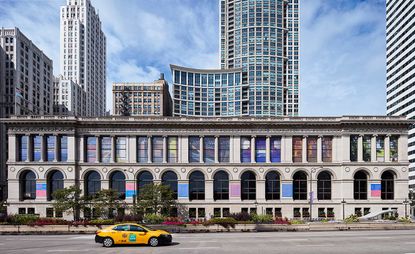 (Image credit: Tom Harris)
Chicago's second Architecture Biennial, curated by architects Sharon Johnston and Mark Lee of LA-based architecture practice Johnston Marklee, sent out a challenge to a contemporary generation of architects to 'Make New History'. The theme is drawn from Ed Ruscha's artwork of the same name – a book with 600 blank pages – and is a comment on the 'eternal present' that we have found ourselves swimming around in, with the Biennial an attempt to cast new anchors back in time.

While modernism abstractly departed from history, and postmodernism abstractly returned to it, today we find ourselves absorbed in the present within parameters that have changed so drastically through technology that history often no longer feels like a necessary resource (sometimes science fiction feels like a better one).

Yet, the curators challenged their sample of international participants to look again; and not just look, but rediscover, reassess and rethink beyond reposted images, regurgitated models, re-edited memes. After all, history is hindered by the limitations of accessibility: confined by search engines, obscured by colonialism and biased by the routes of globalisation. Expanding the 'entry points' to history was a way to find a new understanding of the developments that have defined the chronology of architectural progression.
Beneath the grand staircase of the Chicago Cultural Center, a project titled 'Mood, Matter, Manner, Mode' was a springboard to entering the main location of the Biennial. Johnston Marklee requested each participant submit three reference images for their work, which were then processed into groups by Robert Somol, director of the school of architecture at University of Illinois, Chicago.

Somol divided and sorted the images into four fields: mood, matter, manner and mode, further grouping them into word references such as 'Virtual', 'Geologic', 'Nostalgic' and 'Incongruent', among others. Categorising by trends or sentiments lets us think about history as a genesis of ideas and approaches, as well as people, happenings or buildings. This process helped the curators to divide the works in the Biennial into four 'histories': Building, Material, Image and Civic.

Further structures throughout the Biennial, such as the Vertical City and Horizontal City, became micro-exhibitions within the larger frame of the expo, with their own perimeters and briefs to participants and designated spaces in the ornately decorated and carpeted halls overlooking the flatly geometric Chicago building façades. With several gallery and museum projects in their portfolio, Johnston and Lee are familiar with the architecture of display and were careful to think strategically about how people would physically explore the Chicago Cultural Center – navigating the 'exhibition design as a mediation between the long lifespan of the building and the shorter lifespan of the exhibition'.

Each project feels site-specific, comfortably fitting its wall space, corridor or landing as well as the main rooms of the Chicago Cultural Center. Berlin based clothing label BLESS and Artek collaborated on a suite of furniture combining marble with fur, titled 'N°60 Lobby Conquerors'; architects AGENdA used printed velvet curtains to delineate space for the viewing of photographs along a corridor; while Monadnock's statement billboards quoting Chicago city planner Daniel H Burnham – 'Make Big Plans' and 'Make No Little Plans' – stretch across a landing and soar up into a stairwell. These seemingly banal or in-between spaces were also conceptually examined by works in the show – the historical 'ordinary' is often overlooked. Dogma examined the typology of the single room; Ania Jaworska subverted the structure of the reception desk; and Piovene Fabi used materials from the original Milan metro to design a suite of furniture.
The Biennial is an archive of the broadest sense, with each architect responding in a new way. LAN presented a project titled 'Paris Haussmann', looking at urban design through drawings and charts, examining new paradigms such as connectivity, accessibility and consumption; while 'Rooms for Books' is a book store installation and exhibition designed by MG&Co. Photography plays an important role throughout the Biennial, documenting and challenging architecture, providing an image of the present for the future: Luisa Lambri photographs Farnsworth House, James Welling photographs Lake Shore Drive Apartments and other Miesian monuments, and David Schalliol documents urban Chicago in flux. On creation these photographs instantly become part of history.

Big topics were explored sensitively and holistically. Hanging in the eaves of the glass house roof at Garfield Park Conservatory, one of the off-site locations, were lightweight pyramid-like structures designed by Francois Perrin – the prototypes reference unrealised modern approaches to climate change, from Yves Klein's 'Air Architecture' or Buckminster Fuller's techno-utopian structures connected to natural forms. Meanwhile, during the opening week of the Biennial, SO-IL and artist Ana Prvački collaborated on a performance piece that explored the emotional ramifications of climate change on the individual, contemplating life in a hazy, polluted future. Elsewhere, reuse was examined by T+E+A+M with the project 'Ghostbox', which displayed a proposal to rebuild the Packard Plant in Detroit by recasting the rubble from a partial demolition – 'manipulating the ascetics of urban decay' in response to the 'ruin porn' phenomenon. Nearby, HHF Architects examined opportunities for the development of an existing warehouse in Dreispitz, Switzerland, into a car park with multiple possibilities for future uses.

'Architecture is a building, it's a set of ideas and it's a process,' said Mark Lee in an interview with Sarah Herda, the curator of the first Chicago Architecture Biennial. The Biennial is a vehicle for architects to explore the 'ideas' part in a public arena – and where would architecture be without the development and study of ideas? The Biennial provides a platform for architects to be inward-looking, to take a moment to reflect while caught up in the 'eternal present', to think carefully, creatively and holistically, to retrace links back in time, then forwards again, to join the dots and, eventually, make new history.
INFORMATION

The Chicago Architecture Biennial continues until 1 July 2018. For more information, visit the website
Receive our daily digest of inspiration, escapism and design stories from around the world direct to your inbox
Harriet Thorpe is a writer, journalist and editor covering architecture, design and culture, with particular interest in sustainability, 20th-century architecture and community. After studying History of Art at the School of Oriental and African Studies (SOAS) and Journalism at City University in London, she developed her interest in architecture working at Wallpaper* magazine and today contributes to Wallpaper*, The World of Interiors and Icon magazine, amongst other titles. She is author of The Sustainable City (2022, Hoxton Mini Press), a book about sustainable architecture in London, and the Modern Cambridge Map (2023, Blue Crow Media), a map of 20th-century architecture in Cambridge, the city where she grew up.