Borough Yards arches spring to life with a summer bash
The Borough Yards arches, part of the wider scheme designed by SPPARC in south London, welcomes public and brands in, as the latest phase of development completes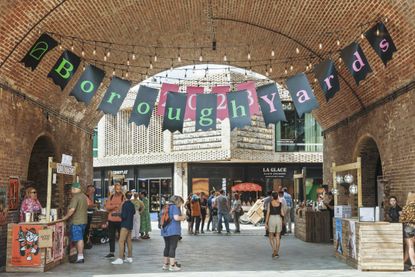 (Image credit: Ed Reeve)
The Borough Yards arches have just opened, offering not only a wide selection of new retail options to the area, but also creating new publicly accessible space and a pedestrian zone behind Borough Market. The scheme connects previously inaccessible Victorian streets together and allows visitors to walk through the entire Borough Yards site for the first time, helping the whole neighbourhood spring to life.
Borough Yards arches open with 2023 summer party
When architects SPPARC and developers MARK revealed the first phase of plans for Borough Yards to revive an industrial part of south London, the promise of an exciting new retail hub began to take shape under disused viaduct arches and industrial buildings. The launch of the arches sees the latest phase of development complete.
Inaugurated with a big summer bash, the newly pedestrianised area at Borough Yards threw open its doors to the public at the end of June. The event was filled with music, a range of activities, food stalls and the opportunity to browse existing and newly opened stores including Ace & Tate, Amorino and MALIN+ GOETZ. Throngs of visitors passed through the site, both deliberately and inadvertently, following the new and intuitive walkways that now connect Stoney Street, Clink Street and Bank End behind Borough Market.
By mirroring the materiality of surrounding brickwork yet playing with the bricks' order, pattern and finishes, SPPARC's attention to detail leaves little room to doubt Borough Yards is entirely at home in its context. Intentionally focussed more on retail and entertainment, and carving their own niche in the area, these new pathways and their arches do not seek to create competition with Borough Market, but rather add more avenues to traverse between, through and beyond both spaces.
Maps that signal location are hand-pasted to walls in a neighbourhood-like, playful way, purposefully eschewing more formal ways of signposting in retail spaces. Arch motifs throughout the space nod to the architecture, while a light installation across the opening façade plays with words historically associated with the area, all part of a series of informed design choices that gesture to the rich heritage of Borough that SPPARC architects have unearthed, reinstated and reimagined.
The porous central area that acts a focal point in Borough Yards is reminiscent of a Mediterranean piazza, a rare instance for urban dwellers to congregate in an otherwise densely built area such as Borough. Now, with Wimbledon screens erected as well as plans for future seasonal markets, Borough Yards is fast-evolving into its intended purpose as a new cultural and retail hotspot for London.
boroughyards.com

spparcstudio.com
Receive our daily digest of inspiration, escapism and design stories from around the world direct to your inbox
Nana Ama Owusu-Ansah is a writer and photographer from London. She first wrote for Wallpaper* in 2021, in a series on the new vanguard of African designers practising in Africa and its diaspora. She is drawn to projects centring on decolonial approaches to art, architecture, as well as community and sustainability. Nana Ama read Economics and Spanish at University of St Andrews, and, as an avid linguist, is passionate about using accessible language to invite new audiences to engage in design discourse.