These colourful pavilions reimagine music festival hierarchies
Beacons, a series of colourful pavilions by architects JAM for the 2022 Gala festival in London, addresses gig hierarchies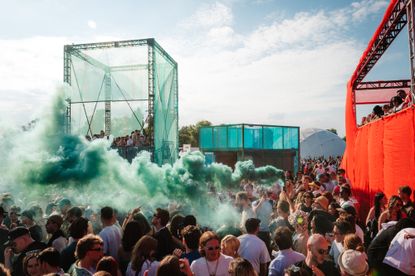 (Image credit: Photography: Garry Jones)
With Beacons, the newest stage at south London's premiere dance festival Gala, architects Joe Halligan, Daniel Waterstone and Adam Willis of studio JAM sought to create a space that achieved 'equality' amongst performing artists and audience. 'Instead of everyone looking at one particular point, it's about trying to get back this feeling of the house party, a relaxed, more informal way of enjoying music,' says Halligan, as the colourful pavilions are being constructed ahead of the music festival (its opening took place last week).
Beacons comprises four architectural structures in Peckham Rye Park. They include a vibrant orange cuboid-shaped platform for dancing with gestural staircases either side, and a dramatic turquoise tower, designed to act as a literal beacon, beckoning festival-goers and inadvertently serving as a crucial meeting point.
The structures are made from inexpensive, reusable materials such as truss, decking and balustrade, and then wrapped in debris netting typically used on scaffolding. The netting comes in standard colours, like red, green, blue and white, which were then layered to create secondary colours.
In daylight, the sun shines through the netting, creating a moiré effect, whilst at night the festival lights cast silhouettes of stage dwellers dancing on the so-called beacons. By platforming the audience above the artists' stage, Halligan hoped to 'level the hierarchy', which typically exists between the two groups. 'I think it means that there'll be an element of performance in the audience as well, as they'll be viewed in a similar way to the artists,' added Waterstone. 'It creates a direct dialogue between the artists and the people viewing them from within similar structures.'
The collaboration with Gala festival is one of the first projects from JAM, a new multidisciplinary design studio formed after Halligan and Willis parted ways with the award-winning collective Assemble, of which they were co-founders. This pivot into music-related design is a departure from the sort of work they did with Assemble, which was the first-ever collective and the first 'non-artists' to win the prestigious Turner Prize Award, in 2015. So why part ways with a collective they helped co-found after enjoying such success?
'I think it was just a desire to work in a smaller group, work in a more focused way,' Halligan explains. A desire to work with Waterstone, with whom Halligan and Willis studied under the late Florian Beigel, also inspired the schism. 'Assemble was lots of different people from different backgrounds that you'd not necessarily have trained in,' Halligan explains. 'We have a very similar education and frame of reference. We've had a decade in between of doing different stuff but the foundations are the same.'
The Beacons project stems from a shared belief amongst the architects that music festivals are an ideal setting in which to appreciate architecture and design. 'A lot of the key experiences people have in their lives relate to times they've been with their friends, experiencing music, be it at festivals or nightclubs,' Halligan says. 'I think these settings, particularly at festivals, are not always considered. Lighting is very good these days and sound's got really good but in terms of making spaces architectural, I feel like there's a lot that could still happen.'
Part of the beauty of designing for festivals, Halligan continues, is that these temporary 'buildings' are constructed in days and not designed to be long-lasting, providing a sort of instant gratification for the architect compared to the months or years they might wait to see a building come to fruition. Creating temporary structures also allows the designer to have more fun and take more risks with the materials they use. 'With temporary buildings, you should be much more ambitious,' says Halligan. 'It's not going to be there for that long so if you're not taking advantage of the opportunity of it being temporary, then you're not really pushing yourself enough.'
JAM's collaboration with Gala is part of a growing trend of architecture and design playing more of a role at music festivals, which have traditionally been considered purely in terms of their line-up of bands and DJs. 'Festivals like Gala or Horst are putting equal weight on the people designing the stages as the line-ups. It's not just about the musicians, it's like, this stage was designed by this Italian architect or this amazing Belgian practice,' he explains.
'It's really good, I think, because architecture is not that popular,' Halligan laughs. 'As David Knight said, if planning applications were as popular as music is, then we'd have much better cities because people would be demanding it!'
INFORMATION