Dessau's Bauhaus Museum design reflects philosophy taught by the German school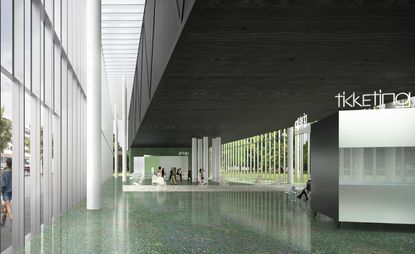 (Image credit: Courtesy addenda architects)
When Barcelona-based addenda architects won the competition to design the Bauhaus museum in Dessau in late 2015 there were some interesting parallels between the way they worked and the Bauhaus philosophy. As a collective of five architects from different parts of Spain and Europe, who developed the design in a collaborative way, addenda's process was 'closely connected with the seminal Bauhaus conception of a creative community', explains the firm's José Zabala.

Their proposal, which won out of 831 entries, is simple yet striking. Composed of a long, rectangular concrete bridge structure 'floating' inside a glass shell or curtain wall, it relates to Bauhaus principles 'visually through its form and reduced palette of materials', says Zabala, 'although its shape and appearance is more about the idea of a bold and economic structure rather than about being a formal recreation of a modern building', he adds.
Designing for flexibility and openness, as well as for the display of the world's second-largest Bauhaus collection of objects, many made out of paper, required highly climate-controlled technical spaces that proved to be one of the project's biggest challenges. The architects' solution was to provide a hermetic black box on the upper storey for the presentation of the collection, while a transparent ground floor would become a permeable and dynamic public space where the city and museum come together in a generous foyer, a temporary exhibition space, a restaurant and various events spaces.
RELATED STORY
The decision to locate the museum in the city's central park and not next to the famous Bauhaus school building or master's houses a little northwest of the centre was a conscious one, says Claudia Perren, director and chief executive officer of the Bauhaus Dessau Foundation. 'We wanted to be right in the middle of the city and not create a museum island', she explains.

The central location will help to 'amplify the Bauhaus cultural effect' throughout the city agrees Zabala, but also 'generate interest and attract visitors to compensate for the "shrinking city effect" experienced by certain German cities after reunification'. The hope is that the museum, which is due to complete on September 9, 2019, in time to mark the 100-year anniversary of the Bauhaus school next year, will become not only a magnet for Bauhaus aficionados from Germany and the world, but also a lively meeting spot and cultural venue for the city itself.
INFORMATION
For more information, visit the addenda architects website