Estudio Barozzi Veiga takes on Switzerland with two cultural completions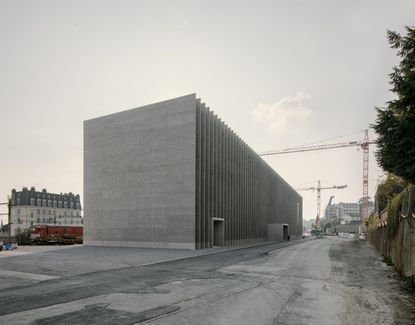 (Image credit: Simon Menges)
Switzerland has a reputation as a good client for powerful architectural minimalists and precision-loving modernists like Peter Zumthor, Valerio Olgiati, Jacques Herzog and Pierre de Meuron. The country and its local architects have formulated a rigorous architectural language to sit within the nation's wild geography. When a foreign architect speaks that language, the Swiss are eager to invite them into the conversation. So it is with Spanish-Italian practice Barozzi Veiga, winners of three Swiss commissions, two of which complete this year.

This Swiss 'coming out' represents a big moment for the 15-year-old practice, whose architecture has so far largely remained in Spain and Italy. Their cubic extension to Chur's Museum of Fine Art, faced with a simple coffered grid, cemented their reputation among the Swiss for Spartan yet compatible forms.

'We try to be expressive without adding complexity, and this way of working somehow matches with the culture of architecture there,' says Alberto Veiga. 'Sometimes you find the right place where you can feel closer to your style. They can understand.'

Fabrizio Barozzi and Alberto Veiga will cap off the summer with the launch of Tanzhaus, a dance theatre and incubator casting shadows over a postindustrial stretch of Zurich's Limmat River. Its concrete volumes step down the riverbank, their arches like a row of ballerinas in second position, attempting to reinvigorate Zurich's northwest waterfront with a public promenade and communal rooftop.
Once Tanzhaus is incorporated into Zurich cultural life, the duo turn their attentions to opening Lausanne's Musée des Beaux-Arts, commissioned by the Canton of Vaud to house a modest collection of modern masters, from Matisse to Kapoor. The grey-brick institution fits into a master plan, also designed by EBV, called Platforme 10, a 'museum city' on a five-acre railyard by the central station. It will join the new Museum of Contemporary Design and Applied Arts (MUDAC) and the Musée de L'Elysée, both designed by Lisbon's Aires Mateus, flanking a public plaza.

'I think we won the Platforme 10 competition because [the canton] understood the need to compose public space to incorporate the city into this plan,' says Veiga.

The idea of the plaza has become a constant in EBV's public work, and on this rumbling industrial site the new museum forms a bastion against the unpleasant day-to-day on the tracks, directing foot traffic toward the 18th-century city behind. The track-facing façade incorporates a window fragment from the 19th century locomotive shed formerly on the site. That building, the architects found, would have been impossible to adapt in its original form, so the window – and a subtle outline of its silhouette etched into the east wall – protected its memory.

To the north is a gaping entrance welcoming pedestrians into a full-height roof-lit foyer. Barozzi and Veiga designed this façade with deep, rhythmic brick louvres partially shading a spectre of windows. They provide a memorable element that mitigates the building's austerity as it controls natural and interior light.

Yet Veiga hopes visitors will forget about the building itself once they're inside the light-bathed interior. It is secondary, he reckons, to the human experience. 'To be a perfect machine to exhibit art, it must disappear.' Once it's complete, he says, Plateforme 10 should be greater than the sum of its parts.
INFORMATION
Receive our daily digest of inspiration, escapism and design stories from around the world direct to your inbox