Public hero: Archohm's Jai Prakash Narayan Interpretation Centre opens in Lucknow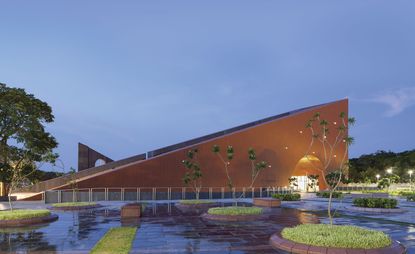 (Image credit: Andre J Fanthome)
The Indian city of Lucknow has just welcomed a striking cultural addition in the shape of the newly opened Jai Prakash Narayan Interpretation Centre. This imposing piece of architecture is a tribute to the titular socialist ideologue and Indian activist (or 'JP', as he was often fondly addressed).

Designed by Noida-based architecture firm Archohm Consults, headed by architect Sourabh Gupta, the monolithic structure is shaped as a massive 27m-high wedge that supports an arch spanning 20m. This, with a height of 9m, acts as a sculpted entry point to the centre.

The building should both symbolically reflect JP's personality as a loknayak – 'hero of the people' – and serve as a gateway to the surrounding JP International Centre, explain the architects. So, making the most of its overall shape to add an appropriate dose of drama, they designed the top to offer unparalleled vantage points and panoramic views of the city's Ram Manohar Lohia Park and the Convention Centre nearby.

Spread over a site area of 18.6 acres, the programme is divided into four zones that presuppose the intent in their names – 'Absorption' sits in the lower floor plates, 'Reflection' is housed half way through the vertical ascent, 'Introspection' lives in the upper floors and 'Contemplation' occupies the topmost part of the structure. Respectively, the double-height basement, with a floor plate of 1,350 sq m, floats alongside water bodies on either side; the first floor hosts photography galleries extending upwards to the second level; and the uppermost floor plate frames spectacular vistas, while staggering downwards to eventually merge into the amphitheatre and the public level plaza on the ground level.

Taking cues from JP's personality – honest and unpretentious, as he is remembered to be – the building's materials comprise ventilated dry terracotta cladding on the triangular façade, in conjunction with dark honed and flamed granite that was chosen for symbolising grounding and stability.
INFORMATION
For more information, visit the Archohm Consults website
Photography: Andre J Fanthome