Architects Directory Alumnus: Escher GuneWardena
The Wallpaper* Architects Directory has turned 20. Conceived in 2000 as our index of emerging architectural talent, this annual listing of promising practices, has, over the years, spanned styles and continents; yet always championing the best and most exciting young studios and showcasing inspiring work with an emphasis on the residential realm. To mark the occasion, this summer, we are looking back at some of our over-500 alumni, to catch up about life and work since their participation and exclusively launch some of their latest completions. 2000 Architects Directory alumnus Escher GuneWardena Architecture is now an established, prolific West Coast studio, and here we visit its latest offering, the showroom for rug brand Woven, in Los Angeles.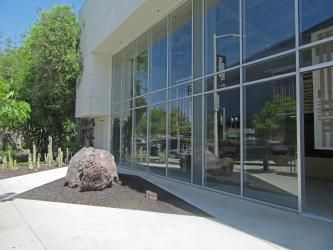 (Image credit: Joshua White)
Over two decades ago, Los Angeles based architects Frank Escher and Ravi GuneWardena embarked on a career trajectory that explored a trifecta of their collective passions: architectural history, cultural topography and the art world. 'There are three legs of our practice and they are all connected – there are no firm walls between them, one shapes the other,' said Escher.

The duo has collaborated on historic preservation projects of iconic homes, from John Lautner's Chemosphere to the Eames house. 'Over 20 years ago, we were interested in architectural history and art but it has expanded dramatically from local [projects] to all over the US and Europe,' said Escher, 'and, LA has become an international center for contemporary art.'

When they are not finishing up the Venice Biennale exhibition space for Sharon Lockhart - whom they have been working with for the past 15 years - they are collaborating with artists from Mike Kelley to Stephen Prina. 'What has developed in the last 20 years, is that these interests are merging,' said GuneWardena. This includes projects such as the LACMA exhibition 'The Jeweled Isle: Art from Sri Lanka' and a pop-up shop for Hermès Petit h in Orange County.

The pair has just completed a new showroom for contemporary, antique and limited edition, hand-woven rug maker's Woven, across the street from the Pacific Design Center in West Hollywood; expertly realised with the help of the studio's Cristiano Aires-Texeira, who was the work's project manager.
'Woven already had an interesting visual identity,' said GuneWardena, 'they were already working with artist Rose Mendez and they spoke a similar language to what we are interested in.' This translates to 'paring down any space, project or assignment to what is essential and then taking away all the distractions,' he said. Since Woven was a project about rugs, 'we created an atmosphere where the focus is on that product more than architectural work. Though we take great care in creating the architecture, it's always about giving the pride of place to the activity or product we are working on.'

The rugs are set amid expansive concrete spaces conjuring the atmosphere of the international souks and bazaars in a labyrinth of different routes and pockets with natural light streaming in, positioned as a permanent installation. 'It's an attitude that came from working with artists and designing exhibitions,' said Escher. 'It's important to understand how you frame things, so people see what you want them to see.' According to GuneWardena, 'the other thing that informs the layout is really a choreographic path through the space. How can the architecture inform, rather than using signs or a sales person?'

Back to residential and cultural endeavors, current projects include working on restoring Paul Williams personal home, a Richard Neutra house, and a church in Lincoln Heights that was central to the Chicano rights movement.

Another part of the team's work that developed in the last few decades is exploring spirituality and their environments, as well as the interesting history of religions melding together. Next up for the team is building a Buddhist retreat center in the California San Gabriel Mountain range, and an episcopal Franciscan monastery in an affordable housing project in Riverside, California.
MORE FROM WALLPAPER* ARCHITECTS DIRECTORY
INFORMATION