Architects Directory 2020: Malu de Miguel, Spain
Set up in Madrid only three years ago, Malu de Miguel's practice may be young, but the dynamic Spanish architect is a master at creating well proportioned, tactile residences, using humble materials and plenty of natural light. Her portfolio includes a house in Menorca and a family home in Madrid suburb Boadilla del Monte. The latter combines brick, concrete, large openings, light wells and airy double height spaces in a modest home with a sense of spatial luxury that punches above its weight.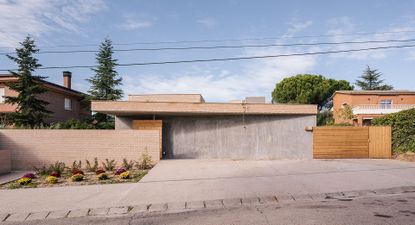 (Image credit: Imagen Subliminal )
Designed by the young Gran Canaria-born, mainland Spain-based architect María Luisa 'Malu' de Miguel, this family home in Madrid's Boadilla del Monte suburb is straight out of Bong Joon Ho's Parasite movie – a neatly executed, modernist exercise in light, levels, texture and double height spaces all encased in industrial concrete.

Designed to accommodate a family nucleus made up of three generations, de Miguel conceived the house as a continuous space of boundary-free play, escape and endless circuits. There are no set routes or generationally segregated common spaces; instead, two pavilions are connected by a shady inside / outside courtyard enclosure that is open to the elements from March through to October.

A graduate of the Escuela Técnica Superior de Arquitectura de Madrid, María Luisa de Miguel worked at the Arup, the multinational construction consultancy, before starting her own Madrid practice in 2017.
MORE FROM WALLPAPER* ARCHITECTS DIRECTORY 2020 (opens in new tab)
For this project, her first independently completed commission, the architect chose 'rough and vibrant' materials to create harmony. 'Exposed concrete formed with OSB (standard, oriented strand board shutter) produces a texture that turns the concrete an almost vegetal, friendly and warm material.'

Half depth, rustic-faced brick, bonded with a mortar similar in thickness to the sandy-red blocks recalls old factory walls, 'from a time when matter, and not chemistry, was the main resource of construction.' Ingeniously, the versatile brick, configured, woodworking style, in various biscuit jambs, projections, uprights and cantilevers, has also been put to use as fencing, windowsills, exterior shelves and, waterproofed with a transparent primer, shower-room walls.

Wallpaper* especially loves the row of three, huge and almost comically low-tech raffia roller blinds hung above a sliding door outside the dining room, their basic rope mechanisms lashed to the exterior wall like a wayward spinnaker.
INFORMATION
maludemiguel.com (opens in new tab)