Vladislav Doronin on Aman New York, and the brand's future
Aman New York opens in Manhattan, offering hospitality and branded apartments designed by architecture studio Denniston. Owner Vladislav Doronin talks about his 'hardest and most expensive project' yet, Aman's new urban roll-out, and how he's diversifying the world's most coveted hotel brand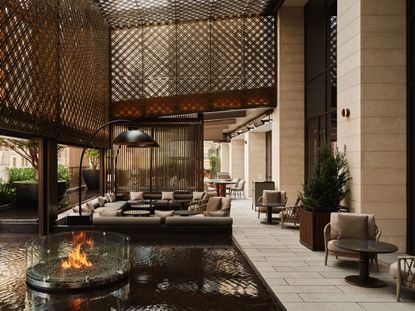 (Image credit: Robert Rieger)
Wallpaper* Newsletter
Receive our daily digest of inspiration, escapism and design stories from around the world direct to your inbox
Thank you for signing up to Wallpaper. You will receive a verification email shortly.
There was a problem. Please refresh the page and try again.
Standing at the crossroads of Fifth Avenue and 57th Street, Vladislav Doronin is surrounded by monuments to Manhattan's prosperity. Opposite is Bergdorf Goodman; to the right, Trump Tower; and to the left, the pencil skyscrapers that line Billionaires' Row. Behind him is what he hopes will be his contribution to this gilded corner of Midtown: Aman New York.
'This is the hardest and most expensive project I have ever done,' he says. Inside, a 700-strong army of workers is applying the finishing touches to the $1.45 billion redevelopment of the gold-accented, 26-storey Crown Building, the 1921 creation of Warren & Wetmore architects of Grand Central Terminal fame. 'It's pressure but also a joy,' says Doronin, who bought the building in 2015.
Our meeting spot, on a muggy August afternoon, is fitting because the Aman hotel group itself is at a crossroads. Aman New York is not only the brand's first urban branch in the US, it is the first anywhere to come with branded Aman city apartments for sale, and the first to host a private Aman Club, where membership will cost up to $200,000 upfront, plus $15,000 every year thereafter. It also sets a price record in what is already one of the priciest hotel cities in the world. An entry-level room costs almost $4,000. For that rate, you can get a suite at the nearby St Regis, Peninsula, Plaza or Park Hyatt and have change for a grand dinner. Or two.
It does not, however, sound expensive to Doronin, 59, who snapped up the Aman group for $358 million in 2014. 'It's a unique hotel – with unique prices,' he explains. His loyal clientele seems to agree. 'We just opened and we're already fully booked for the next few months,' he claims. It helps that there are only 83 rooms. 'All we need to find is 83 people.'
Can he sustain high occupancy rates when the Aman is no longer the new kid on the block? 'Yes, because we're creating something that does not exist in this city. All our rooms are suites. Where else can you find that, not to mention the design, the materials, the service, the lifestyle we offer? Where else can you find a three-storey, 25,000 sq ft spa that includes two spa houses with double treatment rooms, Russian banya and Moroccan hammam, and private outdoor terraces with hot and cold plunge pools?'
But what about the Aman Club? Is that not a step too far, even for the super-rich? Most companies reward their most loyal customers with perks; they don't charge them extra to join a club. The Aman Club offers 'an expanded series of Aman experiences – culinary, wellness and culture', and a ten per cent discount on food and soft drinks. But the main benefit of membership appears to be getting into the New York hotel when it is as full as Doronin claims it will be. Club members have priority access to all Aman hotels, and will be able to use club spaces at the city properties. 'For some people, it sounds like a lot of money,' he concedes, 'but you're paying to be among certain people.'
What will Aman junkies, as the hotel group's loyal guests refer to themselves, get for their $4,000 a night, rising to $30,000 for the largest suite? Every suite, as well as almost every communal space, including the indoor swimming pool, has at least one large gas fire. (Doronin must enjoy good relations with the FDNY – not to mention his conscience. Fires and air conditioning? In New York? In summer?). Guests can personalise their rooms by adjusting the pivoting louvre-doors, either opening up the space or making it more private. A mural inspired by the 16th-century masterpiece Pine Trees (Shōrin-zu byōbu) by Hasegawa Tōhaku decorates each bedroom.
All the spaces, public and private, are decked out in Aman's trademark earthy tones, using dark marble and wood that create a sense of serene minimalism, in sharp contrast to the grand theatricality of the neighbouring grandes dames, St Regis and the Plaza. The floors, doors and furniture are made from a mixture of oak, walnut, and cinnamon woods and Belgian Blue marble (it's not blue, but rather grey or black). Fittings are bronze, brass, and stainless and blackened steel. Many surfaces have a woven texture pattern evoking rattan baskets used across Asia.
On the 7,000 sq ft garden terrace, designer Jean-Michel Gathy of Denniston Architects has created reflective pools with dramatic fire pits, which look like they are floating in the water. Leading off the terrace are Japanese and Italian restaurants, a jazz club, cigar lounge, and wine library.
As we walk and talk, Doronin, who is a billionaire, points out his favourite design features and tells me how expensive they were to build and install. On the garden terrace, he singles out the heated outdoor tiles and retractable glass walls and ceiling that will keep guests warm even in the depths of winter. He admires the bronze lattice walls that ensure guests can look out over the cityscape but make it hard for those in neighbouring buildings to peer in.
There are 22 apartments (Doronin himself has bought one), including a five-storey penthouse which sold for $180 million. Owners of the larger ones will enjoy perhaps the greatest wake-up in any city in the world. They will be able to walk out onto the terrace and start their day swimming laps of the rectangular infinity pools that hang off the side of their apartment, 20 storeys above the streets.
RELATED STORY
Aman New York will be the first of a handful of urban Aman hotels in the US. Next to open over the next two to three years will be Miami Beach, followed by Beverly Hills. Doronin will also soon open Aman apartments in Tokyo and Aman hotels in Bangkok and Mexico, to be followed by outposts in London and Paris once the right sites are found. 'I want to be in the major cities. My aim is to be 50/50 rural resort and urban,' he says.
Aman started as a small 40-room hotel in Phuket called Amanpuri that developed into a resort chain, largely in wilderness locations. Is Doronin worried he might be straying too far from the brand's roots? 'No. This is an urban resort. It is a vertical resort, not a horizontal one as we have elsewhere. You don't have to leave this building if you don't want to.' After a morning in the spa, most guests will certainly feel horizontal.
In the lead-up to Doronin's purchase of Aman, he was criticised as a novye russki who would over-expand and kill the understated brand. He defended himself to Wallpaper* in 2014 in the first interview at his futuristic Zaha Hadid-designed home just outside Moscow (W*193), saying: 'Everybody thinks I'm going to go massive. Not true. I understand that I bought a unique brand, not a financial instrument.' With 34 Amans now open and nine more on the way, is he true to his word? 'Yes and anyone who says otherwise doesn't understand or know me. I've known the brand since 1990 when I first went to Amanpuri. I bought a jewel which I needed to polish a bit and bring to different locations. I'm not going for quantity. I go for quality.' His customers seem happy enough. Average occupancy rates that were as low as 40 per cent when he bought the brand in 2014 are now 80-90 per cent, he says.
Doronin's expansion plans don't stop with the big city roll-out. He is launching a new brand called Janu, the first sub-brand in the company's 34-year history. It's designed 'to grow our Aman junkie community' by appealing to a younger audience. The properties will have the same Asian chic aesthetic but will offer more communal activities than Amans, which are celebrated for privacy. (Janu means soul in Sanskrit; Aman means peace.) 'There will be sports classes, more action, more togetherness, different music,' he says. Food will be simple, 'more brasserie style'.
Janu hotels will be larger – breaking the typical fewer-than-100-room count of Aman hotels – and staff-to-guest ratios will be lower than the usual seven-to-one, which will enable him to make Janus 25 per cent cheaper. He has signed 12 deals for the new brand, including in Montenegro, Tokyo, Seoul, and one in Saudi Arabia, where he is also opening three Amans. He has met the Kingdom's controversial de facto leader, Mohammed bin Salman, and declares: 'I think he can move the country in a very positive direction and he's achieving results.'
Is he not worried about investing in a country with an enduringly awful human rights record? US intelligence has concluded that bin Salman likely personally ordered the murder of independent Saudi journalist Jamal Khashoggi in the Saudi embassy in Istanbul in 2018. Doronin won't engage with what he simply calls 'politics' but says: 'I've heard a lot of negativity but I've been there. It's already changing. It's different, especially for women, who can travel freely, work, socialise freely, drive. It may sound odd to Westerners but it is moving.'
Doronin is not simply diversifying the Aman brand itself, he is adding new products to try to make Aman a broad lifestyle brand. There's Aman Skincare; Sva, a range of supplements; Aman Fine Fragrance; and The Essentials by Aman, 'comprising timeless ready-to-wear pieces that answer the needs of every Aman guest', the brand's marketing folk say. Fine. But is it appropriate to sell baseball caps with an A logo? After all, when Adrian Zecha founded Aman in 1988, he decreed that Aman should not have a logo. 'We're very careful. We're not doing a whole brand. Just a few very sophisticated products.'
Doronin, who was born and raised in the Soviet Union, made his fortune in real estate in Russia in the 2000s but has since sold all his business and personal assets there, including his Hadid-designed spaceship in the woods. It now belongs to a Russian – he won't say who. When I first met him in Moscow in 2014, he was keen to play up his Russian roots. He described his life as 'Russian scale! I don't do anything small!' But now, after the invasion of Ukraine, he is at pains to distance himself from the land of his birth. He tells me he renounced his citizenship of the then-Soviet Union in 1986, before moving to Hong Kong, and managed to become a Swedish citizen four years later. 'I've never held a Russian passport. I live in the West,' he says. He has homes in Miami, New York, London, and near Zurich. He has shelved plans to create an Aman in Russia.
His three children – one with his ex-wife Ekaterina Doronina, and two with his current partner, Kristina Romanova – were born outside Russia. He will not set foot in Russia again until what he refers to as 'the situation' is resolved. 'This is what I hope and I wish for fast because that will be positive for everybody, including Russia.'
INFORMATION
Receive our daily digest of inspiration, escapism and design stories from around the world direct to your inbox