Play for today: Adam Khan gives the indoor play centre a modern makeover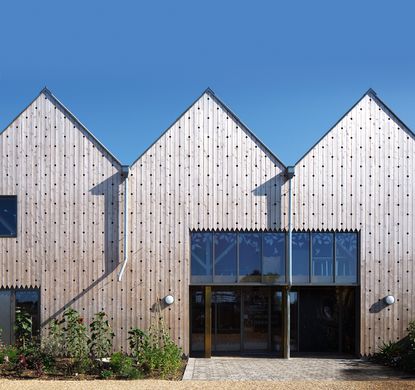 (Image credit: Photography: Lewis Khan​)
The indoor play centre. Misery to parents. When it's wet outside and the kids have gone hyper, when the tech ban is so severe that it includes your own phone, when all that's left in the snack cupboard are soggy rice cakes, then, and only then, does a trip to the indoor play centre seem like a good idea.

Adam Khan, a London-based architect and father of three, remembers all too well those hours spent 'sitting on a leisure centre chair, inhaling the smell of wee and burgers', as his kids played merrily. 'I'd wonder why these places are so depressing when often a great deal of effort goes into creating them in the first place.'

So when he suggested designing an indoor play centre at Pensthorpe Natural Park in Norfolk, he vowed to create a space that children – and adults – would love. Pensthorpe is a 700-acre wetlands and nature reserve, featuring a garden by Dutch designer Piet Oudolf, wildlife trails which meander through woodlands and lakes, a walled water garden and a café. Owner Bill Jordan, co-founder of the Jordans cereal brand, and his design-conscious wife Deb, called on Khan to extend the park's offering to young families and give the whole site an update.

Khan devised a masterplan that included renovating the car parks, reception area, visitors' centre and café, as well as a jumble of 17th-century, Grade II-listed cottages that are currently being turned into offices, meeting rooms and a wellbeing facility (the last part in the scheme that is still ongoing). He has created a village square, which will host farmers' markets, and a village green with a firepit for hog roasts.

Taking cues from Tumbling Bay, the Olympic Park's adventure playground, Khan also designed WildRootz, a 7,000 sq m playground filled with rope walkways and wooden huts, tunnels and burrows, zip wires and slides. Shallow streams to paddle in, sandpits and meadows to explore, mean children 'learn about nature through nature rather than through plastic trees and gizmos', says Khan.

Khan applied the same philosophy to the 530 sq m Hootz House. An assault course of ropes, slides, bridges and huts, it's a challenge for any teeny Tough Mudder keen to flex their muscles in real time. There's also a party room, a decent café and a mezzanine where adults can sit and survey the scene below in style.

Khan is known for his richly textured facades, and the space's wooden exterior features a grid of 50mm holes in which insects and birds are invited to take up residence. 'The overall effect is of an owl's plumage or a spotty duck,' he says. 'We're saying to Pensthorpe's very experienced wardens, "Here's your empty hotel, do with it what you like."' It's still new and no critters have colonised it yet, but there are plans to create bug hotels and seduce a variety of nesting birds.
Inside, the top priorities were good acoustics (there's no hell quite like a mass of screaming kids, and the barn can hold up to 175 of them), natural light and temperature control. Patches of sunlight filter through the many small windows in the roof; large east-facing windows prevent the space from overheating; and high windows provide views on to the tree line so that visitors are aware of the seasons.

At ground level, stainless steel 'mirrors' reflect light and amplify the sense of space, and outside, guttering sticks out from the walls, creating an impromptu shower when it rains. The zigzag finish on the wood was a late addition, a sort of 'hem', inspired by pinking shears. Khan had a budget of £1m so it was 'a low-cost and effective way of adding detail'.

The structure exists as a series of layers. There's the outer wooden panelling, encasing a steel frame (where Y-shaped beams echo trees), and a wooden mezzanine, which was inserted last. It was inspired by the typical manager's office found in a factory or a fully operational agricultural barn. An absence of concrete or plaster meant the structure could be put up fast, and wooden panels were clipped on to the frame on site.

'We wanted to get a sense of layering to show the separation and looseness and freedom of the building,' says Khan. 'This creates nice moments, similar to those in an old building, where you can see that elements have been added and changed over time. We like making it evident how it was built.'

Now that he has successfully reinvented the indoor play centre, he's looking afresh at old bricks, reworking Tudor patterns to look like 'crazy Christmas jumpers'. The stunning optical designs appear on social housing he's created in Hackney and Hamburg, and on a private house in Hampstead due for completion next year. Khan's prestigious, and growing, portfolio reveals he can turn his hand to most things – except, perhaps, leisure centre chairs.

As originally featured in the January 2016 issue of Wallpaper* (W*202)
INFORMATION
For more information, visit Adam Khan's website (opens in new tab)
Emma O'Kelly is a contributing editor at Wallpaper*. She joined the magazine on issue 4 as news editor and since since then has worked in full and part time roles across many editorial departments. She is a freelance journalist based in London and works for a range of titles from Condé Nast Traveller to The Telegraph. She is currently working on a book about Scandinavian sauna culture and is renovating a mid century house in the Italian Lakes.