Maria-Sole Ferragamo reveals new jewellery at PAD London
Maria-Sole Ferragamo and Elisabetta Cipriani Gallery have created jewellery collection 'Trame', featuring upcycled brass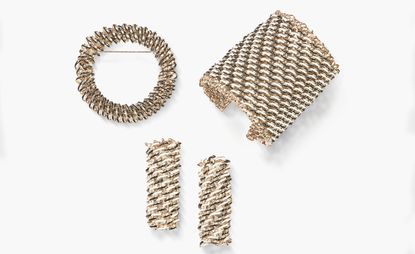 (Image credit: So-Le Studio)
How does one create a jewellery series that deconstructs notions of intrinsic value and references the enduring appeal of pieces made by hand? This was the starting point for the collaboration, now showing at PAD London 2023, between Maria-Sole Ferragamo, the jewellery artist and founder of sustainable luxury house So-Le Studio, and Elisabetta Cipriani Gallery, London's unofficial home of wearable art and sculpture. 'Elisabetta and I share a common passion for exceptional craft and unique design. I think she likes the conscious way I create,' reflects Ferragamo.
The collection created, 'Trame' (Italian for 'weave' or 'plot'), is an evocative exploration into upcycling. The pieces presented – a brooch, a necklace and a bracelet – at first sight appear to be made of gold but in fact are crafted out of brass shavings, trucioli, that would otherwise have been melted down for scrap.
Ferragamo's commitment to radical reinterpretations of materials is not new. Previous forays have made her a latter-day alchemist of deadstock leather; in explaining the genesis of these new pieces she notes: 'Creating is an act of love for me. Using leftover materials during my creative process is even more of a testimony of the love and care I put into these discarded resources, [and] I see beauty and potential in each of these existing materials and repurposing them, giving them a second chance, no matter what challenges and limits they may come with.'
The challenges were numerous. 'Firstly because not all brass shavings have the same diameter,' she says, and were further exacerbated by Ferragamo's decision to hand weave each piece, creating a one-of-a-kind sculpture for the body. 'It was a sort of meditation. I embraced the value of time and craftsmanship,' she observes. The collection is also an homage to the Arte Povera Movement of 1960s and 1970s Turin, which celebrated the use of non-traditional everyday materials in fine art. Proposing art-jewellery formed from humble materials and offering it at one of the world's high temples for luxury is a challenge that Ferragamo has gamely accepted. With clients given a choice of a gold-plated finish or gold-plated with white and black enamel accents, she notes the 'collection represents a harmonious blend of ancient aesthetics and a forward-looking vision'.
'Trame' can also be viewed as a love letter to the inventiveness of artists. Maria-Sole's grandfather Salvatore famously improvised with unconventional materials during the Second World War, using sweet wrappers to create a weave of his own. With 'Trame', Maria-Sole not only creates contemporary treasures born out of scarcity, but also articulates notions of community in the collection. More than collectable adornments, her female-led collaboration with Elisabetta Cipriani segues into wider discourses of female empowerment. 'The intricate weaves serve as a tribute to the power of women, representing the strength that comes from unity and interconnection.'
Like many artists, Ferragamo freely admits to being 'very curious to see clients and visitors' reactions', adding, 'this is the first time I'll be presenting work at PAD and it is a very important step for me as a creative and an artist'. For the wider jewellery-collecting community, the collaboration between Ferragamo and Cipriani feels like a timely partnership and an inevitable and exciting progression for a recognised force in sustainable jewellery.
Receive our daily digest of inspiration, escapism and design stories from around the world direct to your inbox