'Unexpected Pleasures' at Design Museum, London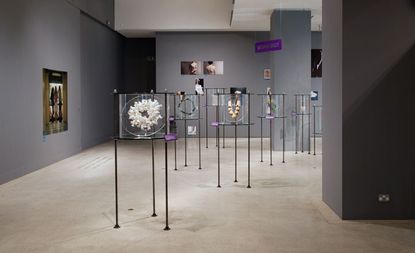 (Image credit: press)
Jewellery is rarely the focus of major exhibitions at prominent galleries. This year has been different, with standalone exhibtions from Cartier (opens in new tab) and Van Cleef & Arpels (opens in new tab) being staged in museums across Europe. Adding to that this week, and somewhat at the opposite end of the scale, is 'Unexpected Pleasures: The Art and Design of Contemporary Jewellery (opens in new tab)', at the Design Museum (opens in new tab) in London.

Rather than look only at what's new in contemporary jewellery – a movement that, roughly, aims to place jewels in a social context – the show is a celebration featuring around 200 pieces from jewelers and designers from the 1960s to today. So, alongside art-jeweller stalwarts such as British designer Wendy Ramshaw (opens in new tab)'s interlocking rings of gold and silver, are pan-decade designs such as Gijs Bakker (opens in new tab)'s Porsche bracelet in Polyurethane, Pierre Cardin (opens in new tab)'s mobile-style acrylic necklace and Manon van Kouswijk (opens in new tab)'s poppy paper pearls.

That means that there are some absolute crackers on show – Ramshaw's 1988 'Rings for Woman in an Armchair', for instance, are brilliantly modern, beautiful and curious, and her influence pervades throughout the exhibition. Ettore Sottsass (opens in new tab)' 1967 graphic necklace of gold, quartz and onyx is equally compelling.
Of the new names featured, Japan's Toru Yoshikawa's Ribbonesia (opens in new tab) project's origami-like grosgrain-ribbon fox is a standout piece, its simplicity, tone and texture imbuing it with a feeling of preciousness. Alexander Blank (opens in new tab)'s darkly considered response to the proliferation of 'animal' jewellery, 'Ed's Friend Duck' in foam, silver, Perspex and lacquer is also so carefully conceived and realized, especially in his creative use of materials, as to make much of the rest of the jewellery on show appear dated and lacking in originality.

It's a good thing to consider jewellery from a more conceptual, design-led perspective but while the ambition of the expert curator, Australian designer and maker Dr. Susan Cohn, to show contemporary jewellery from every angle, is a bold one, the result is a sprawling mélange of objects that, as a whole, somehow seems to lack contemporary context. That said, every visitor will find something to delight, surprise and inspire further thought here.
ADDRESS
Design Museum
Shad Thames
London SE1 2YD
VIEW GOOGLE MAPS (opens in new tab)