Deep thinker: Seiko engineer Ikuo Tokunaga's subaqueous solutions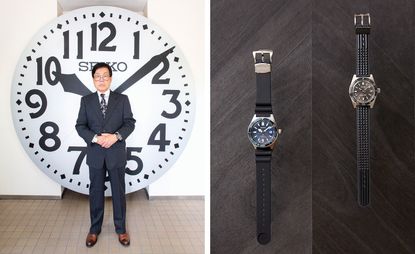 (Image credit: Máté Moro, Yasuyuki Takagi)
Left, Ikuo Tokunaga, photographed at the Seiko Museum, Sumida in August 2017. Tokunaga wears, from left to right, a Grand Seiko Spring Drive Chronograph and his own customised Seiko Professional Diver's design, based on several post-1975 versions of the so-called 'Tuna' models. Right, the Prospex Automatic Divers' watch (£799) and the Prospex Diver limited edition (£3,750); both available at Seiko's new London flagship boutique.
Whether it's the 'Orange Monster', 'Tuna Can' or 'Sumo', the release of a new Seiko diver's watch sparks frenzied debate (and nickname invention) on online watch forums. This year, there is plenty to talk about as the Japanese watchmaker launches a replica edition of its first-ever mechanical diver's design, along with two new superior-tech versions, due in stores this month.

Seiko entered the performance watch arena in 1965. Buoyed by its association with the Olympic Games, as official timekeeper for Tokyo 1964, it had begun to consider the new era of gadget-hungry consumers. Its first diver's effort was well received, the clean, wide hands and dial markings presenting a contemporary Japanese take on an established Western template. Water-resistant to 150m, its high legibility and tough construction also led to the watch being adopted as a key tool for the Japanese Antarctic Research Expedition in 1966.

But it was an altogether more personal challenge – and the dogged determination of an independent engineer, Ikuo Tokunaga – that led to the launch of its Prospex Professional Diver's series in 1975. The watch featured a number of technical firsts and established Seiko as a serious player in professional instruments.

'Just before I started working with Seiko in the late 1960s, a letter from a professional diver had arrived at the company's head office,' recalls the now-retired Tokunaga, who worked with Seiko for 35 years and is a revered figure in the business today. 'He explained that no diver's watches, including imported ones, were of use to him in his field as he worked in the oil and gas industry using a saturation diving technique, featuring a mix of helium and oxygen. We visited his team and asked them about the problems they were having.'

Working at 350m depths in pitch-black, freezing conditions was among them. But the most significant problem was not the water resistance under high pressure that other diver's watches were designed to combat, but the lack of resistance to helium gas, particles so small they penetrated the gasket.

Tokunaga was not a watchmaker. Rather, his focus was the behaviour of material structures. He started to experiment with titanium. 'Compared to stainless steel, titanium is an ideal material for diver's watches because of its corrosion resistance, intensity and lightness,' he says. 'However, as this was the 1970s, we had to develop new technology. Pressure-testing equipment was not hard, but the device to test the helium gas penetration was very challenging.' His solution was a single-construction lightweight case and an L-profile gasket that enabled an air- (and helium-) tight fit of the glass to the dial. In 1975, Seiko launched a completely new type of diver's watch, affording unprecedented gas-tightness, for professional use.

The team had notched up 23 horological firsts in the process, including the unique accordion polyurethane strap, designed to move with the expansion and contraction of a diver's wrist as he reached new depths. Now a classic Seiko diver's watch motif, it was devised by another of the brand's lauded design associates, Taro Tanaka, who was inspired by the folding camera he used. Tanaka also created the Professional Diver's outer case construction, aka the 'Tuna Can'.

Seiko has a healthy tradition of partnering with independent designers. In the late 1890s, its founder Kintaro Hattori met 28-year-old engineer Tsuruhiko Yoshikawa and they started producing their own clock, the 'Bonbon', as an alternative to popular Western imports. By 1924 it had paved the way for Hattori to capitalise on the Japanese predilection for precision (seiko) and establish the world's first Japanese clock and watch manufacturing business.
As originally featured in the October 2017 issue of Wallpaper* (W*223)
INFORMATION
For more information, visit the Seiko website (opens in new tab)