Patricia Urquiola puts her tastemaker's stamp on Panerai's new London outpost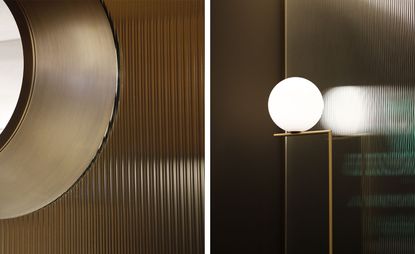 (Image credit: Aylin Bayhan)
The opening of Officine Panerai's brand-new boutique in London's New Bond Street, presents the perfect moment to look back on the results of the brand's fruitful interior design collaboration with Patricia Urquiola. Having first breathed new life into the Paris home of the Florentine marque in 2014, the Spanish designer was set to work on an extensive renovation concept of its proud Florentine home – a small, early 20th-century workshop in the Piazza San Giovanni, opposite the Duomo.
It wasn't just the spirit of the workshop that she set out to encapsulate – Urquiola was faced with the ultra-tricky task of expanding the tiny 58sq m space into a 285sq m boutique, while attending to the expectations of modern tastes. For a renowned tastemaker like Urquiola, a stripped-back approach was natural, but her choice of materials added sumptuous warmth of tone in the form of a geometric Striato Olimpico marble floor and walnut, brass and steel details.
'Throughout its evolution, Panerai's own design has been clean, contemporary and very modern. I have taken similar care with the boutiques design, reflecting and honouring these stylistic elements,' she says. Her boutique identity has now been adapted to outposts in Hong Kong, New York and Miami.
Now, comes London. 'I wanted a boutique that felt like you were at home, not at a shop – nothing too formal. New Bond Street is special and to be here is one the most important achievements for the brand – it gives us a chance to show everything that Panerai is, for new people to discover us. It's not just about showing the products,' says outgoing CEO Angelo Bonati, who has steered the watchmaker's growth, partly guided by an immovable faith in the brand's strong, graphic design, for the past 18 years.
Particular design details for London include engraved oak wall panels, rippling glass that shimmers around lozenge-shaped burnished brass vitrines. All these elements are a direct reference to Panerai's oceanic past and its ownership and restoration of the classic Fife-built yacht, Eilean, the surprise star of Duran Duran's 1982 Rio video.
A specially designed watchmaker's desk is also situated on the lower ground floor, as is a cosy, customer lounge area, with its floppy leather Italian sofas. Lazing comfily in one of them, Mr Bonati, who had the foresight to hire Urquiola in 2011 pinpoints the success of their design relationship: 'I first met Patricia when she worked on the design for the O'Clock: Time Design, Design Time exhibition at Milan's Triennale Design Museum in 2011, for which we partnered. I asked her "Will you look at our boutiques and give them the soul of our historical boutique in Florence, and make them feel more warm and welcoming?" She came to see them with me and said: "I don't want to change everything, there is nothing much to do".'
'Of course,' he says, cheerily, 'Patricia changed everything!'
INFORMATION
For more information, visit the Officine Panerai website