Hip-hop, jewellery and identity: a visual history
A new book from Taschen, Ice Cold. A Hip-Hop Jewelry History, explores the enduring relationship between two creative fields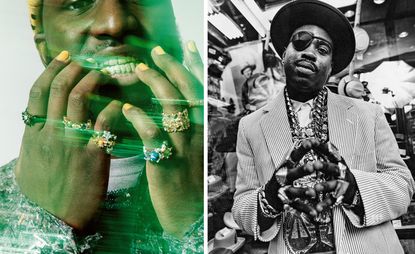 (Image credit: TBC)
'With hip-hop, the history of the jewellery is woven into the fabric of the music,' says author Vikki Tobak, who has explored the relationship between the two creative fields in her new book published by Taschen, Ice Cold. A Hip-Hop Jewelry History. Travelling back four decades and including essays by Slick Rick, A$AP Ferg and LL COOL J, amongst others, the tome touches on everything from street style to the biggest names in hip-hop and iconic jewellers. Here, she tells us what drew her to the subject, what surprised her in her research and her delight at the power of a good watch collection.
Wallpaper*: Jewellery's role in hip hop has helped define a strong visual identity over the decades. Where do you begin when exploring this relationship?
Vikki Tobak: Hip-hop jewellery is so much bigger than conspicuous consumption and I really wanted this book to celebrate something bigger than just bling. Style is a visual dialogue. Hip-hop took that dialogue and, with a clarity of vision and Black diasporic history, elevated all the way to global dominance - unapologetic, charismatic, and dripping in street savvy. Artists use jewellery to express their individuality, their identity, allegiance to neighbourhoods, crews, brotherhoods, label affiliations and so on.

With hip-hop jewellery, it's almost impossible to separate the gemstones from the bigger narrative of politics, identity and race, and historical complexity. That's where I wanted to start as the foundation for this story. Setting the tone of street culture, African aesthetics and the historical connotations were really important.

From there, we celebrate the artists who so beautifully express themselves through jewellery and the jewellery subculture that emerged as hip-hop was rising to power. And with hip-hop's intersection with luxury goods now a given, there's an even deeper story to be told of how the culture stepped into its power.
W*: Are there any defining jewellery moments which stand out as turning points to you?
VT: Hip-hop's love of jewellery builds on a history of visual cues as status. There are so many milestone moments in the jewellery game: you start with the street culture that the rappers were looking to in the beginning, then as hip-hop artists started to ascend you had artists like Big Daddy Kane, Rakim, Biz, Roxanne Shante wearing all the big gold truck style jewellery. Then in the early 90s Biggie had jeweller Tito create his Jesus piece setting off a trend, then Jay-Z and Diddy got hip-hop into platinum and diamonds alongside the rise of grills culture with early pioneers like Eddie Plein.

When folks like Pharrell started using coloured gems and collaborating with Jacob the Jeweller we saw a door open to more experimentation with materials such as enamel, and nods to anime and cartoon culture. Then you start to see Gucci Mane come in and elevate the jewellery game and the rise of the South/Atlanta jewellery movement. The culture is truly amazing and a continuum of sorts. Lately, I've been so happy to see the rise of women rappers collecting jewellery and especially watches - Kash Doll, Megan thee Stallion, Latto and Cardi B's watch collection is amazing and the women are really stepping into their power with jewellery.
W*: What surprised you, if anything, in your research?
VT: The thing that I found really interesting and surprising is the shared mentality of hip-hop and the jewellers who work with hip-hop artists. Most of the jewellers are either immigrants or kids of immigrants so they understand the language of hustle, transcendence and aspiration. The notions of building wealth, building a legacy, and building a community are all things hip-hop and immigrant culture has in common. The people behind the jewellery even to this day - Ben Baller, Johnny Dang, Jacob the Jeweller, Tito, Eliantte, Greg Yuna, all household names of the culture - are also largely immigrants or the children of immigrants. I love that part of the story because it speaks to questions about the American Dream and who it's for.
W*: What were your criteria for inclusion in this book? How did you make your curation?
VT: The art of adornment is part of our shared human history and taps into our deep need to show up and show out. I started from there by thinking about the curation for this book. Hip-hop is a culture of remixing and customization and I really wanted to celebrate that in this book. And because Taschen has such a high bar for photography, we had to make sure the photography captured the story and the artists in a very beautiful way.

There were certain rappers and certain jewellers who evolved the hip-hop jewellery world so they had to be included. Jewellers like Tito Caicedo, Jacob the Jeweller, Eddie Plein, Avianne, Eliantte, Ben Baller and Greg Yuna. Then of course hip-hop artists who were known for certain pieces, like LL Cool J with his nameplate ring, Biz Markie's dookie ropes, Cam'ron with his spinning globe, The Roc's chain and so on.

I also wanted to make sure to show the evolution of the jewellery styles from simple gold to bigger gold, to dookie ropes to Cuban links, to specific pendants like Kanye's Murakami Jesus piece and on and on.
INFORMATION
Ice Cold. A Hip-Hop Jewelry History by Vikki Tobak is published by Taschen.

taschen.com (opens in new tab)
Hannah Silver joined Wallpaper* in 2019 to work on watches and jewellery. Now, as well as her role as watches and jewellery editor, she writes widely across all areas including on art, architecture, fashion and design. As well as offbeat design trends and in-depth profiles, Hannah is interested in the quirks of what makes for a digital success story.