Good as gold: Goossens Paris and Harumi Klossowska de Rola branch out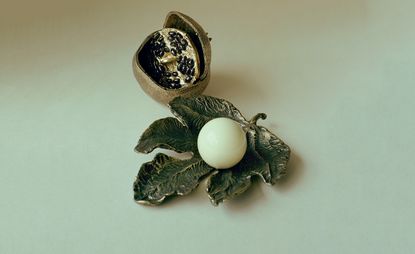 (Image credit: François Coquerel)
When I meet Patrick Goossens at the Goossens HQ in Pantin, Paris, legacy and continuity are on his mind. He was bequeathed the couture jewellery business by his father Robert in 1978. 'I've worked here for 43 years,' he says. 'It's my duty to carry the DNA of the house to the next generation.'

Robert Goossens, who died in 2016, worked as a studio jeweller on semi-precious designs for Cristóbal Balenciaga, Jean Rochas and Elsa Schiaparelli throughout the 1940s and 1950s, but it was his partnership with Coco Chanel that established his reputation as the foremost couture jeweller in Paris. The pair first began working together in 1954. Chanel had recently revived her fashion house, having returned to Paris from exile in Switzerland, where she had relocated after the war. Robert was working with Maison Degorce, the first-choice costume jeweler of many fashion houses, but had also started to make an impact with his own designs.

His bold style was favoured by Chanel, who shunned the notion of jewellery as a wealth indicator, deliberately pursuing an art-driven 'fake' costume-design approach. While it was not concerned with precious materials, couture-jewellery methods were rooted in traditional goldsmith and gemsetter skills. Texture is key, as is the sculptural trace of handwork. When Degorce closed in 1957, Robert began to work directly with Coco Chanel, while still producing designs for other houses and developing his own. The pair entered into a design partnership that lasted until she died in 1971. Robert carried on for other couture houses, but he was determined to carry forward the singular style he had developed with Chanel. He set up Goossens Paris, distinguishing his artisanal couture-jewellery design from the burgeoning business of mass-manufactured costume jewellery.

By 1978, Robert had transferred the running of his business to his son Patrick. Meanwhile, Robert's sculptor daughter Martine set up an atelier in 1974 with her father, intent on taking the Goossens Paris style into furniture and lighting design. By the mid-1990s, the house interiors aesthetic was in demand, and the atelier began an enduring collaboration with fashion's go-to architect Peter Marino. In 2005, Goossens was acquired by Chanel's Paraffection, a group of artisan workshops that the brand calls on for its finest handwork.
This month, as it looks to the next era, Goossens Paris takes on the role of designer-commissioner for the first time as it launches an eponymous jewellery collection with Harumi Klossowska de Rola, the daughter of the artist Balthus and the Japanese painter Setsuko Klossowska de Rola. When Patrick started thinking about designers suited to working with the house, Harumi sprang to mind. She had experience designing for Chopard, Valentino and Galliano, and there was a distant connection between the two. Harumi's brother Thadée is the husband of the late Loulou de la Falaise, fabled muse to Yves Saint Laurent, whom Robert had worked with during her time as the house jewellery designer.

While Harumi's design style is not a direct fit – she is best known for her narrative-driven animal rings – the visceral quality of her designs resonated. The Goossens Paris x Harumi Klossowska de Rola collection features six interior objects and six jewellery designs influenced by fruits and leaves laced with ancient symbolism.

'Much of Harumi's work involves animal motifs, but we already have links with Chanel's lions,' says Patrick. 'However, we liked her floral ideas.' Harumi presented a series of simple sketches, among them a small drawing of a pomegranate. 'The pomegranate was right for us,' says Patrick. 'The colours, the texture – it had all the right details for interpretation in the Goossens way.'

'To work with Patrick is a privilege and a pleasure,' says Harumi. 'The Goossens workshop is made up of expert craftsmen who place a lot of importance on texture.' She was delighted that they singled out her pomegranate. 'I have always loved its colours, textures, seeds – and that it's not perfectly round, which must be the Japanese in me!'

In his illuminating history of the house, Maison Goossens: Haute Couture Jewellery, writer Patrick Mauriès lays out the importance of Goossens' contribution to design as a whole: 'In the early days, costume jewellery was simply an imitation of the real thing. By the time Robert Goosens started making jewellery, it was associated with the creation of genuinely new forms, using new materials, and formulating its own particular aesthetic.' Adds Patrick: 'This is not my job, it's my life and my spirit.'
As originally featured in the September 2018 issue of Wallpaper* (W*234)
INFORMATION
For more information, visit the Goossens website, The Invisible Collection website
Receive our daily digest of inspiration, escapism and design stories from around the world direct to your inbox
Having worked as a journalist and editor for titles such as British Vogue, Vanity Fair and the Daily Telegraph, Caragh McKay became Wallpaper Watches & Jewellery Director in 2012, before branching out a few years later as an independent creative director in the luxury arena.