Wallpaper* Design Awards 2018: Jewellery
This week we celebrated our winners with a special dinner in London - the perfect moment to highlight their award-winning pieces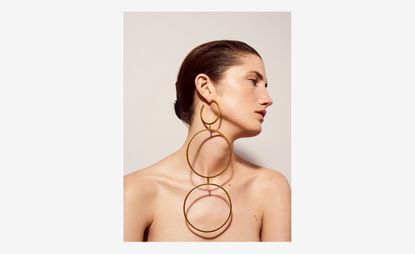 (Image credit: Lee Whittaker)
Best ring cycle
'Nexus' shoulder earring, by Jenny Sweetnam (opens in new tab)

London-based jeweller Jenny Sweetnam takes failsafe jewellery classics and skews them into showstopping forms. Her exploration of traditional skills adds intrigue: 'Experimenting with articulation allows me to keep intact the graphic silhouette I envision and play with how the jewels are worn,' she says of her most dynamic design yet.

'Nexus' shoulder earring in yellow gold-plated brass and silver, £620, by Jenny Sweetnam.
Best metal gurus
Gallery Collection, by Chanel (opens in new tab) Fine Jewellery

Obscured by its rose-hued counterpart in recent years, yellow gold, that 1970s casual-chic favourite, is once again finding its way into fine watch and jewellery design. Chanel got the memo and used the yellow chain of its '2.55' handbag as a starting point for a new 12-piece fine jewellery capsule collection, the Gallery, which includes this necklace, shown against the backdrop of Artek's striking angular mirror. Because it allows for bold colour combinations, yellow gold offers designers a chance to use densely-hued semi-precious hardstones alongside traditional light-filled gems, such as emeralds and diamonds. By framing these in graphic, architectural forms, Chanel imbues traditional fine jewellery materials with a contemporary sensibility.

'My Green' necklace, part of the Gallery Collection, in yellow gold, with tourmalines, malachite and diamonds, £39,000, by Chanel Fine Jewellery. '124 °' mirror, £156, by Daniel Rybakken, for Artek (opens in new tab). Interiors: Matthew Morris.
Best rocks
'Aria Passionata' necklace, by Chaumet (opens in new tab)

Citing Milan's La Scala opera house as inspiration, Chaumet's jewellers have skilfully translated the interior details of architect Giuseppe Piermarini's baroque masterpiece into an audaciously abstract jewel, the 'Aria Passionata' necklace. A modular pink gold and lacquer piece, the deign can also be transformed to adorn the back, but it's the cacophony of expert stone cuts ­– three oval-cut rhodolite garnets, three East African cabochon-cut rubies, baguette-cut rubies, brilliant-cut diamonds and ruby and onyx beads ­– that ultimately makes this high-jewellery masterpiece sing.

'Aria Passionata' necklace, in pink gold and lacquer with rhodolite garnets, rubies, diamonds, and ruby and onyx beads, price on request, by Chaumet. 'Kryptal' lamp, €1,800, by Ctrlzak, for JCP (opens in new tab). Interiors: Matthew Morris.

See the best of the rest from the Wallpaper* 2018 Design Awards here
INFORMATION
For more information, visit the Jenny Sweetnam website (opens in new tab), the Chanel website (opens in new tab), and the Chaumet website (opens in new tab)