Crowning glory: a collaboration with a London art school has produced a futuristic jewel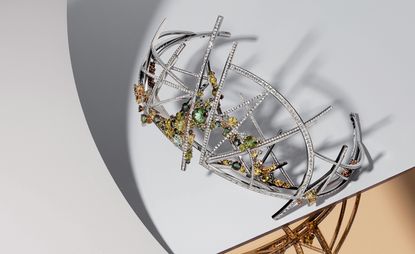 (Image credit: Philippe Lacombe)
Central Saint Martins student Scott Armstrong has made a head start into world of high jewellery, designing a new headpiece for Chaumet. Since the French jewellery house was established in 1780, over 20,00 tiara designs have been crafted. Armstrong's is the centrepiece in 'Imperial Splendours: The Art of Jewellery since the 18th Century', an exhibition that opened this week in Beijing, and displays the house's storied creations from the 18th century to today.

'As a 21-year-old designer, to be asked to create work within the context of such a noble history is incredible,' says Armstrong of the collaboration. He was one of 60 jewellery design students at the London art school who applied to take part in the competition set by Chaumet to 'design a tiara for the 21st century'.

Armstrong's 'Vertiges' design, a light structure of criss-crossing straight and curved lines was inspired by the geometric grids particular to French formal garden design. 'The name refers to aerial shots of those designs,' Armstrong says. 'It also suggests the lightheadedness you experience with vertigo.'

The young jewellery designer has translated the naturalism of the house using clusters of green and yellow tourmalines and garnets, to represent moss poking through cracks in paving slabs. 'They soften the otherwise strong structure of the piece,' he explains. 'The formal garden structures take a macro viewpoint of the landscape, while the moss is the micro view of it. I like this subversion of scale.'

Armstrong also subverts the romantic floral motifs that also play a key role in Chaumet's canon, such as bouquets of hydrangeas and golden sheaves of wheat. For the French fine jewellery house, the 'Vertiges' headpiece is a proud symbol of tradition and modernity colliding to create something new.
A version of this article originally appeared in the Precious Index, our new watches and jewellery supplement (see W*218)
INFORMATION
'Imperial Splendours: The Art of Jewellery since the 18th Century' is on view until 2 July. For more information, visit the Chaumet website (opens in new tab)
ADDRESS
The Palace Museum
Tower Gallery of the Meridian Gate
4 Jingshan Front Street
Dongcheng Qu
Beijing
VIEW GOOGLE MAPS (opens in new tab)