The China List: Jean Paul Gaultier, Fashion
Wallpaper* and China's Cultural Heritage and Sustainable Development Fund (CHSDF) present China By Design—a celebration of Chinese cultural heritage and the many global creatives who have been inspired by it.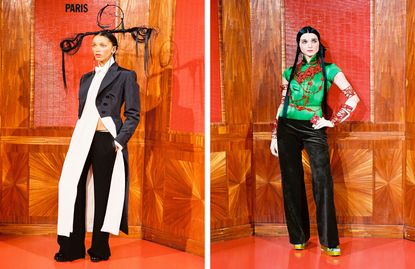 (Image credit: jeanpaulgualtier.com)
Jean Paul Gaultier is famed for his postmodern blend of eras and histories, looking to all corners of the world for inspiration. For example, the French designer's A/W 2001 haute-couture collection revelled in the seduction of 1920s and 1930s Shanghai, as well as the sensuality of traditional Spanish costume. 'The idea was to bring together everything that you imagine when you think of China – theatre, movement, colour, history and richness,' said Jean Paul Gaultier at the time.
And so the collection featured lustrous leather qipao, fringed pagoda-shoulder jackets, naturalistic and Chinese script motifs, and swathes of brocade, Oriental jacquard and sequin, while catwalk looks were titled 'Nuit de Chine,' 'Fu Manchu' and 'Shanghai Express'. Standout was a silk-satin sheath in lustrous purple featuring an open back festooned with 3D leaves and butterflies. Critics wrote that the collection featured 'dragon-embroidered coats and Mandarin-collar tunics that would have made dowager Empress Tzu Hsi green with envy.'
Gaultier has also celebrated oriental aesthetics in his collaboration with French fabric and wallpaper company Lelièvre. The brand's 2012 'Rock' fabric celebrated the Chinese Year of the Dragon, with tattoo-inspired prints featuring koi carps, dragons, flames and red roses, whereas its recent Voyages Voyages collection includes inky floral prints and peonies – a popular Chinese symbol – tessellated in contemporary, pixelated forms.
INFORMATION
jeanpaulgualtier.com (opens in new tab)