The China List: Chanel, Fashion
Wallpaper* and China's Cultural Heritage and Sustainable Development Fund (CHSDF) present China By Design—a celebration of Chinese cultural heritage and the many global creatives who have been inspired by it. Explore the full list here.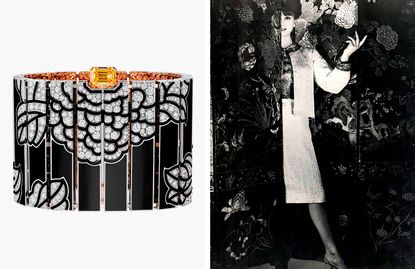 (Image credit: TBC)
'I've loved Chinese screens since I was 18 years old… I nearly fainted with joy when, entering a Chinese shop, I saw a Coromandel for the first time,' said Coco Chanel in 1983's Chanel Solitaire, by Claude Delay. The famed French couturier had a passion for the romantic images of China's Imperial cities and landscapes, depicted in glossy gold, carmine and black lacquer on folding panels. In her lifetime, she invested in 32 antique Coromandel screens (named after the south-east Indian coast from which they were shipped to European markets), using them to furnish her homes and hotel suites from Paris to New York.
Chanel's 2018 'Coromandel' high-jewellery collection celebrated Coco Chanel's passion for Chinese lacquerware. Exquisite art deco-centric designs featured mother-of-pearl and lacquer landscapes, with cloud, camellia and bird motifs imagined in gold, diamonds and tsavorite garnets. In his role as creative director of the maison (1982-2019), Karl Lagerfeld celebrated Chanel's passion for Chinese heritage with collections referencing Chinese porcelain and the seductive qipao silhouette. Its 2010 pre-fall collection, shown against the backdrop of the Huangpu River in Shanghai, featured seductive Mandarin collar tailoring, Oriental bloom gowns, cone hats, and swathes of lacquer red and Ming blue.
In April 2019, Chanel's Mademoiselle Privé exhibition – a show celebrating the creative pillars of the maison – was presented at Shanghai's West Bund Art Center. As part of the show, Chinese artist Wu Guanzhen reinterpreted Coco Chanel's collection of Coromandel screens into three landscape-focused artworks titled Lofty Mountain, Early Spring and Garden of Pleasure.
INFORMATION
chanel.com (opens in new tab)