Inside SND's ceremonial boutique in China's Chongqing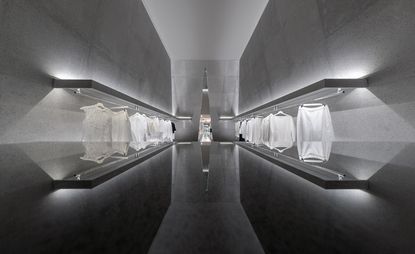 (Image credit: press)
A church-like terrazzo stone structure slices through the centre of this new store by Various Associates for women's fashion boutique SND. Located in the city of Chongqing in southwestern China, the narrow 288 sq m store is split into two contrasting environments.

Entered through a glass shopfront dressed with a tightly edited selection of garments hung on spotlit rails, the store is painted in a subtle shade of sandstone pink that brings a little warmth to the otherwise minimalist environment. The space is dominated by a central structure, which the architects refer to as the 'milestone', describing its interior as a 'hidden world'. At arrival customers are invited to walk a pathway that loops around the milestone, or enter its sloped walls through one of its mirror-framed openings. A grey terrazzo pay point protruding from one doorway hints at what lies within.

Inside, the architects sought to create a desaturated ceremonial space using symmetry, mirrors and a monotone palette of contrasting grey textures. Jewellery is displayed in a long straight showcase along its centre, while luxury haute couture brands are arranged on rails around the perimeter.

A curved reception desk made from volcanic stone stands at the heart of the structure, dividing the display area from the seating area and changing rooms beyond – one of which is intriguingly clad in a tactile grey fur.

When exiting through the tall triangular opening back into the empty beige corridor spaces that loop around the structure, customers are confronted with a wall of windows that offer a panoramic view across the city skyline.

The new store, the architects say, marks the start of a new era for SND as the boutique strives to become more internationally representative. 'From the architectural dimension, the store is designed to be a medium where customers can explore the relation between body and space,' said Various Associates. 'It serves as an embodiment of SND's brand belief, which is to strike a balance between keeping the brand personality and catching on the fashion trends'.
INFORMATION
For more information, visit the SND website (opens in new tab)
ADDRESS
1F, C area
Shinkong Place
87 Hongjin Avenue
Yubei district
Chongqing, China

VIEW GOOGLE MAPS (opens in new tab)