BESPOKE | NOVEMBER 2021 | M+
A journal of visual culture
BESPOKE | NOVEMBER 2021 | M+
A journal of visual culture
An architectural and engineering tour de force, Herzog & de Meuron's M+ sits atop two busy underground transit lines on a site reclaimed from Hong Kong's Victoria Harbour. The striking building also boasts unrivalled eco credentials and the ability to turn its harbourside facade into a giant LED screen, making it a truly unique addition to the iconic cityscape
Located in Hong Kong's new West Kowloon Cultural District, M+ features a facade clad with thousands of powerful LED lights that form a giant digital screen
M+ is set to make a major impression on the global cultural landscape as it takes centre stage in Hong Kong's vibrant new cultural quarter, built on reclaimed land alongside the renowned Victoria Harbour. Offering a mix of performance venues, museums and public spaces, the West Kowloon Cultural District (WKCD) is one of the most ambitious projects of its kind in the world.
Swiss architectural practice Herzog & de Meuron won the competition for the new M+ building with a proposal described by the jury as a 'memorable design that draws power from the simplicity and clarity of its parts with a carefully constructed internal layout felt to be inviting to the public, with a space that will be easy to understand and navigate'.
Founded by 2001 Pritzker Prize winners Jacques Herzog and Pierre de Meuron in Basel in 1978, Herzog & de Meuron now boasts a team of 500 collaborators working on projects across the globe, from private homes to urban redevelopment. For M+, Herzog & de Meuron joined forces with TFP Farrells as its local partner architect, and Arup as an engineering consultant. Combining an international outlook, local knowledge and comprehensive experience of WKCD's development based on a conceptual plan designed by Foster + Partners, the team created a concrete structure clad in shimmering ceramic tiles. It houses 33 galleries, three cinemas, a mediatheque, learning hub, research centre, shops, café and two restaurants, members' lounge and office space, plus a roof garden with spectacular harbour views.
Different styles of exhibition require different spaces. Those at M+ range from classical white cube galleries to bamboo-walled rooms, an LED facade and a vast subterranean space defined by existing transit lines under the site. Discovering the train tunnel prompted the architects to give deeper thought to the location, a vacant plot of reclaimed land that was once part of the city's port.
'Paradoxically, another work of engineering defines the specificity of this place: the underground tunnel of the Airport Express,' explain the architects.
'Initially an obstacle that complicated planning, this distinctive feature became the raison d'être for our project, consisting of a rough, large-scale exhibition universe that quite literally anchors the entire building in the ground. By uncovering the tunnel, a spectacular space was created.' This space at the heart of M+, named Found Space, has become a cavernous venue for major projects and commissions, and sits adjacent to The Studio, a flexible black-box venue that can accommodate variable multimedia presentations. Two diagonal openings in the Main Hall floor reveal the excavated Found Space, while large ceiling cut-outs allow visitors to see the exhibition level and its intersection with the vertical building, as well as the sky.
Hovering above this signature concrete landscape are elegant display spaces laid out in a grid system. The majority of the exhibition spaces are accessible from a central plaza, which offers access to a number of conventional galleries and distinctive architectural spaces. These include the Focus Gallery, a concrete- faced room illuminated by a band of clerestory windows; the bamboo-clad Courtyard Galleries; and the Grand Stair, a harbour-facing auditorium.
The public entrances are located on all sides and levels, connecting the WKCDA Tower, the surrounding Art Park, future cultural venues in the district, and the waterfront promenade. The harbour-facing side of the tower is clad with thousands of powerful LED lights, which form a massive digital screen that will display collection works, special commissions and information about the museum.
'The resulting structure is not simply anchored in its surroundings; it is also formed by them,' say the architects. 'The precise and urban, almost archaic, shape reiterates the iconic character of Kowloon's skyline on one hand, yet on the other hand, this convention is subverted by the transmitted message of the art, visible from afar, which will consequently make M+ a site of constant renewal. But above all, M+ is a public forum, a built platform for the exchange, encounter and activity of people and art.'
Natural light floods into the central atrium, reaching all the way down to the Found Space, a subterranean gallery space carved out next to two transit lines.
The Horizon Terrace, with views over the city's Victoria Harbour
An elegant spiral staircase leads visitors from the central atrium to the public Roof Garden
GLAZED CERAMIC FACADE – An alternative to Hong Kong's glass-clad skyscrapers, M+ features a facade of dark-green glazed ceramic components that change colour according to the weather. The south facade of the tower is a dynamic, evolving LED media display screen. It is a visual amplification of M+ programmes and accentuates the museum's connection with the urban landscape facing Victoria Harbour and Hong Kong Island.
FOUND SPACE – The MTR Airport Express and Tung Chung Line tunnels lie beneath M+. Excavations revealed a Found Space that provides an anchor inside the building and can host rotating installations. Five mega steel trusses help support the massive structure.
CAMPUS OF BUILDINGS – M+ is part of a campus that also includes the museum's Conservation and Storage Facility (CSF) and the 16-storey WKCDA Tower, the head office of the West Kowloon Cultural District Authority and, in future, retail, dining and entertainment facilities.
GRAND STAIR – Linking the atrium of the podium-level galleries and the ground-floor Main Hall, the monumental Grand Stair, with spectacular views of the harbour, can be used for public gatherings or completely closed off to transform into an auditorium.
Sustainability is a core principle of M+'s development as the museum aims to become a low-carbon and low-energy landmark. Its publicly accessible Roof Garden capitalises on a local microclimate, while architectural shading on the facade minimises the energy needed for cooling. Solar panels and district cooling further reduce energy consumption. The entire project is guided by Hong Kong's highest sustainability standards, integrating architectural, construction, mechanical, electrical and other technical disciplines throughout the design process. Provisions for energy and water sub-metering, occupancy controls and high-quality waste sorting facilities are in place, with the aim to achieve carbon neutrality in the long term.
Total area: 65,000 sq m
Site area: 25,000 sq m
Exhibition space: 17,000 sq m
Learning hub: 1,200 sq m
Research centre: 1,500 sq m
Building dimensions: 130 x 111 x 94 m
M+ Facade: 110 x 65.8 m
Number of floors: 18
An elongated skylight reduces the need for artificial lighting
Back to chapters +
Some 1,500 works drawn from the M+ Collections will be presented in the museum's 33 galleries and other display spaces. The launch will include six major exhibitions showcasing the breadth and depth of global visual culture in the 2oth and 21st centuries
Architecture of Density #8b, 2005, by Michael Wolf, will be on show as part of the 'Hong Kong: Here and Beyond' exhibition
Photography: © Michael Wolf Estate, M+ Hong Kong
HONG KONG:
HERE AND BEYOND
The Visual Culture of our City from the 1960s to Now
Main Hall Gallery
Divided into four chapters – Here, Identities, Places and Beyond – this exhibition captures the transformation of the city's unique visual culture from the 1960s to today, and presents Hong Kong's dynamism through numerous intersecting perspectives.
THINGS, SPACES, INTERACTIONS
Design and Architecture from Asia and Beyond
East Galleries
Design and architecture define the very way we see the world. This exhibition will comprise 500 examples of architecture, graphic arts and other design objects that have had a profound influence in Asia over the last 70 years.
M+ SIGG COLLECTION: FROM REVOLUTION TO GLOBALISATION
Four Significant Decades of Contemporary Chinese Art
Sigg Galleries
This chronological survey traces the nation's artistic journey from the 1970s to 2010s. Alongside China's economic rise, its artists boldly experimented with new ideas and began to engage with their artistic peers worldwide.
INDIVIDUALS, NETWORKS, EXPRESSIONS
An Expansive Story of Art from the 1950s to Now
South Galleries
This international display brings together a complex and diverse story of modern and contemporary art that unfolds over time and across geographic borders. Through an array of techniques, materials, formats and methods, post-war artists have reflected shifts in the geopolitical world order.
The Kiyotomo sushi bar, 1988, by Shiro Kuramata, will feature in the 'Things, Spaces, Interactions' exhibition
Photography: Kuramata Design Studio, M+ Hong Kong
Artistic Practices Traversing Time and Cultures
Courtyard Galleries
In the 1960s, conceptual art was born, and art could be understood as a vehicle for ideas rather than simply as objects. Beginning with Marcel Duchamp, John Cage, Yoko Ono and Nam June Paik, and bringing together 27 additional artists of diverse backgrounds, this show reimagines the museum as a treasure box for discovering the world in new ways.
ANTONY GORMLEY: ASIAN FIELD
A Monumental Work by British Artist Antony Gormley
West Gallery
In 2003, renowned British artist Antony Gormley invited around 300 people from a Guangzhou village to make thousands of clay figurines over five days, reflecting the country's vast territory and population. Asian Field is experienced from a single point of view: as you gaze across the multitude of figures, they appear to look back.
In addition to the main galleries, M+ will present a series of works throughout its public spaces. The Mediatheque is a space for exploring M+'s Moving Image collection; the Grand Stair creates a spatial connection between the ground floor and the second floor, where most galleries are located, and allows informal public gatherings. It also transforms into a flexible auditorium, and with spectacular views of the harbour, it's where the city, the public and visual culture intersect. The Cabinet on the second floor is an open storage exhibition space with more than 200 works displayed on 40 movable panels. An interactive game invites visitors to share their thoughts and uncover hidden themes.
Back to chapters +
Spanning four different collections and thousands of items, M+'s treasure trove of visual culture encompasses everything from architectural models and Korean art films to Hong Kong-inspired artworks and Chinese comic books
Whose Utopia, 2006, by Cao Fei, part of the M+ Sigg Collection
Since M+'s first acquisition in 2012, the museum has meticulously built an unparalleled body of works by artists, designers and architects, locally and from across the world, to represent a cornucopia of different and diverse narratives that define contemporary life.
The world of ideas is limitless, and creative people find their inspiration far beyond their geographical borders and the limitations of their specific disciplines. With an unsurpassed collection of 20th and 21st century visual culture within a broadly Asian context, M+'s mission is to explore and document contemporary cultures and expressions in all their diversity, and shape these into a meaningful whole in its collections, featuring artworks in mediums ranging from painting, sculpture and ink art to installations, moving images and digital media. In addition, the collections feature architectural drawings and models, graphic designs, manufactured objects, album covers, posters, video games and more from within and beyond Asia.
There are four different collections, the first being the M+ Collection, a compendium of 6,413 items from diverse visual disciplines, including design and architecture, which comprises thousands of objects from electronics, textiles, furniture and building models to entire architectural interiors. Moving Image traces the historical development of time-based media and its significant impact on visual culture over the last seven decades, and also features the ongoing acquisition of the complete oeuvre of Korean artist duo Young-Hae Chang Heavy Industries. Visual Art, meanwhile, contains a broad spectrum of paintings, sculptures, installations and works of ink art. And finally, Hong Kong Visual Culture acknowledges M+'s home city as a framework for artistic interpretation.
Chronicling the development of Chinese art from 1972 to 2012, the 1,510 item-strong M+ Sigg Collection comprises works encompassing a breadth of styles and mediums, including those of influential underground art collectives No Name Group and Stars Art Group. The M+ Library Special Collection addresses the role of printed material within key modern artistic movements and features 443 unique books, modernist magazines, Chinese propaganda manuals, Manhua (comics), design volumes and experimental graphic design publications from the last 70 years.
Finally, the vast M+ Collection Archives include the archival research materials the museum has acquired since 2013, which currently comprise more than 80 separate collections, or 'fonds', and are mainly design- and architecture-related. These archives are available for public use in the M+ Research Centre.
Photography: © Zhang Xiaogang, Zhang Wei, Li Naihan, Cao Fei, Fang Lijun,
Zhang Peili, M+ Hong Kong.Geng Jianyi, Liu Kuo-sung, Helen Ting, M+ Hong Kong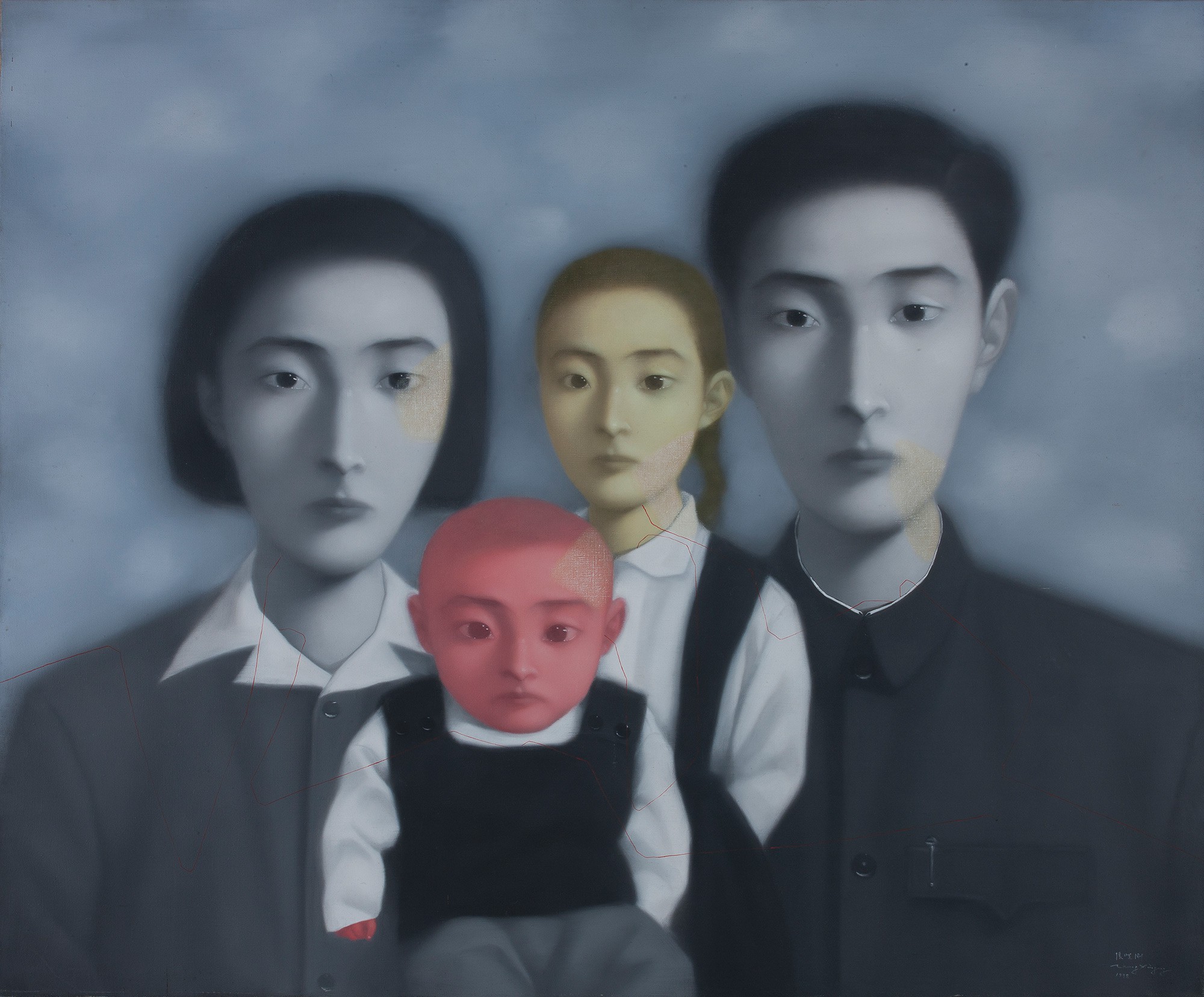 Bloodline – Big Family No 17, 1998, by Zhang Xiaogang, part of the M+ Sigg Collection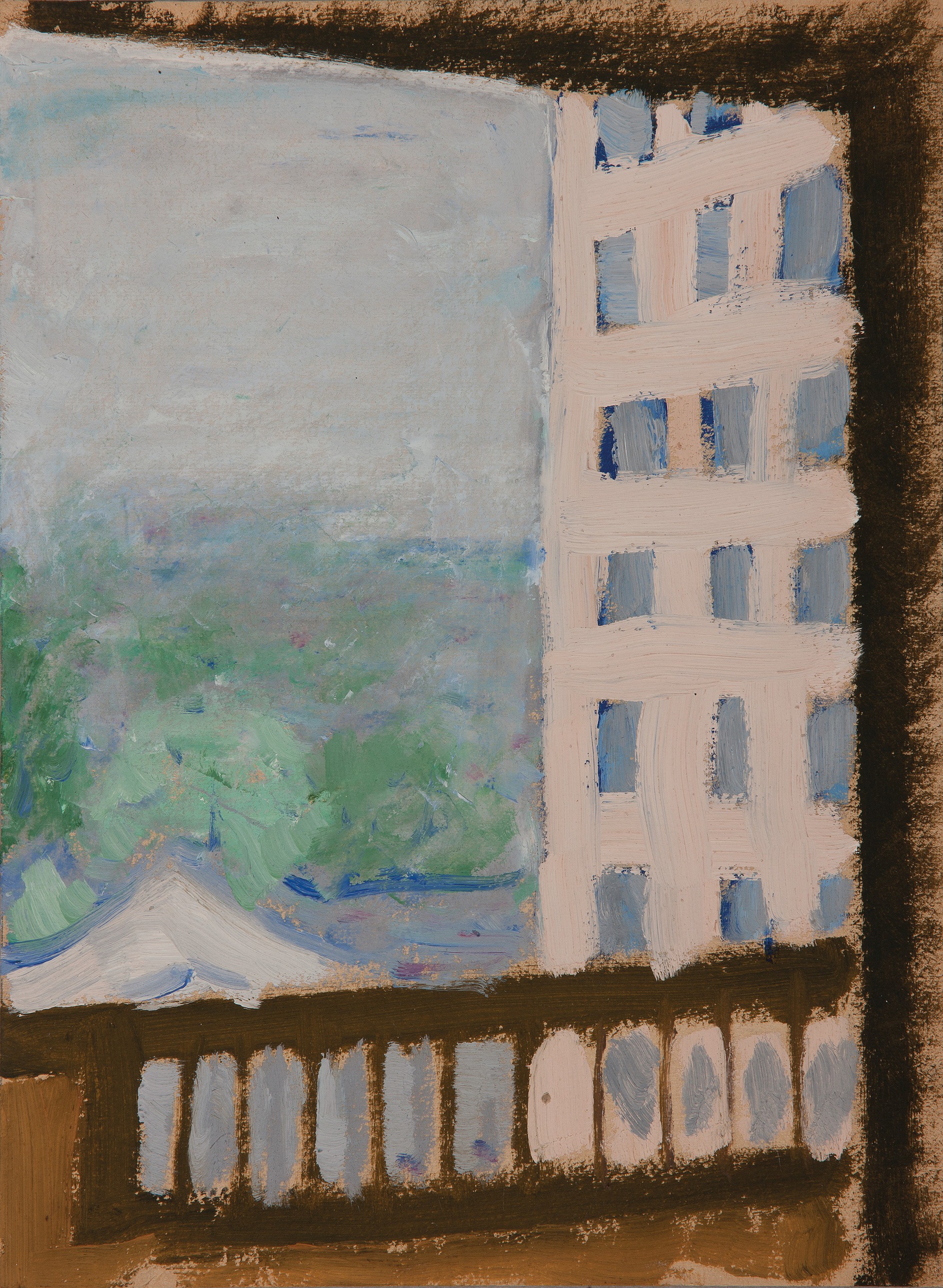 Fusuijing Building, 1975, by Zhang Wei, part of the M+ Sigg Collection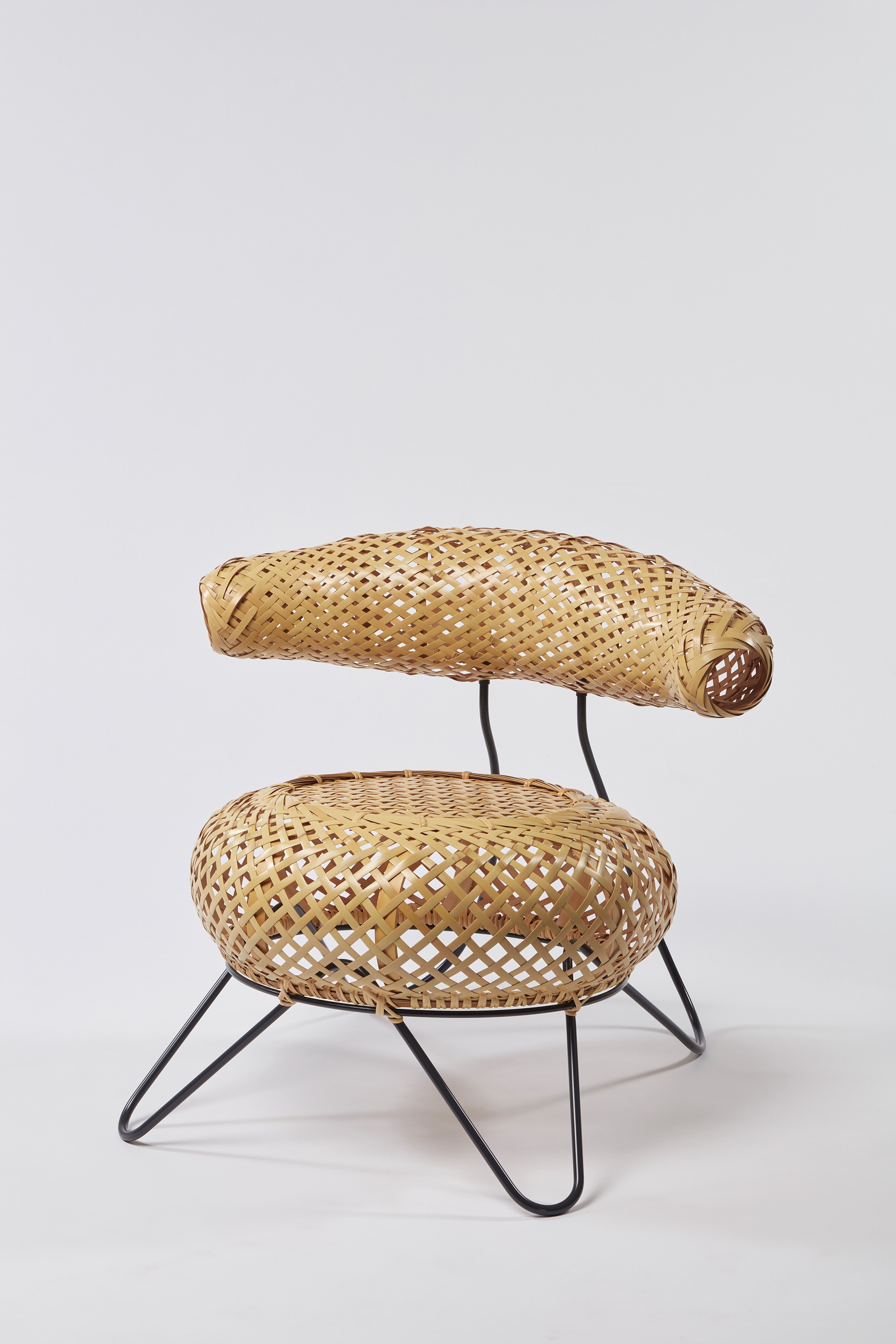 'Bamboo Basket' chair, designed 1950, made 2010, by Isamu Noguchi, part of the M+ Collection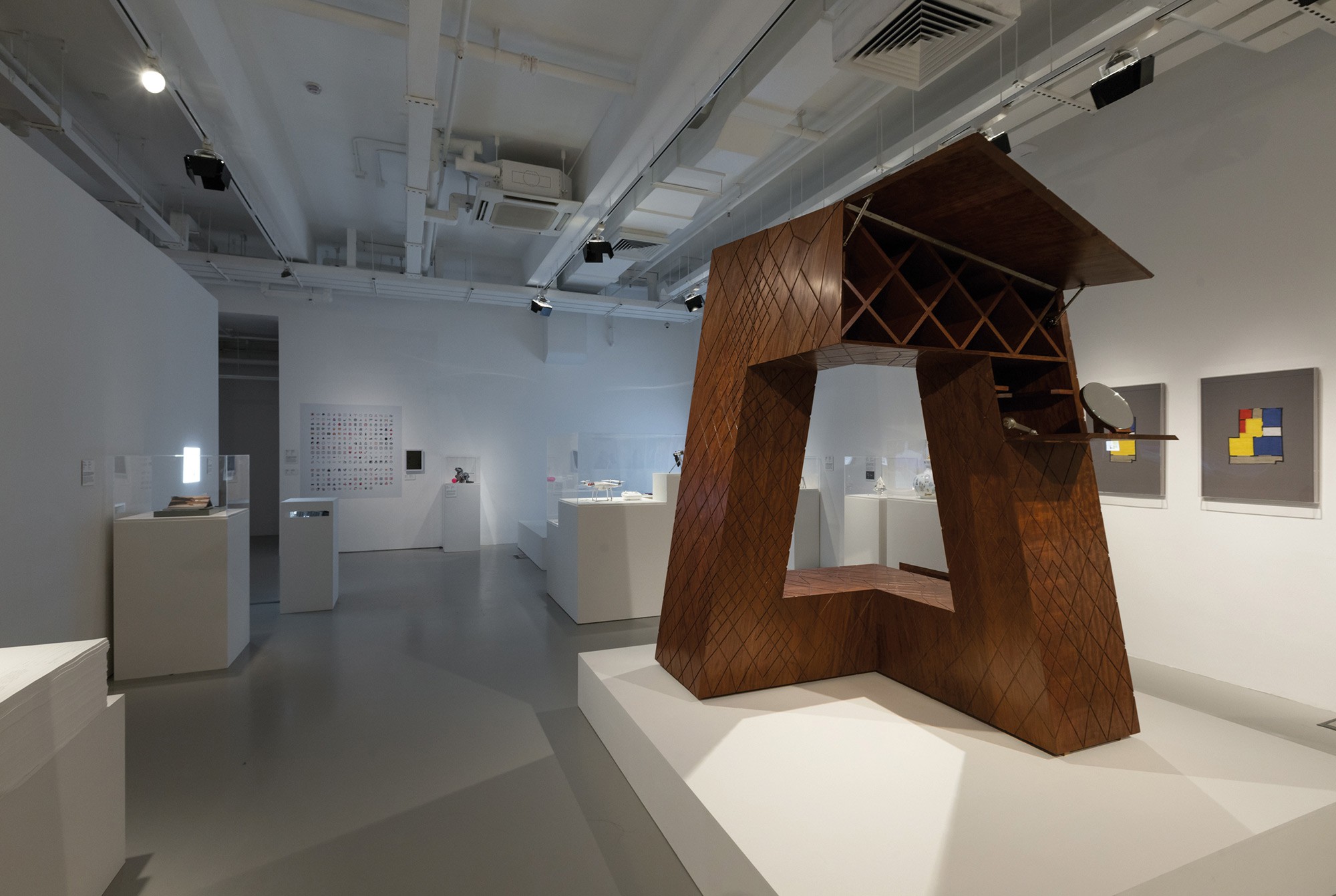 I Am A Monument – CCTV Wardrobe, 2012, made in 2016, by Li Naihan, part of the M+ Collection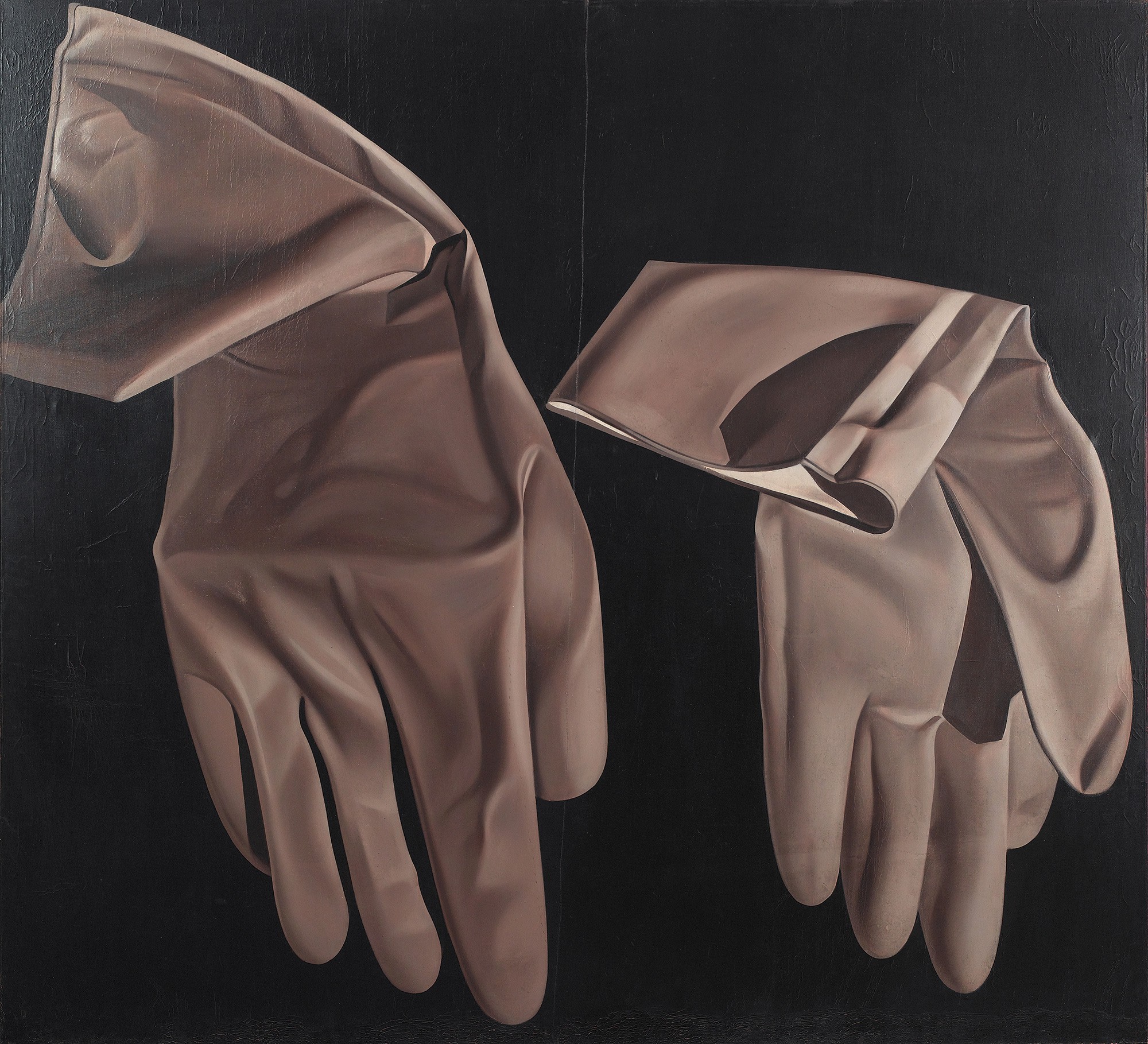 X? No. 4, 1987, by Zhang Peili, part of the M+ Sigg Collection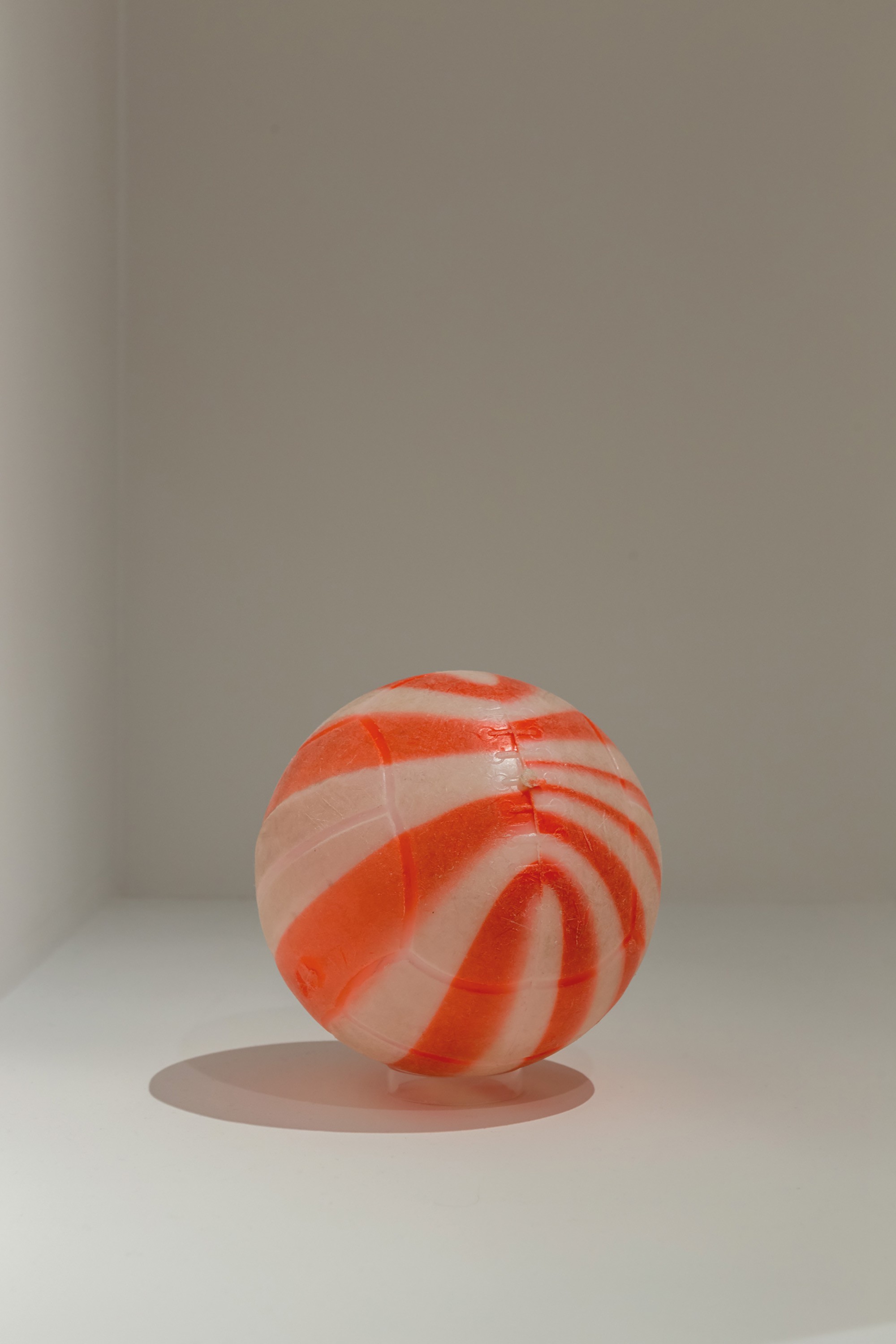 Watermelon ball, c.1959, unknown (Hong Kong), gift of Vincent Au Yeung, 2016, part of the M+ Collection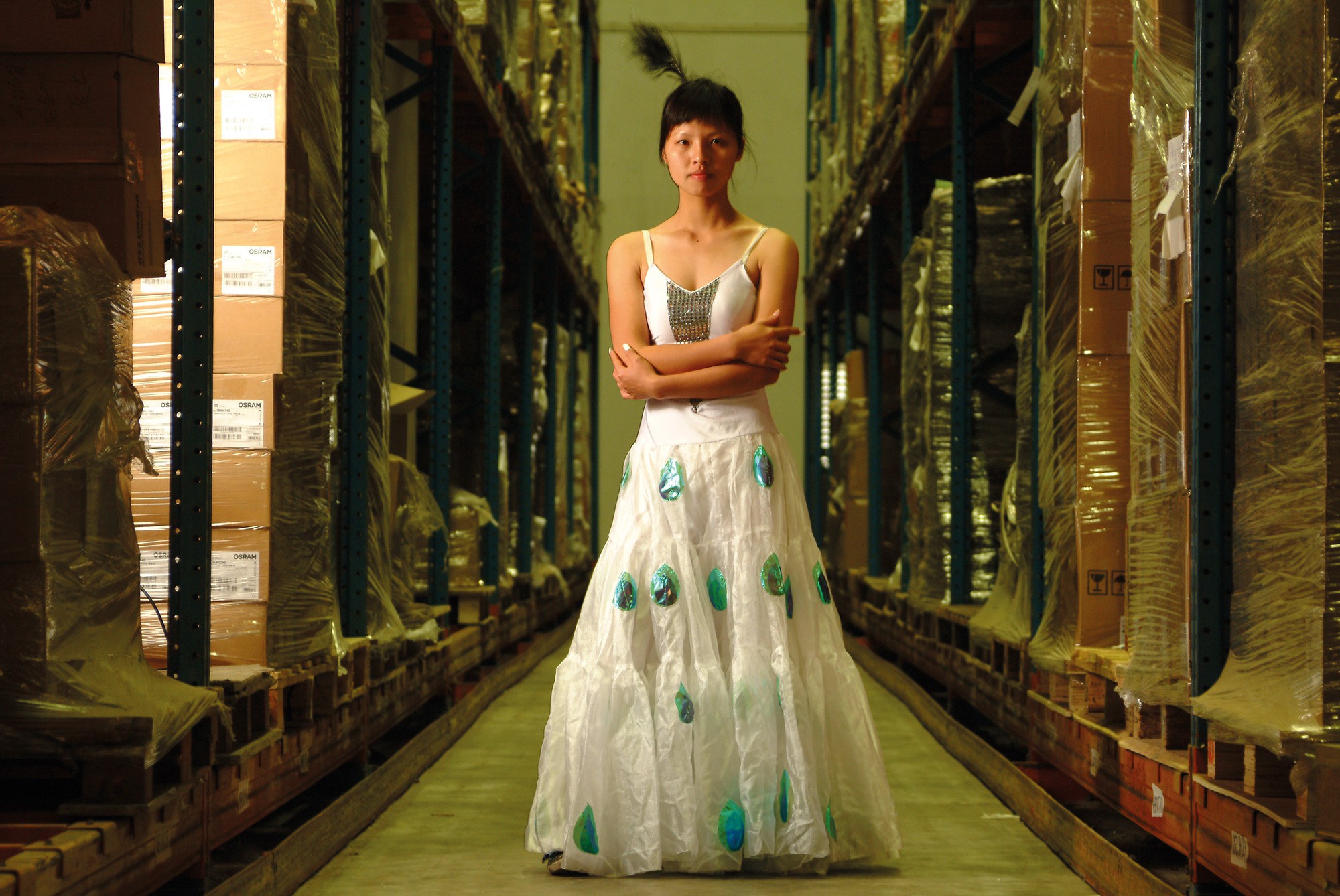 Whose Utopia, 2006, by Cao Fei, part of the M+ Sigg Collection
As of June 2021
M+ Collection: 6,413 items
M+ Sigg Collection: 1,510 items
M+ Library Special Collection: 443 items
M+ Collection Archives: over 48,000 items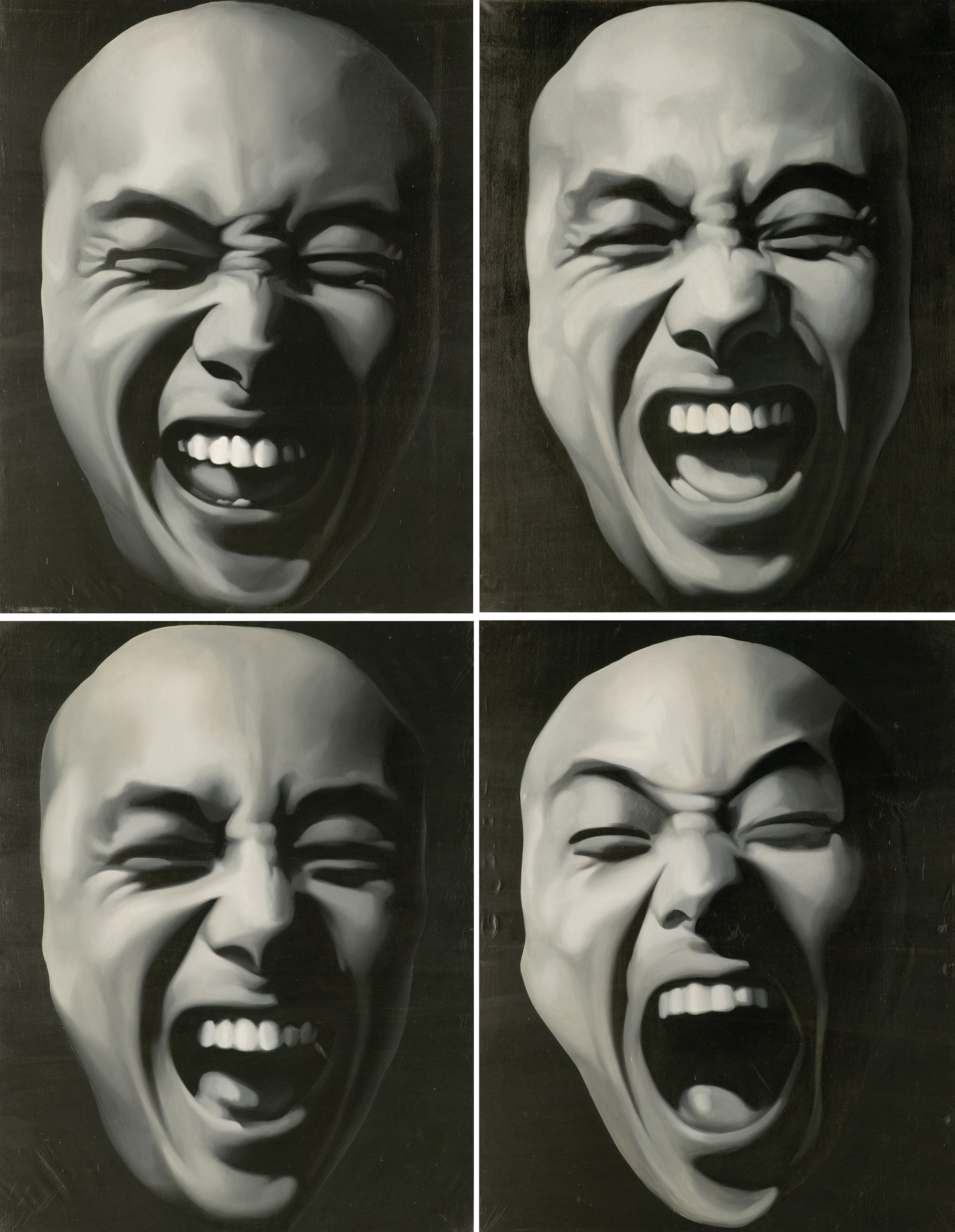 The Second State, 1987, by Geng Jianyi, part of the M+ Sigg Collection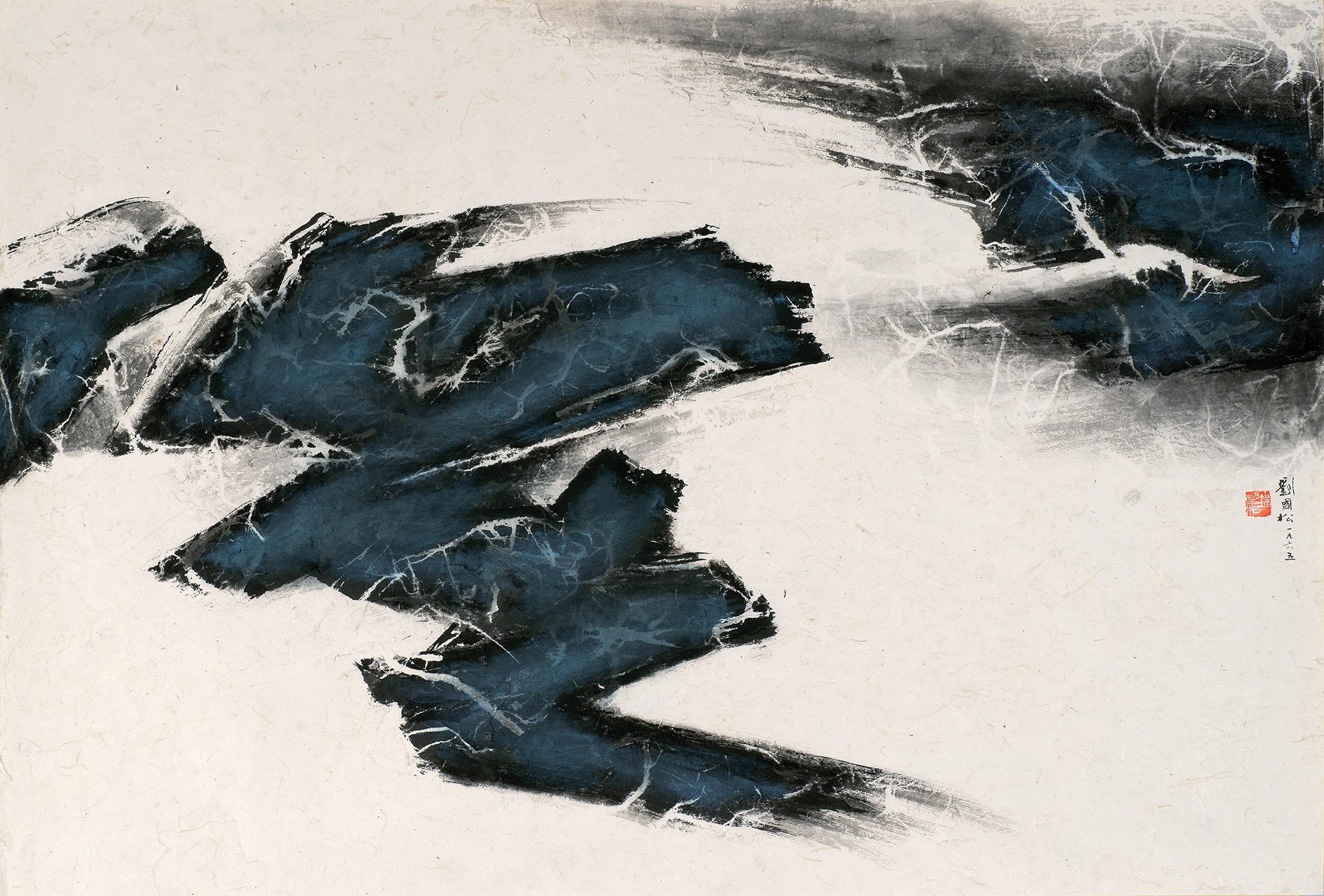 Clear Conclusion of Clearness, 1965, by Liu Kuo-sung, part of the M+ Collection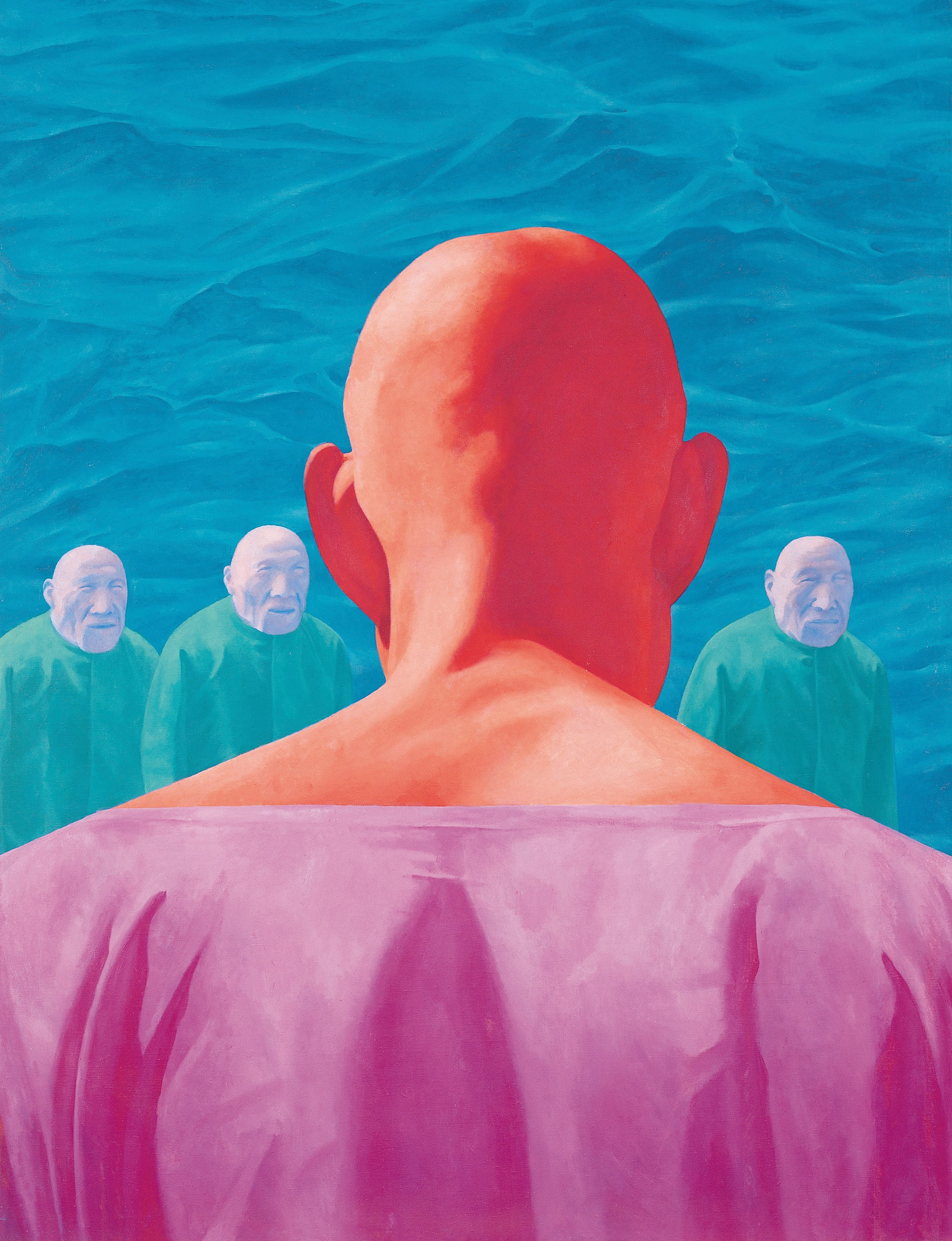 1995.2, 1995, by Fang Lijun, part of the M+ Sigg Collection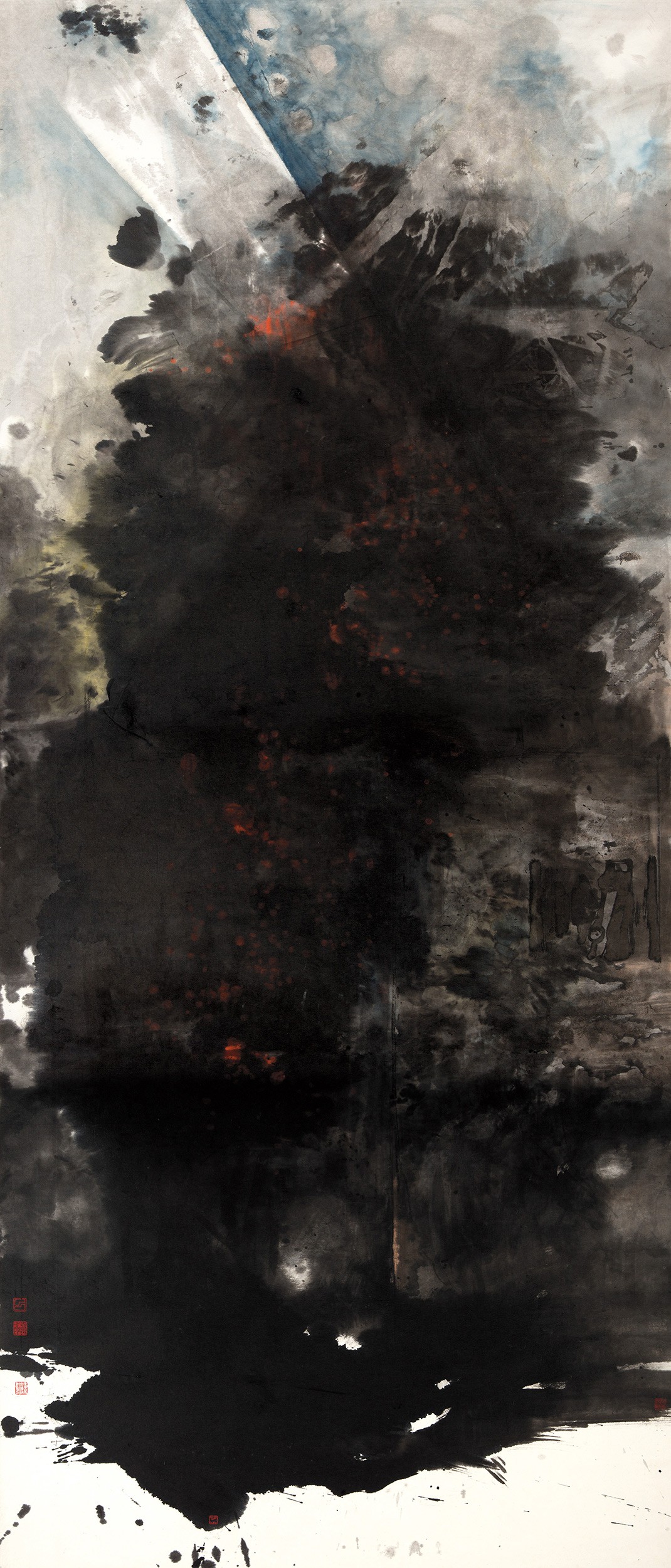 Zen, 1970, by Lui Shou-kwan, part of the M+ Collection
Back to chapters +
Featuring some 200,000 clay figurines, Antony Gormley's 2003 Asian Field is one of M+'s most striking acquisitions. Taking centre stage in the museum's West Gallery, the British artist's large-scale installation is sure to attract a crowd of visitors
Asian Field, 2003, by Antony Gormley, clay, dimensions variable, M+ Hong Kong Museum purchase and gift of anonymous Hong Kong donor, 2015
Photography: © Antony Gormley, Lok Cheng and Dan Leung, M+ Hong Kong
To Antony Gormley, the purpose of art is to 'change the way people think'. Throughout his four-decade career, the Turner Prize-winner has used sculpture as instrument to explore the relationship between humans and our environment, and to pose fundamental questions about our place in the world.
Asian Field, 2003, is a continuation of the artist's Field series, conceived in 1989. The series includes pieces produced at different locations around the world with the collaboration of communities working with local clay, such as Amazonian Field and European Field, among others. For Asian Field, he engaged around 3o0 villagers in Guangdong, China, over five days, to create approximately 200,000 simple, standing figurines with eyes, which were then fired in a local brick factory. The resulting installation of these figurines together on the floor of a vast space is meant to be experienced from a single point of view – as you gaze across the sea of figures, they appear to look back. However, the real subject of his exhibition is the audience. 'Each and every visitor will make his own journey at this exhibition,' says Gormley. Their experiences, reflections and emotions are key to the artistic encounter that Gormley has staged.
Making its home in M+'s second-floor West Gallery, Asian Field, the most ambitious of all of Gormley's Field installations, reflects on China's vast territory and population. The British artist also commissioned photographer Zhang Hai'er to document the making of the installation. Zhang paired each maker and one of their works in a series of photo portraits, adding another layer of meaning to this immersive experience.
Back to chapters +
A STORY OF
VISUAL CULTURE
From the clothes we wear and the houses will live in, to the commercial images that flood our lives, visual culture is at the core of our societies. M+ aims to combine various art forms, and a range of artistic and scientific disciplines, to put this fascinating and ever-changing imagery at the heart of its vast collections
Photography: © Archigram Archives, MAD Architects, M+ Hong Kong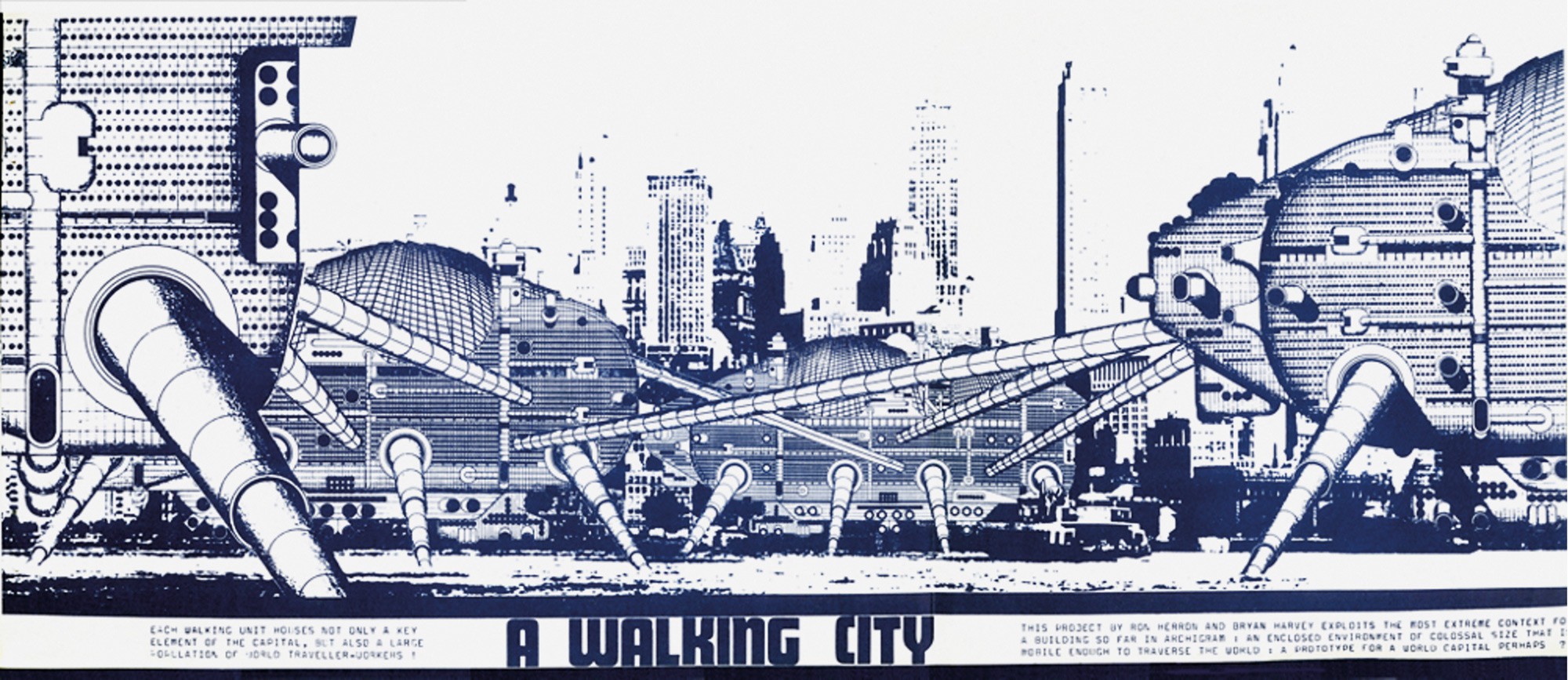 Pages from a 1964 Archigram magazine, by the British avant-garde architectural group of the same name, depicting Ron Herron's Walking City
Visual culture encompasses the way a society views and represents the world. Paintings, sculptures and photographs belong to visual culture alongside our built landscape, the clothes we wear, the films we watch, and even the commercial images that flood our lives. The study of the subject, too, embraces a spectrum of academic disciplines, both artistic and scientific.
Different research areas combine to put visual culture at the heart of M+'s collections. Hong Kong's geographical position has played a major part in the richness of its artistic and cultural history, which blends East and West. Despite its global reach, M+ considers the objects in its collections from a local perspective.
The thematic area in one of the museum's opening exhibitions, 'Hong Kong: Here and Beyond', draws on different disciplines to bring together objects from M+'s collections and new commissions to illustrate the multifaceted development of the city's visual culture since the 1960s. One should look at a piece of visual culture in its entirety, and not just the part that literally meets the eye. Understanding how and why an object was produced, and all aspects of the story behind it, can reveal much about the era in which it was created.
'When it comes to non-linguistic modes of expression, such as visual art, design and architecture, there is a huge opportunity to engage the general public with new ways of perceiving the world,' explains Doryun Chong, the museum's deputy director, curatorial and chief curator. Educating the public in visual literacy is part of M+'s role as a civic institution: 'The selection of works is based on historical research, and how the forms of objects or images capture moments of time in depth.' In this way, M+ can trace the emergence of the unique culture of the people of Hong Kong, and the way their mentality is set towards global aspirations that still inspire future generations.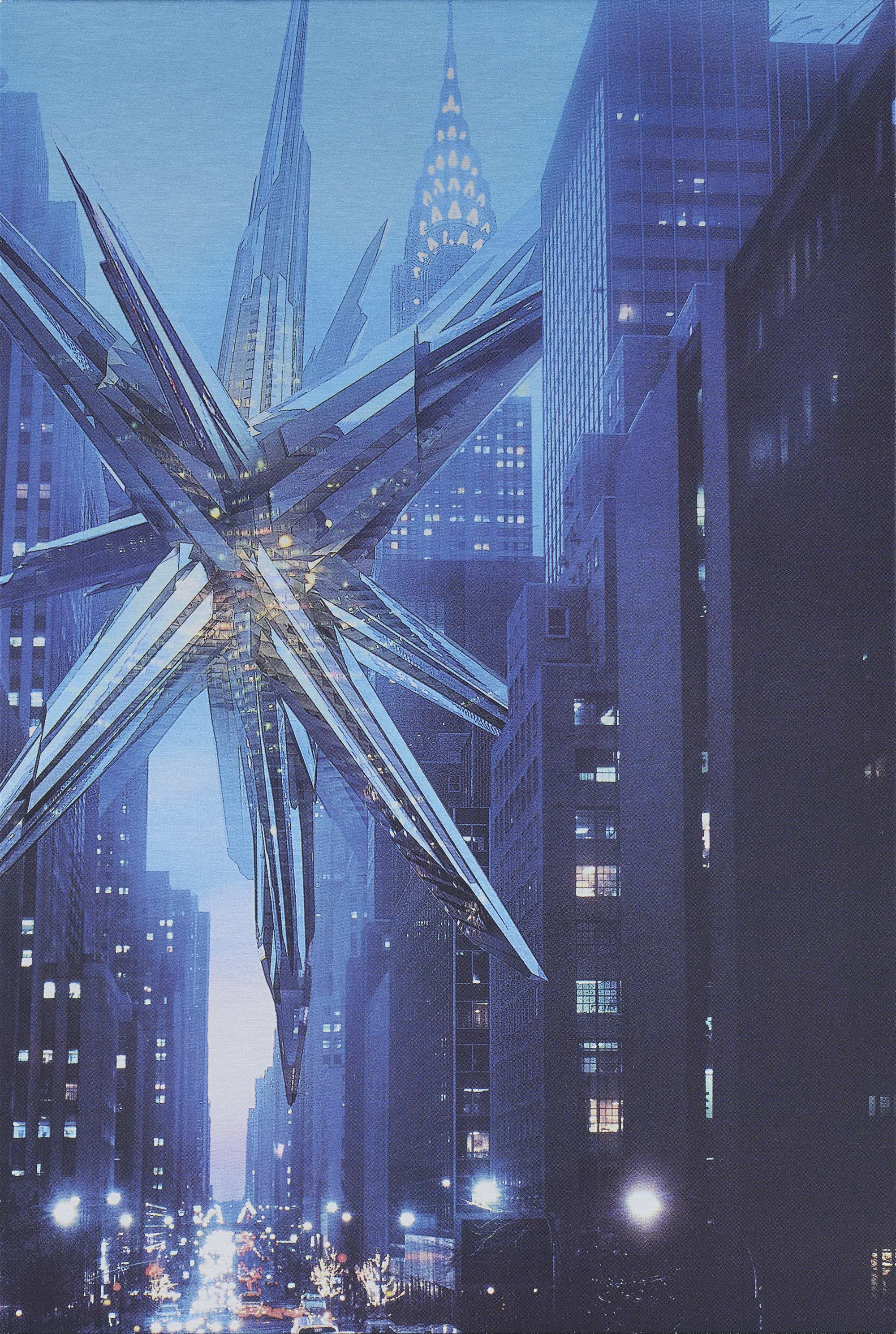 MAD Architects' Postcard of New York, Superstar: A Mobile China Town, part of a set produced by the Beijing studio for the 2008 Venice Architecture Biennale
Back to chapters +
The ground-floor M+ Shop, by Lumsden Design, sells products connected to the museum's collections and exhibitions
Photography: Jessie Yip, M+ Hong Kong
While world-class exhibitions of visual culture are inevitably the main draw at M+, the three food and beverage outlets set to open in the museum promise new culinary concepts worthy of the museum's stature.
Among the three spaces are two full-service restaurants, designed by local practice LAAB Architects, each with its own distinctive dining concept and ambience. Led by executive chef Daniel Chan, Add+ offers all-day dining along the waterfront promenade, while Mosu Hong Kong, with executive chef Sung Anh at the helm, will offer refined Korean dining on the Roof Garden, overlooking Victoria Harbour. Finally, the Curator Creative Café at M+, designed by Herzog & de Meuron, sits next to the museum shop, The Other Shop.
The Other Shop presents a range of carefully crafted merchandise to inspire visitors and enhance the museum visit. Conceived by the London-based Lumsden Design, the space reinterprets local Hong Kong design elements. Thoughtfully arranged displays are to be found in the shelves of traditional baizigui (Chinese medicine cabinets); a brightly-coloured display wall houses M+ cultural and creative materials, including The Making of M+, the first in a series of collaborations between the museum and British book publisher Thames & Hudson; and children's products are beautifully presented to inspire junior visitors' curiosity and passion for knowledge.
The M+ Shop, also by Lumsden Design, is located on M+'s ground floor, adjacent to the Artist Square in the West Kowloon Cultural District. It sells products connected to the collections and exhibitions, and will open with over 20 artist collaborations. The shop features distinctive design features, such as an alley of contemporary pai dongs (street vendors) and a glowing pavilion to provide deep insight into artists and their practice.
All proceeds from M+ retail purchases fund museum initiatives on visual culture. The products and publications are available in store and online for dispatch worldwide.
Back to chapters +
The M+ Lounge, with artworks donated from William and Lavina Lim's Living Collection, including, centre, Yeung Tong Lung's Wong Chuk Hang – Industrial Building and a Portrait, 2015
Photography: Winnie Yeung @ Visual Voices, M+ Hong Kong
The M+ Lounge, which stretches across the 11th floor of the museum, is a unique manifestation of how visual culture extends to every aspect of the institution. Here, M+ members can dine, drink and relax amid a showcase of contemporary art and design objects from Hong Kong and across Asia.
Architect, artist and collector William Lim, founder of CL3 Architects, is the visionary behind the Lounge's aesthetic. He has taken inspiration from the city's much-loved cha chaan teng (typical Hong Kong-style cafés) and added a decidedly refined touch. In 2019, Lim and his wife, interior designer Lavina, made a major donation from their Living Collection, one of Hong Kong's most noteworthy private collections, which includes 90 works by nearly 50 artists. Lim worked closely with M+'s curatorial team to install a large part of this donation in the Lounge, to be on view for the next few years. The works will sit alongside specially commissioned furnishings by a mix of up-and-coming and established Hong Kong and Asian designers.
'We have created a uniquely Hong Kong experience for the museum's members,' says Lim. 'It's an informal and eclectic space, and I have considered the spatial juxtaposition among the works to inject a sense of surprise and wonder.'
For Lim, the interior is effectively a time capsule depicting the development of contemporary art in the new millennium, a period during which Hong Kong emerged as an arts hub within Asia. The architect hopes that people will embrace the space and bring art into their everyday lives.
Monday (excluding Public Holidays) – Closed
Tuesday to Thursday, Saturday, Sunday and Public Holidays
– 10am to 6pm
Friday – 10am to 10pm
Annual M+ membership includes free use of the Lounge during opening hours
Back to chapters +
HONG KONG CREATES A MUSEUM FOR THE FUTURE
M+ Museum Director Suhanya Raffel is championing the new institution's deep connection with the Hong Kong community while establishing it as one of the world's leading museums. She talks to Wallpaper* about her work and how M+ is helping to redefine the significance of visual culture in Asia
Photography: Lok Cheng, M+ Hong Kong
W*: When did you start working with M+, and why did you decide to take on the challenge?
SR : I moved to Hong Kong from Sydney in 2016 to join M+. The ecosystem of museum development in Asia is still emerging, which is why it is so exciting to be here. As a major new museum, we are simultaneously defining what global museum cultures of the future will look like, while creating a completely new understanding of the role of the museum in Asia.
On a more personal note, as someone originally from Asia [Raffel was born in Sri Lanka], I have always felt the significance of owning the storytelling that belongs to us – these are our stories and they are unique to here. It is crucial that our voices are heard from our place, with our people. It feels right that Asia should claim an increasing role in the narrative, and that Hong Kong, a city that has always been a connection between East and West, should take the lead.
W*: What is M+'s mission?
SR : M+, a brand new centre for visual culture and a world-class landmark for a great international city, is dedicated to collecting, exhibiting and interpreting visual culture of the 20th and 21st centuries; its collections span visual art, visual culture, design and architecture, and the moving image. I want M+ to be a major platform for fostering exchange between Hong Kong and the rest of the world. We want to tell the stories of this region through multidisciplinary, interdisciplinary and interregional narratives.
W*: What is the significance of M+ to Hong Kong and the region?
SR : Great museums change global perceptions of cities and nations. A museum like M+ can have a transformative effect by expressing the identity, creativity and energy of the city. When we look at Hong Kong – its skyline, its street culture, its art and design, its regional authenticity and international influences – it reflects a rich and entirely unique history. Hong Kong has a globally recognised visual culture; there really is no better place to build a museum like M+.
One of Hong Kong's most ambitious and far-sighted decisions has been to invest in a new district dedicated to culture and creativity. M+ is part of the West Kowloon Cultural District, a massive project consisting of museums, theatres and public space built on 40 hectares of reclaimed land. The name 'M+' expresses our particular ambition to be more than just a museum. M+ is a catalyst for the future development of art, culture and creativity that will change people's lives.
W*: What kind of museum experience is M+ creating?
SR : M+ is located in the West Kowloon Art Park, a hugely popular public space. Herzog & de Meuron have created a superb and extraordinary museum building that extends that public space into and on top of the museum building through a design that is porous and inviting. It is truly a gift to Hong Kong that will become one of its most recognised architectural icons. Indeed, we regard the building itself as part of the M+ Collections.
But, M+ is more than a new public space for the city; it is a place for inspiration. The museum will be a place where visitors can interact, share our thinking, discuss and learn; it is a place where people can see our objects as they truly are.
I firmly believe when interacting with visual culture – whether an architectural model or ink painting – the experience of looking at the scale of the work is an essential part of the enjoyment. Importantly, the museum will also be a place to relax and unwind, with dining, shopping and an open-air roof garden featuring a newly commissioned, interactive 'Playscape' created together with the Isamu Noguchi Foundation. We hope to see people returning again and again, as we foster lifelong relationships with our visitors.
W*: Why has it been so important for M+ to make information about its collection available to the public online?
SR : M+ is embracing the practice of open access and working towards releasing as much data about our collections as possible. By providing images and metadata about our objects, and relevant contextual information about the images on the M+ website, the museum aims to unlock its institutional knowledge and invite public engagement. It's a key element in creating new narratives and interpretations by giving the wider community a stake in what we do.
W*: What does your typical day at M+ look like?
SR : What is so exciting is that every day is different. I may be talking to architects or contractors, donors, schoolchildren or senior government officials. Increasingly, as we look beyond opening, discussing and planning M+'s next three years is taking up much of my time. We are well on the way towards establishing our next series of exhibitions, publications, internships and commissions. There are the key conversations with colleagues about our various partners and collaborators, such as Hong Kong's participation at the Venice Biennale. And work on the growing collections continues with a strong emphasis now on how we incorporate our sustainability aspirations across the museum.
Back to chapters +