Heads up: Nice is an art and design lover's delight
Beyond sun and sea, Nice is full of cultural and culinary highlights: here's our pick of its art, food and design destinations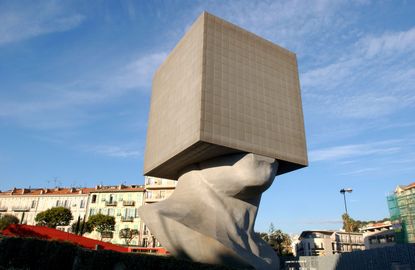 (Image credit: A.Issock, Courtesy Office de Tourisme Métropolitain Nice Côte d'Azur)
Design is woven into Nice more than meets the eye. Art and culture are cornerstones of its heritage. Unlike some of its Côte d'Azur neighbours, Nice holds both the sophistication of the past and innovation for the future. Upcoming is Studio Libeskind's sculptural and faceted new rail station development, Gare Thiers-Est, currently under construction in collaboration with Fevrier Carre Architectes and landscape architect Jean Mus, and set to include a hotel, offices, and a 200-seat auditorium, along with retail and dining offerings. Existing attractions include the MAMAC (Museum of Modern and Contemporary Art), which houses a mix of American Pop Art and European New Realism, including work by locally born artist Yves Klein. And Nice's candidature for the 2028 European capital of culture awards shows just where this cosmopolitan city wants to go.
Here, for our design-led guide to Nice, freelance writer Imogen Green explores the city.
What to do and where to stay in Nice: 8 highlights
---
AC Hotel
Built in 1987, the AC Hotel Nice is a sleek four-star hotel set just off the Promenade des Anglais. Embedded in its granite flanks are twin 26m bronze statues of Venus by local artist Sacha Sosno (1937 – 2013), part of the École de Nice movement that flourished in the 1950s and 1960s. For the past two years, the hotel has hosted the Young Nice Artists festival, where works by local creative talent are chosen by a jury and exhibited around the hotel. Beyond its art, AC Hotel offers contemporary interiors, generously sized rooms and a rooftop pool with one of the best 360-degree views in the city.
La Merenda
La Merenda, headed by chef Dominique Le Stanc, is an emblematic culinary spot in the city, exuding a vintage and typically French charm. Ingredients are gathered from the local Cours Saleya market each morning, with freshness playing a key part in the restaurant's authenticity; everything is prepared in an open kitchen situated towards the back of the restaurant. The traditional menu with modern Mediterranean influences includes house specialities such as pâtes au pistou (pasta with pesto), beignets de fleurs de courgettes (zucchini flower fritters), stuffed sardines, and pissaladière (a local pizza-like oniony tart).
Midi Design Store
Midi Design – named after the noon cannon that sounds daily in Old Nice – stands out for its colourful, individual and bold homewares for the design lover. The store was created by Henri and Mathilde Daumont, who are inspired by the Memphis movement, as well as the tones and textures of the surrounding old town, and it's clear that each item has been curated with a sharp eye for modern design.
La Tête Carrée by Sacha Sosno
Standing above the crowd and 30m high in the Jardin Maréchal is La Tête Carrée (The Square Head) by Sacha Sosno, a piece of inhabited artwork. Gifted to the city of Nice by the artist, it houses seven floors of offices for the Louis Nucéra library. Sosno's statues often incorporate human figures with geometric influences, and this one has become a monument of the local area. It will be a central part of a redevelopment project of the Jardin Maréchal Juin, which is to be expanded to create a large green space in the centre of the city.
Les Agitateurs
Awarded a Michelin star, Les Agitateurs offer a fresh culinary take on French food while highlighting the local and seasonal produce of Nice. It's the brainchild of Juliette Busetto, Samuel Victori, and Pierre-Jean Arpurt, who studied together before opening the restaurant in 2018. Soft and neutral-toned interiors complement the attention to detail in each course of the menu. Two set tasting menus, poésie végétale and l'échappée belle, along with a selection of biodynamic wines create a journey for the senses at each course.
instagram.com/lesagitateursnice
Rouge
In the Antiquarian District and quietly sat back from the Lympia Port is Rouge bar and restaurant. The bar offers an extensive wine cabinet specialising in biodynamic and natural wines. A set of hors d'oeuvres (both hot and cold) complements the wines served and a walk-in-only policy means tables fill quickly. It's popular with those looking for fresh plates to share, and an early arrival is recommended.
Villa Arson
Villa Arson is home to an art museum, a school of fine arts and a centre for research, and represents a new age of art in Nice. Situated on Saint-Barthélémy hill, the villa was designed in the 1960s by architect Michel Marot. Nestled amid the greenery of a Mediterranean garden, it is a hub for the new generation of Nice artists. As an institution, it continues a legacy similar to that of the École de Nice, by bringing emerging young artists to the forefront of the contemporary movement in the city, with no boundaries and the freedom to express their artistic styles.
Boscolo Nice
The spa at the Boscolo hotel was designed by architect Simone Micheli and provides a space for relaxation in the heart of the city. An architectural 'tree' shoots jets of water into the plunge pool below in a refined and modern setting, while Turkish baths, aromatic showers, a hydromassage tub, and relaxation rooms provide further scope for visitors to unwind.
Imogen Green is a freelance travel and lifestyle writer based in London. She focuses on finding the nuances of how lifestyle, art and culture are woven into the landscape of the places she visits. instagram.com/imogen.flw/