W Hotels: Thom Filicia interview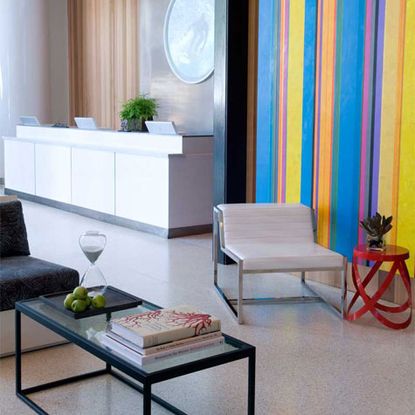 (Image credit: press)
W hotels all have certain key ingredients in common – sharp design, inventive luxury, and a comfortable, vibrant energy. But the portfolio of properties – almost 30 now worldwide - are far from cookie-cutter.
Click here to see more of W San Diego.
LA-based designer Thom Filicia (you might remember him from his days as the design guru on US TV show Queer Eye for the Straight Guy) has worked with W on a number of projects, most recently the W San Diego and the W Buckhead in Atlanta.
The two locations are considerably different – the one a West Coast beach city, the other an inland, urban precinct. 'The aim is for each property to stand out and yet feel organic in its indigenous environment,' says Filicia.
'In Atlanta we wanted to do something that felt unique to Buckhead. We looked at the brand – modern, innovative, successful, service-oriented – and then we thought about Buckhead, which tends to be a bit more classic, a bit more country club. We wanted to reference that lifestyle in a fresh, innovative way; call it country club chic.'
San Diego was another story entirely. 'There is a suburban, artsy culture over there, and a strong emphasis on surfing and the beach,' he says. 'But rather than replicating the clichéd beach theme we played it out a bit – surf meets city, the encapsulation of the young, laid-back San Diego lifestyle.'
Filicia started by building a 'personality profile' of each property, a thematic story to inspire the choice of materials and the overall aesthetic.
For the bathrooms at Buckhead that meant Italian marble, traditional style taps and lots of nickel plating for what he describes as a 'very classic but still very chic aesthetic.'
The walls feature silver leaf patterns and the colour palette references vibrant botanicals, incorporating traditional chintz fabrics and classic monograms with a fresh, modern twist.
For San Diego, the approach was more overtly modern. The team worked with a professional surfer and local artisans to choose materials and discuss design, drawing inspiration from the colours of surfboards and the surf-city dichotomy. The fabrics were kept simple and the furniture choices were 'racier.'
'The aesthetics are different, but the fundamental point of view and the relationship to the W brand is the same,' he says. 'If you're a fan of W and you're staying in San Diego, I want your experience to be different from Buckhead, but in terms of quality, and service – all those things W is known for – we want that to be consistent. Each property should tell a different story but speak the same language.'
Melina Keays is the entertaining director of Wallpaper*. She has been part of the brand since the magazine's launch in 1996, and is responsible for entertaining content across the print and digital platforms, and for Wallpaper's creative agency Bespoke. A native Londoner, Melina takes inspiration from the whole spectrum of art and design – including film, literature, and fashion. Her work for the brand involves curating content, writing, and creative direction – conceiving luxury interior landscapes with a focus on food, drinks, and entertaining in all its forms