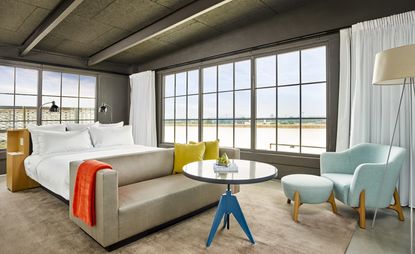 (Image credit: 21cmuseumhotels.com)
Located in Oklahoma City's historic neighbourhood of Film Row, where boutiques and restaurants are taking over what used to be Paramount, Warner Bros, and MGM offices, the 97-year-old, Henry Ford-built assembly plant provides a perfect tabula rasa for the artsy hotel chain 21C's latest iteration.
In line with the brand's museum-cum-accommodations model, 21C Oklahoma City combines 135 guest rooms with 14,000 square feet of event space and art exhibitions. The Deborah Berke Partners-designed rooms complement the original bones by the industrial designer Albert Kahn.
Unique in size and configuration, the digs feature original artworks and oversize windows that fill the high-ceiling space with light and vistas of downtown. With nearly 3000 square feet of living space, the building's original penthouse apartment is now a two-bedroom 21c Suite, featuring versatile sliding wall panels and an additional terrace. Indeed, it will leave you wanting more hotels like this artsy new boutique.
INFORMATION
ADDRESS
900 W Main St