Henrietta Red — Nashville, USA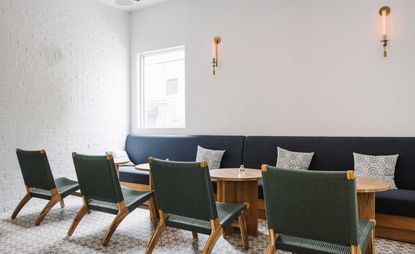 (Image credit: press)
Co-owned by chef Julia Sullivan and sommelier Allie Poindexter, Henrietta Red is another delicious reason why the charming, historic neighbourhood of Germantown is a must-visit stop in Nashville.
Envisioned by Los Angeles-based Kathryn Lager Design Studio and awash in a vaguely nautical palette of white, blue, and green, the airy, sun-drenched space is thoughtfully sourced with fixtures and furnishings from local artists. When guests enter the restaurant, they are greeted with a handsome marble bar, iron shelves by Ferrin Ironworks, Christian Fecht communal tables, and lounge chairs by Masaya & Co. The main dining area features a service table and tabletops from 5 String, and pendant lighting by Southern Lights. Even the women's restroom feels refined, with the help of custom wallpaper designed by New Hat Projects.
As for the food, it's thoroughly American, comforting, and seasonally driven. At the bar, you'll discover whimsical, yet substantial snacks like caviar and crackers and smoked mussel toasts, while the main dining room expands on these offerings with larger plates, including cauliflower steak, braised lamb, and wood-fired mackerel. There's also an ever-rotating selection of sweet, briny shellfish supplied from the raw bar. Curated by Poindexter, the wine list spotlights up-and-coming producers, many sustainable and organic.
INFORMATION
ADDRESS
1200 4th Ave N