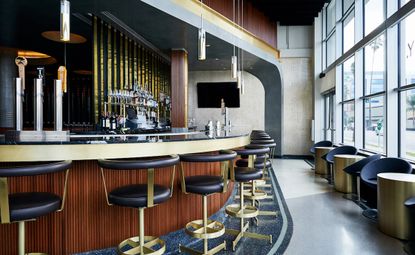 (Image credit: pokpoksom.com)
Though 'Old Hollywood' as a theme has been carted out many times over, there's something fresh and original about its incarnation at Paley, which located in the town itself, eschews all the clichés in reference to Hollywood's heyday, instead replacing them with an altogether more imaginative interpretation of the neighbourhood.
Housed in a landmark 1930s building, designed to by architect William Lescaze to house the CBS Studios, the restaurant is named after William S. Paley, the Chief Executive, who took the then small Philadelphia-based radio network and transformed it into a nationwide media conglomerate.
Local design firm Bishop Pass have smartly woven the building's past throughout; perforated metal walls are evocative of 1930s and 1940s microphones, and show-stopping concrete columns, white marble counters, brown leather seating and rich oak tables all inject the space with an unapologetic sense of luxury.
Chef Greg Bernhardt – a leading figure in California's farm to table movement – has skilfully fused the state's offerings with a cheeky nod to the locale. As such, meals start with appetisers like Martini Mussels, with pickled pearl onion, gin and vermouth and fresh herbs, and end with the likes of popcorn ice cream, with brown butter powder and salted chocolate rocher; a truly unforgettable closing act.
INFORMATION
ADDRESS
6115 Sunset Boulevard
VIEW GOOGLE MAPS (opens in new tab)