Bibo Ergo Sum — Los Angeles, USA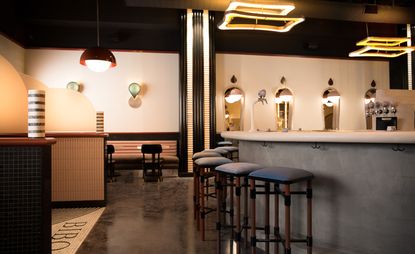 (Image credit: biboergosumla.com)
Tait Forman, from the family behind upscale movie theatre chain ArcLight, has joined forces with cocktail consultants Proprietors – who are behind Koreatown favourites such as the Walker Inn and the Normandie Club – to launch Bibo Ergo Sum.
Latin for 'I drink, therefore I am', the bar's concept features a three-part menu that corresponds to the three acts – the Pledge, the Turn and the Prestige – that comprise every magic trick, as popularised in the film The Prestige.
Expect updates of classics such as Throw Some C's, a spin on a margarita made with cinnamon reposado tequila, lime juice, Pierre Ferrand dry curacao and cinnamon along with extraordinary smoke-encapsulated concoctions and a wine and beer menu to suit all tastes.
This is served up in a retro 1980s and modern art deco setting designed by Brooklyn-based Home Studios, who were inspired by a mishmash of influences from new-wave French film posters to Viennese architecture.
INFORMATION
ADDRESS
116 N. Robtertson Boulevard
Suite F