Humble Pizza — London, UK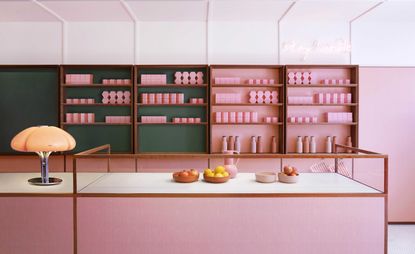 (Image credit: press)
The crowded landscape of King's Road is a bold location in which to open a new dining venture. And bold it is — in every sense — for Humble Pizza, who, behind a period timber shopfront, has introduced this lively corner of West London to a menu of plant-based Italian classics.
In a space brought to life by emerging London-based design duo Child Studio, pink Formica reigns supreme, coating walls, floors and ceilings in excess — an homage to the singular British post-war vernacular of 'greasy spoon caffs', a multitude of which emerged in London during the 1950s.
Here, the mood offers a conspicuously contemporary twang. A bespoke shade of 'millennial pink' on Formica counter fronts and table tops is joined by mosaic tiled flooring, velvet upholstered banquettes and neon signage, all in varying tones of blush, while tableware and takeaway food packaging is also licked with coats of the same shade. Light sources by mid-century designers such as Poul Henningsen, Jacques Biny and Luigi Massoni culminate to dramatic effect and create a museum-like atmosphere in which a 5.5 metre display counter along the café's back wall takes centre stage.
On the wholly vegan menu, soups and salads are a starting point for the main attraction – pizza, available with a cauliflower base and an impressively creative variety of toppings including the 'Diavola', featuring San Marzano tomato sauce, vegan mozzarella and spicy tofu chorizo. Not so much 'when in Rome', but close enough.
INFORMATION
Website
ADDRESS
342 King's Road
VIEW GOOGLE MAPS (opens in new tab)
Melina Keays is the entertaining director of Wallpaper*. She has been part of the brand since the magazine's launch in 1996, and is responsible for entertaining content across the print and digital platforms, and for Wallpaper's creative agency Bespoke. A native Londoner, Melina takes inspiration from the whole spectrum of art and design – including film, literature, and fashion. Her work for the brand involves curating content, writing, and creative direction – conceiving luxury interior landscapes with a focus on food, drinks, and entertaining in all its forms