Retreat to Productora's brutalist jungle hideaway
Casa Bautista is a piece of living sculpture in the Mexican jungle. Designed by Productora, the house is a combination of surrealist and brutalist inspirations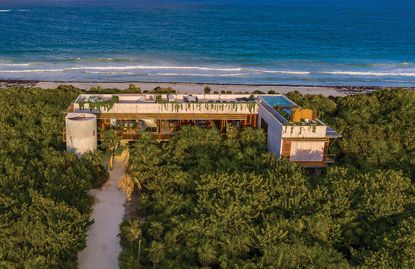 (Image credit: Onnis Luque)
AS FEATURED IN THE WALLPAPER* DESIGN AWARDS 2020 ISSUE
Trekking into the thick jungle of Yucatan's Sian Ka'an Biosphere Reserve, you might stumble across a blue concrete house embedded in the dunes overlooking the Caribbean Sea. Tucked away in a land that the Mayans called 'Origin of the Sky', Casa Bautista is a gatehouse to nowhere but nature, carrying both the whimsy of Edward James' Las Pozas surrealist sculpture park, and the weight of a brutal fortress.

Supported by triangular pilotis, the house appears to hover in the tree canopy. Already crawling with vines and creepers, it could be an undiscovered mid-century modernist ruin. Yet it was only six years ago that two friends were cutting through the lush vegetation with machetes, looking for a piece of land wild enough for their wildest architectural fantasy: a surrealist retreat for friends immersed in nature. The pair, Victor Jaime, architect and director of Productora, and Ezequiel Ayarza, founder of Oaxaca- based organic coffee estate Pueblo del Sol, met by chance 18 years ago in a bar in Mexico City. Jaime was winding down after the day, and Ayarza had just arrived in the city from Argentina in the midst of the 2001 financial crisis. They bonded over a drink and a shared interest in architecture and escapism – Ayarza was a risk-taker full of ideas, and Jaime was to be the architect adventurous enough to design them.
Plans for their clandestine plot took root, yet planning rules in the Sian Ka'an eco-reserve meant the house could only cover 300 sq m and rise to 8m (as high as the tree canopy), while any clearing of the jungle was to be limited to the building's perimeter. It was these restrictions that inspired the three-level house wrapped in timber pergolas, with a rooftop pool and dining area that place you in the midst of nature, sea and sky. At ground level is a covered, shady area for storing beach equipment, below the raised main living level, which houses expansive dining and living spaces and ve generous bedrooms. Casa Bautista is designed by friends, for friends: 'It's a place for hospitality – everyone is invited,' says Jaime.

Crafted by local carpenters in tzalam timber, a system of lightweight pergolas and terraces softens the otherwise brutalist building and creates additional living space, while providing shade and humidity control. Inside, the house offers spaces of intrigue and surprise, including 'a secret door that leads you to a hidden mezcal cellar' and a concrete cylinder connected to the house by a timber bridge, 'conceptualised to be like entering a turbine', says Jaime. With this cylinder, the triangular pilotis and an external spiral staircase, the house is like a piece of living sculpture in the jungle. 'Productora has always been interested in simple forms, and their contrast to the surrounding landscape,' adds the architect. The practice's built work includes Teopanzolco Cultural Center (2017) in Cuernavaca, with its platform and stepped auditorium inspired by Mayan ruins; and the Fleischmann Residence (2018) in Los Angeles, where a street-facing triangular pitched roof shifts into a colossal blue steel grid.

At Casa Bautista, the architectural artistry extends to the materiality of the concrete, as well as its colour, dyed blue as an ode to the sea and the sky. 'It belongs to the site like a rock discovered by the water,' says Jaime. Speckled with pale turquoise, cerulean and oyster grey, the surface is textured and reflective. At dusk, when guests find their way to the roof to dine under a pink sunset, the sand turns moonlight grey, the jungle intensifies and the house turns purple. 'We like to think that our projects are both of our time, and timeless, because they talk about essential things such as awe, emotion, light and shade, and the environment,' says Jaime of this unique beach house that is sure to be filled with friends all year long.
INFORMATION
productora-df.com.mx (opens in new tab)
casabautistatulum.com (opens in new tab)