Stay in craft studio Pretziada's Sardinian guest house, La Residenza
Based on traditional Sardinian homes, the space hosts Pretziada's design guests for a week at a time and can be booked for private stays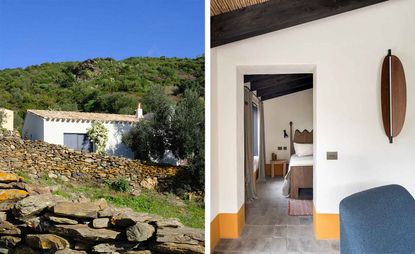 (Image credit: Courtesy Pretziada)
Picking olives, building dry stone walls and harvesting wild reeds is all part of a day's work for Ivano Atzori and Kyre Chenven of design studio Pretziada. In 2015, the couple moved on from living and working at a 500-hectare farm in Tuscany and bought Aresus, an abandoned hamlet in a wild corner of southwestern Sardinia. The island has a rich history of craft, and straight away the couple scoped out local artisans, pairing them with well-known designers to reinterpret heritage pieces in modern ways; think wooden, caned chairs, handwoven rugs, nuptial vases, water jugs and more.
It may be remote and hard to get to, but Pretziada's home turf is irresistibly alluring to those in the know. French designer Sam Baron and Milan-based designer Roberto Sironi have both paid a visit, and recently Margaux Padrutt and Raphaelle Lhuillier of Mimo Studio stopped by. During their stay, their first collection, 'Forca' was born, comprising a coffee table, a console and shelves. It launches in autumn 2023.
La Residenza Sardinian guest house by Pretziada
The French duo stayed at La Residenza, Pretziada's new guest house in the village. Incorporating the caned roof, built-in niches, thick walls and stone-walled courtyards that typify original Sardinian homes, the one-bedroom space hosts Pretziada guests for a week at a time. And if that sounds romantic, it is. Aresus is located in Sulcis, a region blessed with a sparkling coastline and remote outposts from the 1800s known as furriadroxus.
Armed with a creative itinerary devised by their hosts, guests at La Residenza get to absorb the customs and culture of Sardinian makers, many of whom are fifth or sixth generation. But life can be tough and wild on this unfashionable strip of Sardinia. There are no spas or Michelin stars, and guests are expected to fend for themselves. 'It's very intense because we're living in a tiny place with no services. Driving an hour through the forest for simple things like bread and wine requires real effort,' says Chenven, who grew up in New York. 'We want to help rather than serve,' explains Atzori, who grew up in Milan but spent summers in Sardinia as a child. 'We want visitors to see what living in the countryside is really like.'
But the beauty of La Residenza more than makes up for any lack of facilities and services. Terracotta floors and tiles are handmade by (Wallpaper* Design Award 2022 winners) Fornace Brioni; lighting is from family-owned company Tooy, and local firm Calcidrata conjured lime plaster for both interiors and exteriors. Pretziada's team of local artisans stepped in to make new pieces, among them Pierpaolo Mandis, whose bed, cabinet and armoire are made in local chestnut, while an oak kitchen is custom-made by Falegnameria Pisu.
When it's not occupied by designers, La Residenza can be rented for private use, and the plan is to open more spaces that breathe new life into Aresus. 'To us, the property is a logical extension,' says Chenven. 'We make design pieces and now we have a physical location in which to house them.' Atzori adds: 'The buildings and the village are our interpretation of Sardinian vernacular architecture.' In the right hands they reveal what a contemporary rural community can look like.
Receive our daily digest of inspiration, escapism and design stories from around the world direct to your inbox
Emma O'Kelly is a contributing editor at Wallpaper*. She joined the magazine on issue 4 as news editor and since since then has worked in full and part time roles across many editorial departments. She is a freelance journalist based in London and works for a range of titles from Condé Nast Traveller to The Telegraph. She is currently working on a book about Scandinavian sauna culture and is renovating a mid century house in the Italian Lakes.