Santa Clara 1728 — Lisbon, Portugal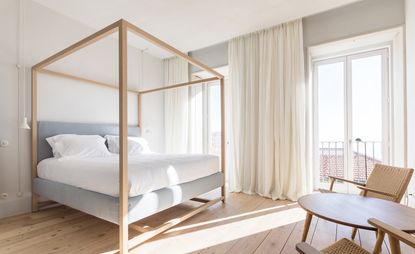 (Image credit: Francisco Nogueira)
Housed inside an 18th century pile on one of Lisbon's most romantic squares, Santa Clara 1728 is the fourth in a string of slick design-led properties from hotelier João Rodrigues.

Perched atop one of the city's seven hills, overlooking the Pantheon and the Tagus River beyond, the hotel has been designed by local architect Manuel Aires Mateus, whose clean, modern interiors are refreshing trimmings to the building's ancient walls; worn, limestone stairs lead to the guestrooms, where coarse linens, pale woods and furnishings by designer Antonio Citterio come together in a neutral palette boosted by a graceful duck egg blue.

Downstairs, unwind under the warm glow from Davide Groppi's 'Simbiosi' lights with a glass of Portuguese wine and comforting home-made meal, using the freshest market produce, while planning the best to see and do in Lisbon, with Rodrigues himself.
ADDRESS
Campo de Santa Clara 128