Café Weldeck — Amsterdam, Netherlands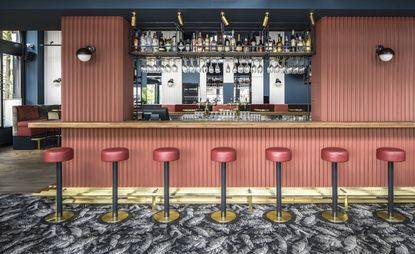 (Image credit: Café Waldeck, Netherlands)
As Parisian brasseries go, Café Waldeck is as authentic as it gets — that is, until its windows give view to Amsterdam's Vondelpark and Koninginneweg. In fact, Waldeck's name, which refers to the street on which it is located, is the only giveaway that diners are actually the Netherland's capital city.
Local designers, Framework Studio have given the interiors an art deco twist by applying bold geometric shapes to many of the cafés fixtures, along with a liberal use of fumé mirrors and wall panelling. This, together with classic rattan chairs by Thonet, wall lamps by Allied Maker and banquettes upholstered with velvet and leather, is a clean and fresh update of the traditional French cafe.
The winter garden, distinguished by its glass ceilings and a banana leaf patterned carpet, offers a more relaxed setting to enjoy the classic fare – from truffle ravioli to beef tartare – which is pleasingly comforting.
ADDRESS
Willemsparkweg 223