Turkey's Bodrum Loft hotel turns sculpture park this summer
Bodrum Loft hotel hosts artworks by Takashi Murakami, Daniel Arsham, Jean-Michel Othoniel and more in collaboration with Perrotin and consultancy Artsa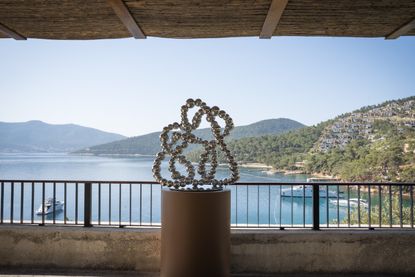 (Image credit: Courtesy of the artist and Perrotin. © Othoniel / ADAGP, Paris 2023. Photography: © Courtsey of Artsa Consultancy / Afken Group)
Wallpaper* Newsletter
Receive our daily digest of inspiration, escapism and design stories from around the world direct to your inbox
Thank you for signing up to Wallpaper. You will receive a verification email shortly.
There was a problem. Please refresh the page and try again.
Bodrum Loft, among the Turkish resort's increasingly luxurious hotel openings of recent years, has transformed into a sculpture park this summer in a collaboration with gallery Perrotin and Artsa Consultancy and Project. Running until September, the exhibition, 'French Delights', includes work from artists such as Takashi Murakami and Daniel Asrham, curated in the grounds of the Tabanlıoğlu Architects-designed hotel, which comprises 36 independent residences set into the hillside facing the meeting point of the Mediterranean and Aegean seas.
'French Delights' at Bodrum Loft
'I am glad of this invitation and happy to show these sculptures in such a sublime context,' says participating artist Iván Argote. 'I like the relationship of these works to the sea – it generates a new poetic dialogue – as well as the relationship to the region, a place rich in history and archaeology.'
As the worlds of blue-chip art galleries and luxury lifestyles gravitate towards one another, projects such as this bring artworks to collectors in their daily lives.
Selçan Atilgan, founder of Artsa consultancy, curated the commercial exhibition, which is the agency's second at the hotel. 'Bodrum Loft is famous for its architecture that seamlessly integrates with nature,' she says of the property's appeal.
She established Artsa after graduating from Sotheby's Institute and working in the commercial gallery world with a focus on organising exhibitions alongside art fairs. While she has worked on projects around the world, this is the first time she has produced a show in Turkey.
'I had always wanted to be able to organise these events in my country, in Turkey. At this point, I met the Akın family, who own Bodrum Loft, and our story of working together began.'
The artworks were placed in situ in an intuitive way, intended to be harmonious with the natural setting of the hotel, meaning they are either in tune with the sea, the greenery or the sky.
Alongside Arsham and Murakami, artists selected for the show, all of whom are represented by global art power player Perrotin, include Jean-Marie Appriou, Wim Delvoye, Laurent Grasso, Gregor Hildebrandt, Klara Kristalova, Jean-Michel Othoniel and Paola Pivi.
There is a focus on nature in the work of Kristalova and Appriou, while incidental political statement comes from Elmgreen & Dragset – whose Adaptation, Fig. 16 (Black Mirror) reflects on the regulatory role of road signs – and from Iván Argote.
'I like to think of these works as fictional archaeologies,' Argote says of his pieces. 'They are part of a series named Excerpts, a group of sculptures in steel, concrete, copper, gold, and oil-based painting, that seem to be ruins or remains of pre-existing architecture. On the surface of the sculptures, we find writings, reflections, poems, and quotes that are simultaneously intimate and political statements.'
The ingenious idea of taking art out of the city when collectors leave for the summer is not a new one, with blue-chip gallery outposts in the Hamptons, USA, and Somerset, UK, for example, enjoyed by many and shopped by a lucky few. But as part of hospitality's focus on luxury living, initiatives such as this are sure to flourish.
Receive our daily digest of inspiration, escapism and design stories from around the world direct to your inbox