Get your head around contemporary art at a Belmond hotel in Tuscany
Belmond's Mitico project with Galleria Continua brings contemporary art to historic settings in Tuscany and beyond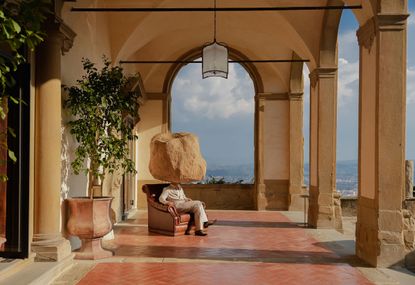 (Image credit: Courtesy of the Artist and Belmond)
Those visiting Castello di Casole, the Belmond hotel situated in an 18th-century castle in deepest Tuscany, would be forgiven for some confusion on approach. In amongst a picturesque view of the grounds' vegetable garden, an oversized stroller can be spotted, complete with wheels, handles and a brightly coloured hammock-like mesh inviting passers-by of any age to take a seat. This isn't a prank – it's actually an artwork created by American artist Nari Ward, entitled Stallers (2013).
Visitors to the hotel will spot 17 of these giant strollers across the property, from outside one of the complex of rooms to the area devoted to stargazing beyond the pool area. They are part of a wider project called Mitico (inaugurated in 2022), which pairs Belmond's hotels – from Sicily to Oxfordshire – with the work of different contemporary artists each year. It's all through an alliance with Lorenzo Fiaschi, one of the founders of Galleria Continua, the gallery originally founded in the local town of San Gimignano in 1990, now with outposts from Paris to Havana.

The project perhaps has particular resonance at Belmond's two hotels in Tuscany – Castello di Casole and Villa San Michele, the latter located just outside of Florence, in a former monastery where Napoleon once lived. Here, Beijing-based artists Sun Yuan and Peng Yu installed their work Teenager Teenager (2011) during the summer of 2023, featuring life-like figures occupying the hotel's furniture, encumbered by giant rocks as their heads.
Many visitors come to Florence and the area around it to see the abundant riches of Renaissance art. This fact alone means a contemporary work like this is powerful. 'We see the contrast between ancient and contemporary as a tool with which to connect art to people,' says Fiaschi, 'as with bringing contemporary art into a hotel space. The audience expands and more people can experience art in some of the most amazing places in the world.'
For Belmond, adding contemporary art to the interiors of luxury hotels doubles down on modernity. It can be a point of difference when attracting guests and maintaining regulars (who may return each year, curious to see different installations). It also chimes with a more up-to-date, informed view of Tuscany, a much-loved – but sometimes pigeon-holed – region.
Away from the blockbuster Renaissance headliners, more recent art is now an established draw. In addition to Galleria Continua's five spaces in San Gimignano (one in an apartment, away from the street, is a particularly delightful visit), there are contemporary galleries such as Museo Novecento, as well as Murate Art District (MAD) in Florence. A contrast to the treasures to be seen in the Uffizi (not to mention a break from the crowds), they provide a taster of what's happening in 2023, rather than the breathtaking 1485 Botticellis. The Centro Pecci Prato, meanwhile, is a space dedicated to contemporary art. With a spaceship-like extension designed by the late Indonesian architect Maurice Nio and opened in 2016, it put the more industrial city of Prato on the contemporary art map.
Belmond brings contemporary art to historic Tuscany
Even with this context, there's sometimes a raised eyebrow when guests arrive at Belmond's hotels. 'The reactions have been all positive, but mixed,' says Fiaschi. 'Some people are surprised to find contemporary art in hotels which have such a historical background and cultural meaning… [on the other hand] some artworks fit so well that people request for them to never be taken away and [to] become a permanent feature of the hotel.'
This happened at Villa San Michele. Leandro Erlich's Window & Ladder - Città Eterna (2021), a striking piece with a freestanding window that highlights the view across Florence, was part of the inaugural Mitico project. It was so popular, it became a permanent piece. The loan of Erlich's The Cloud (UK) (2016) was also extended – and is another example of that new/old contrast. A cloud-like illusion designed to resemble the UK is in a display case and sits beneath a painting of The Last Supper by Nicodemo Ferrucci, dating back to 1606.
The artists involved in these projects appreciate their work being seen in a different context. 'This environment makes the work more varied and it attracts a different audience,' say Yuan and Yu. They are keen to see work 'outside of white cube contexts', with Florence a particularly inspiring backdrop, one that provides something of a full circle. '[Artworks] should be placed into people's lives; just like the great artworks of the Renaissance when artists placed their works on the streets,' they say.
'I've always said [Stallers] feels like a work that would fit in a space like this – a kind of luxury privileged environment – with an amazing backdrop of nature, or also in a homeless encampment,' adds Ward, 'it could fit in both spaces.'
Particular dialogues come from being situated at the Castello di Casole, a property that dates back as far as 998, with Etruscan artefacts having been found on site (some of these are displayed near the spa area). 'The context of ancient art and artefacts is even more of a reason to have contemporary art in dialogue with this other moment in history,' says Ward. 'The key thing about coming into a space that has so much mystery and power is that it can be formidable. Contemporary art can always be a great frame of reference for engaging with the place and with such a vast mystery that that period can represent.'
Arguably, a mix of old and new, ancient and contemporary, only makes Tuscany more of a destination. A guest at Castello di Casole could take in Ward's Stallers in the morning, and visit the charming archeological museum in nearly Casole d'Elsa, with its Etruscan treasures, in the afternoon.
This is all in the spirit of Mitico. 'It came about from a desire to bring artists who for us are "mythical", in the sense that they are legendary, to places of equal beauty, mythology and standing,' explains Fiaschi, 'ultimately allowing people to discover, thanks to art, places that they could have only dreamed of.' While this idea is now spreading to locations across the world, Tuscany is where it all began, the place where these dreams hail from.
Receive our daily digest of inspiration, escapism and design stories from around the world direct to your inbox