Mitico: art, luxury hospitality and home cooking collide in Italy
Spearheaded by the Belmond hotel group and Galleria Continua, new initiative Mitico introduces the work of four major artists on the grounds of four iconic Italian hotels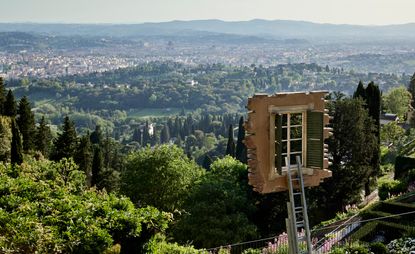 (Image credit: Courtesy of Belmond)
It's not every day an art world star cooks lunch for you. But over two days in September 2022, the Hotel Cipriani in Venice provided that opportunity to about 40 people. Out in the garden, guests took their seats at the counter of a working kitchen inside a hut made of used pots and pans, an installation by Indian artist Subodh Gupta. Accompanied by four assistant chefs, Gupta prepared a five-course meal, including his mother's recipe for cheela (a savoury pancake), bhel puri (his favourite Mumbai snack), and khichdi (a rice and lentil stew that he eats once a week). 'I am serving the food I like to eat myself,' he explained.
As the meal unfolded, Gupta talked about the artwork surrounding the guests, gave cooking tips, and blushed when one guest told him he had reached her heart through her stomach. He told Wallpaper* that when people come to eat and chat, they become part of his artistic performances.
The event was part of a new initiative created by the Belmond hotel group, a worldwide collection of luxury hotels and destinations (including trains, cruises and safaris) acquired by LVMH in 2019, and Galleria Continua, an international contemporary art gallery. Called Mitico (Italian for 'mythical'), it temporarily presents the work of four major artists in the grounds of four iconic Italian hotels. In addition to Gupta at the Cipriani, Italy's Michelangelo Pistoletto has a work at the Castello di Casole near Sienna; Argentina's Leandro Erlich is being shown at the Villa San Michele overlooking Florence; and Cameroon's Pascale Marthine Tayou is at the Grand Hotel Timeo in Sicily.
Belmond's CMO, Arnaud Champenois, says the hotel guests love it. 'When you go to a luxury hotel, you're not used to seeing a spectacular piece of contemporary art and great storytelling. When it makes sense for the location, there is an authentic dialogue between the guests, the staff, the property, the heritage of a building and the landscape.' Each of the participating hotels has trained its staff to answer questions about the works, and the general public can also book in advance to see them for free.
The Galleria Continua is an ideal partner, since the gallery has a 32-year history of showing art in unexpected places, back to its founding in the Tuscan hill town of San Gimignano. 'Since our beginnings, we have always looked for new ways for the public to connect to art, away from conventional spaces,' says co-founder Lorenzo Fiaschi.
Even though all but one of Mitico's artworks are pre-existing, the connections to each hotel are so strong, they seem to have been made in situ. Gupta's Cooking the World was first shown at Art Basel in 2017. Now it shimmers brightly outside Venice's legendary Cipriani, alongside a herb garden and a vineyard. (Gupta describes Fiaschi walking through the gardens in a sort of dream state until he discovered the exact spot to put it.) It references Venice's important position on the Silk Road, as well as the culinary contributions of Giuseppe Cipriani, who invented the Bellini cocktail and carpaccio, both named for artists.
Gupta explains how the artwork's 10,000 aluminium pots and pans conjure up the anonymous people who once used them in their homes in India. 'Each one has its own history, you can see it.' He uses his iPhone to photograph one up close, then shows how the dents and tarnish resemble a constellation. It is an infinite story – Earth and cosmos, past and future.
In Italy, art and history are everywhere you look. The site of the Castello di Casole hotel, in Tuscany, was the heart of Etruscan civilisation before the arrival of the Romans. Today, it consists of a former 10th-century castle, along with a majestic villa and hamlet and 1,700 hectares of rolling, tree-covered hills, as far as the eye can see. The grounds of the estate are lush with cypress, olive trees, vegetable gardens, vineyards and 6,000 roses.
Visitors walking the gardens will discover Pistoletto's Loving the World, four bronzes of an Etruscan man, identical except for their skin tones. Created in 1976, the original sculpture faced a mirror. Here, each one is placed next to an ancient tree, holding up his arm as though caressing the trunk – an ode to the beauty of nature all around.
An hour's drive away, the Villa San Michele boasts a view of Florence so commanding, in 1808 Napoleon Bonaparte booted out the monks who had been living there since the 1400s and took it for himself. Playing off the jaw-dropping vista, Leandro Erlich's installation is titled Viewing the World. In the terraced gardens, he planted a ladder leading to a large window, overlooking the city considered to be the cradle of Western art. 'There was a time when museums didn't exist,' says Erlich. 'Art was in churches and palaces. I'm interested in accessible work, not only for people interested in art. I like the idea that art can be encountered on your journey.'
Villa San Michele is the only hotel in the programme with an additional artwork indoors, but only because Fiaschi saw a 17th-century fresco of The Last Supper in a former refectory and knew it would juxtapose perfectly with Erlich's The Cloud (UK). Made of parallel panes of glass etched with ceramic, the piece resembles a cloud trapped in a box. (Erlich calls clouds, with their ever-changing shapes, 'the first readymade of humankind'.) It seems destined for this site, a fact that Belmond has noticed, too – though all the works are expected to be taken down at the end of the season. 'Of course, we can buy them if we want, or the guests can buy them, or anybody,' says Champenois.
Pascale Marthine Tayou's Colouring the World was made specifically for the Grand Hotel Timeo in Sicily. By painting certain stones in the walls, the artist created a brightly coloured path leading from the hotel's entrance through six acres of gardens to an ancient Greek theatre. Four of his crystal totems greet visitors along the way.
Belmond and Galleria Continua are already planning the Mitico programme for 2023. Champenois says it is likely to include the Copacabana in Rio de Janeiro (which is celebrating its centenary), as well as Le Manoir aux Quat'Saisons in Oxfordshire. What's certain is that with around 50 hotels in the group and 70 artists at the gallery, they have material for years to come.
INFORMATION
Belmond hotels in Italy are open seasonally, with artworks on view until the following dates:
San Michele: 6 November 2022
Castello di Casole: 14 November 2022
Cipriani: 27 November 2022
Grand Hotel Timeo: 3 January 2023
Receive our daily digest of inspiration, escapism and design stories from around the world direct to your inbox