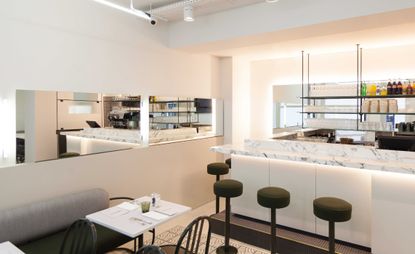 (Image credit: press)
After spending two decades heading up the Water Bar at the now shuttered Colette, Marc Giami is continuing the legacy of the famed concept store with his new restaurant, Mar'co. With encouragement from the store's founders, mother-daughter duo Colette Roussaux and Sarah Andelman, Giami has settled on a location just a stone's throw from where the store once stood, hoping to entice Colette's old regulars and fashionable clientele to the new destination point.

Architects Arnaud Montigny and Guillaume Roussel have taken a fuss-free approach to the design, creating a clean and pared-back space with precision. No less than ten shades of white were considered before perfect tone was chosen to sit beside the forest green and grey banquettes, and the curved lines of the floor tiles are replicated exactly on the table tops and menus. Restricting the restaurant to just 50 seats adds a touch of intimacy to the light and open space, while the addition of the marble-topped bar invites guests to gather and linger.

On the menu, pride of place is given to French classics – think œuf mayonnaise and croque-monsieur. Giami has also brought with him some Water Bar favourites, including the famous 'Assiete Colette' of steamed green vegetables and goats cheese, now going by the name of Assiette Mar'co. Renowned chefs and pâtissiers such as Sébastien Gaudard, Jean-Paul Hévin, and Yann Couvreur have also been invited to add their signature creations to the menu, with future collaborations also in the works.
INFORMATION
ADDRESS
4 Rue de la Sourdière