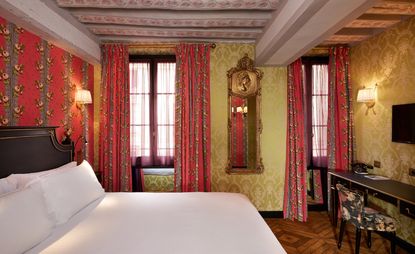 (Image credit: press)
A well-known socialite and seductress, Joséphine de Beauharnais - Napoleon Bonaparte's first wife - was celebrated for her modern values, making her a fitting effigy of the Parisienne and the sole inspiration for Hotel de JoBo's zany interiors.
Steps from the stately Place des Vosges, in the neighbourhood of Le Marais, the 24-room property rises from the vestiges of a former 17th-century convent just across from Hôtel de Chavigny, Paris' oldest fire station, ironically built by Napoleon.
Eccentric and baroque, the décor by Bambi Sloan, also behind the city's bewitching Saint James Hotel, evokes post-Revolution freedom and frivolity through stripy flower cockades and black and white toile de jouy wallpapers, re-edited from Georges Le Manach archives.
Exuberant rose parterre carpets symbolise Joséphine's love for the flower, of which she had 250 planted at Château Malmaison, her residence on the outskirts of Paris. Meanwhile, bold patterned fabric wall coverings, such as Pierre Frey's signature Somalian leopard print, represents her carefree, spontaneous attitude.
There is no restaurant, but guests can mingle in the hushed salon bar, among the playful oil portraits of Joséphine nursing a flute of champagne and smoking, for cocktails and ham and cheese boards.
INFORMATION
ADDRESS
10 rue d'Ormesson