Patricia Urquiola, Space Copenhagen, CKR and Rie Azuma on hotel design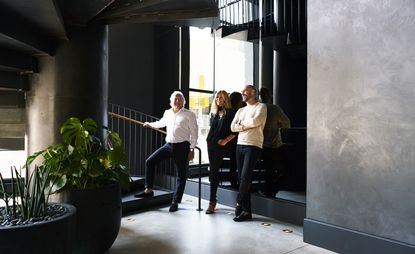 (Image credit: Press)
Wallpaper* Newsletter
Receive our daily digest of inspiration, escapism and design stories from around the world direct to your inbox
Thank you for signing up to Wallpaper. You will receive a verification email shortly.
There was a problem. Please refresh the page and try again.
Aby Rosen and Space Copenhagen

The evolution of SoHo's Howard Street from a sleepy pocket of Manhattan to a bustling hub of creativity owes much to 11 Howard. This 221-room hotel, a haven of restrained luxury within a former post office building, is the result of a partnership between Aby Rosen, owner of the Seagram building, and Signe Bindslev Henriksen and Peter Bundgaard Rützou, of Danish firm Space Copenhagen.

Introduced by design consultant Anda Andrei, the real estate magnate and the designers got to know each other on a grand tour of sorts. In Copenhagen, they dined at all the celebrated restaurants Space had worked on, among them the original Noma and Geist. 'I was immediately drawn to them,' he says. 'There is good harmony within their partnership.' Back in New York, he showed them around some of his favourite spots, as well as his own home. 'I wanted them to understand how I live. It was an interesting dialogue, and they got it pretty fast.'

The designers agreed with Rosen to follow 'a simple, tactile and holistic approach' for 11 Howard. Muted colours and a judicious use of wood and leather are complemented by bold gestures, such as a spiralling steel staircase. 'Their design has longevity,' says Rosen, almost two years after the opening. 'It looks fresh, as if we did it yesterday.'

Both parties speak of their relationship with unusual warmth. 'Aby was charming, incredibly sharp and engaged,' say the duo. 'He showed us a lot of trust and freedom.'

'I think they have reinvented and brought the freshness back to the Scandinavian look,' enthuses Rosen, 'and I would love to hire them for my home.'

rfr.com; spacecph.dk
Writer: TF Chan
Luis Contreras and Patricia Urquiola
Few hotels have balanced impact and discretion as masterfully as Il Sereno, the first collaboration between hotelier Luis Contreras and architect Patricia Urquiola. Opened in August 2016, it was the first new structure to be built on the shores of Italy's Lake Como in 70 years, but its rationalist references (inspired by local architect Giuseppe Terragni) made it appear instantly at home.

The pair met several years ago, when Contreras' parents attended a talk by Urquiola in Miami. 'It was a reconnaissance mission: they wanted to see me in action before approaching me for the project,' she explains. The Spanish architect was enlisted to work on the hotel's interiors, but after visiting the site, she proposed a more holistic approach and staked a claim on both the architecture and the interiors. 'The lake is all about integrity,' says Urquiola. 'Having multiple interlocutors on the building would have made the project confusing.'

There was still plenty of room for collaboration: Patrick Blanc was asked to create the green spaces (largely vertical, given the location's topography). Contreras and Urquiola also worked together on a wooden boat for the hotel, produced by local company Cantiere Ernesto Riva, with a 1940s-inspired design. 'From the start of the project, while we were solving complex structural problems, we were also adding more personal touches throughout the building,' says Urquiola. 'The way we worked, it almost felt like I was creating a private villa for the family.'

Just as they were finishing the hotel, Urquiola and Contreras began working on a second property on Lake Como. The hotelier had spent hours sailing the lake to explore its surroundings and had happened upon Villa Pliniana. Built in 1570, the property lay largely unused on the lake shore, about 1km away from Il Sereno. He became friends with the owners and obtained a lease for the villa. Contreras worked with Urquiola to create what he calls 'a 90,000 sq m hypersuite', a private residence with hotel service, also rented out for private events. While the building's historical character was left mostly unaltered, Urquiola added contemporary furnishings and a neutral palette.

The architect insists that it was the collaborative element of the project that made it so special. 'It was a creative encounter at a level that is higher than business,' she explains. 'For me, this is the new way to realise quality projects.'

www.ilsereno.com; patriciaurquiola.com
Writer: Rosa Bertoli
Kjetil Smørås and Claesson Koivisto Rune
Hotelier Kjetil Smørås and Mårten Claesson, Eero Koivisto and Ola Rune
Until recently Bergen offered little in the way of inspiring accommodation. Norway's second city was dominated by dully efficient chains; the De Bergenske group, behind the Grand Hotel Terminus and Augustin Hotel, was the only local independent operator.
The balance, though, is shifting. Last year, De Bergenske's Kjetil Smørås opened three new properties – Villa Terminus, Hotel Zander K and Bergen Børs Hotel – doubling its room count in the city.

Wanting to expand his family business, Smørås understood that contemporary design could give it a cutting edge and turned to Swedish architecture and design studio Claesson Koivisto Rune. Smørås' mother had read about the studio's work on Stockholm's Nobis Hotel, completed in 2011. Her son studied the team's resumé, then called them for a meeting and they quickly signed up. Designer Henrik Nygren was also brought in to work on the graphics and identity. 'For me, it is very important to share an understanding of aesthetics with the designers,' explains Smørås, 'and that they have a passion for hotels.' The design trio's Eero Koivisto adds, 'We told Kjetil that each hotel should have a unique atmosphere. We stay in many hotels, so we know what we like and don't like. I favour spaces that feel like they haven't been "designed". We want to create spaces that just feel good.'

The partnership first bore fruit with the conversion of a 1770 wooden building, located next door to the 131-room Grand Hotel Terminus, into the 18-room Villa Terminus. Originally built as a home for the elderly, the structure went through a meticulous restoration, retaining its character while receiving a facelift fit for the 21st century. Each room is different and the building's structural quirks are maintained, resulting in a hotel that feels more like a home.

On the same street, the 249-room Hotel Zander K opened as a modern counterpart to Villa Terminus, and has become a social hub for both visitors and locals. The most recent addition, the 127-room Bergen Børs Hotel, is the most upmarket in the portfolio. Occupying an entire block in the centre of the small city, this former stock exchange dating from 1862 is now a fashionable yet quietly luxurious place to stay, where contemporary design complements remnants of the building's past. 'Claesson Koivisto Rune has impressed me many times with its surplus of creativity. The designers are always enhancing my own ideas,' reflects Smørås. 'They have progressed the inherent qualities of Scandinavian design, celebrating natural materials in an authentic and contemporary way.'

And now, as Claesson Koivisto Rune continues to work with Smørås to refresh first the Grand Hotel Terminus and then the Augustin Hotel, one might think the hotelier will eventually embrace some downtime. He grins, 'Well, I haven't opened my last hotel.'
debergenske.no; claessonkoivistorune.se
Writer: Max Fraser
Yoshiharu Hoshino and Rie Azuma
Yoshiharu Hoshino and Rie Azuma
It was fortunate timing that brought together Hoshino Resorts' CEO Yoshiharu Hoshino with architect Rie Azuma, who designs all his flagship Hoshinoya properties. They were both studying at Cornell University in the mid-1980s and, as there were few Japanese students on campus at the time, they gravitated towards one another and met to eat deep-fried tonkatsu pork chops at a local restaurant. Azuma remembers Hoshino talking about ice hockey; Hoshino recalls being impressed by Azuma's dedication to her work. 'I would often walk by the architecture building. I remember the lights always being on inside until late at night, and the sight of Azuma-san working late,' he reminisces.

Their professional collaboration started in 1992. By then they were both running their respective family businesses; Azuma taking over her father's architectural practice and Hoshino taking the reins of what was then called Hoshino Onsen Ryokan and had been operating resorts for over 80 years. He soon turned to Azuma for advice on revamping the family assets, and her first Hoshinoya resort, the Hoshinoya Karuizawa, opened in 2005.

Hoshino is clear on why he keeps coming back to Azuma: 'Most architects design buildings, whereas Azuma-san designs the space. She doesn't fixate on the colours of the walls, but rather on aspects like the ceiling height, or the way the space is built. Interior designs emphasising the latest styles become obsolete in five years, but the enrichment of space itself creates something timeless.' For Azuma, who is involved from the earliest stages in any Hoshinoya project, the site selection is where she decides whether or not to press go on the design. 'It needs to be unique, offer something special, or have some kind of cultural significance,' she says. 'Hoshinoya is about how you spend your time at the resort, how the design can help you relax, rather than just big luxurious rooms.'

Having opened the first Hoshinoya outside Japan, in Bali, last year, the pair are about to open Omo, a new type of urban hotel that Hoshino calls 'a tower bed'. We look forward to enjoying more Japanese hospitality wherever this dynamic duo strikes again.
hoshinoresorts.com; azuma-architects.com
Writer:Jens H Jensen
Receive our daily digest of inspiration, escapism and design stories from around the world direct to your inbox
Melina Keays is the entertaining director of Wallpaper*. She has been part of the brand since the magazine's launch in 1996, and is responsible for entertaining content across the print and digital platforms, and for Wallpaper's creative agency Bespoke. A native Londoner, Melina takes inspiration from the whole spectrum of art and design – including film, literature, and fashion. Her work for the brand involves curating content, writing, and creative direction – conceiving luxury interior landscapes with a focus on food, drinks, and entertaining in all its forms