Discover Swiss bliss in St Moritz, the chicest of Alpine escapes
In St Moritz, ski chic meets creative cachet. Here's our pick of the perennial pleasure centre's cultural attractions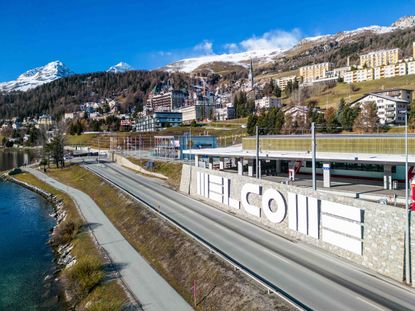 (Image credit: © fotoswiss by Giancarlo Cattaneo. Drone images with permission from Airport Samedan)
St Moritz may be the world's oldest ski resort but the Alpine town is luring an eclectic coterie of epicureans, gourmands, fashionistas, gallerinas and bon vivants to its shimmering slopes, as Swiss art writer and editor Jessica Klingelfuss discovers. A heady mix of joie de vivre and moneyed eccentricity makes the spirit of St Moritz unlike anywhere else in Switzerland. This is a town that signals its 'welcome' large, thanks to a newly installed artwork by supergraphics legend Barbara Stauffacher Solomon. From luxury boutiques to blue-chip galleries, opulent grand dame hotels to top-tier fine dining – and having recently hosted roving art and design fair Nomad, in February 2023 – St Moritz completes its transformation from glitzy sporting winter wonderland to a perennial pleasure centre.
Best of St Moritz
Kulm Eispavilion
A historic pavilion on the Davos Plaun that once played host to the Winter Olympics (in 1928 and 1948 respectively) has come back from a state of extreme disrepair, and found a new lease of life care of Norman Foster, who 'approached this project not only as an architect, but as a sympathetic resident of St Moritz'. Conceived as a 'mini-stadium', the cantilevering timber pavilion pays homage to Engadine woodcraft traditions and offers the local community a flexible space for sporting activities throughout the seasons, in addition to a restaurant and exhibition space dedicated to alpine memorabilia.
kulm.com (opens in new tab); fosterandpartners.com (opens in new tab); @fosterandpartners (opens in new tab); @kulmhotel (opens in new tab)
Hauser & Wirth St Moritz
Some three decades after a then 17-year-old Iwan Wirth staged his first exhibition – which included works by Le Corbusier and Marc Chagall – at St Moritz's Carlton Hotel, the Swiss gallerist returned to 'his earliest steps in the art world' with the opening of Hauser & Wirth St Moritz in the heart of the resort town in 2018. Encompassing three storeys and 4,400 sq ft of exhibition space designed by longtime collaborator Luis Laplace, the gallery is hosting a show of Martin Creed paintings until 10 April 2023, while a specially-crafted iteration of the Roth Bar (inspired by the work of Swiss artist Dieter Roth, and designed by his descendants) on the ground floor is serving as a dynamic hub for socialising, music, reading and talks until autumn 2023.
hauserwirth.com (opens in new tab); @hauserwirth (opens in new tab)
Igniv by Andreas Caminada
What's in a name? Derived from the Rhaeto-Romanic word for 'nest', Igniv certainly lives up to this sentiment. Located in Badrutt's Palace – among St Moritz's grandest of grandes dames – the two Michelin-starred restaurant's dining concept is centred on a creative set menu designed to be shared by the table. Patricia Urquiola's distinctly modern touch is present throughout the stylishly rustic interiors of the former monastery (think leaded windows, polished brass chandeliers and arvé wood panelling).
badruttspalace.com (opens in new tab); @igniv.stmoritz (opens in new tab)
Dracula Club
Founded in 1974 by the late photographer and playboy Gunter Sachs, the notorious members-only lair – originally a secret society for bobsledders and today overseen by his son, artist Rolf Sachs – is today the late-night playground of choice for Europe's glitziest jet-setters. The seasonal enclave hosts debauchery from dusk until dawn in an intimate chalet setting, with members and their guests having to adhere to a strict but compact set of rules. Italian chef Marco D'Agati oversees Salon Dracula, serving up dishes that reflect his Sicilian roots as well as hearty Alpine classics.
dracs.ch (opens in new tab)
Langosteria
St Moritz's newest ski-in, ski-out culinary hotspot brings high fashion to a high altitude, boasting the best-dressed waitstaff in town care of Moncler's CEO Remo Ruffini, who owns a stake in Italian restaurateur Enrico Buonocore's series of fish brasseries. The Snowing Negroni (cin cin!) is the perfect prelude to the seafood-focused menu, which includes signature dishes from Langosteria's Milan flagship alongside new entries created specifically for the mountains – among them, langoustines and foie gras tartare with a sauternes reduction.
langosteria.com (opens in new tab); @langosteria (opens in new tab)
Mili Weber Haus
Burrowed among fir and larch trees on an unassuming residential street at the eastern end of Lake St Moritz, the home of Mili Weber unfolds like a fairytale. Here, the enigmatic Swiss artist lived a quiet and modest life in a Valais-style log cabin designed and built on stone foundations in 1917 by her brother and architect Emil Weber. The residence served as an ever-changing canvas for the artist's spell-binding oil paintings, watercolours, sketches and illustrations. Open by appointment only, the house is a trove of artistic delights and hidden treasures revealed in the guided tours.
miliweber.ch (opens in new tab)
Muzeum Susch
A worthy 40km pilgrimage from St Moritz by train or car, Muzeum Susch is situated in the quaint Engadine village of its namesake. Swiss architects Chasper Schmidlin and Lukas Voellmy were tasked with restoring a 12th-century monastery into the non-profit institution founded by Polish entrepreneur and contemporary art advocate Grażyna Kulczyk. The museum's focus on female, conceptual and underrepresented artists is reflected in its inspiring programming, which includes experimental presentations, performances, conferences, lectures, events and interdisciplinary residencies.
muzeumsusch.ch (opens in new tab); @muzeumsusch (opens in new tab)
Grace La Margna St Moritz
An art nouveau landmark, Grace La Margna St Moritz – originally Hotel La Marga – was designed and built in 1906 by Swiss architect Nicolaus Hartmann, whose granite pillars, ornate plasterwork and wooden panelling are being faithfully restored. A new state-of-the-art annex will thrust the boutique stay into the 21st century, with a spa, a fitness suite, panoramic terraces, a cigar lounge and a smorgasbord of restaurants all in the mix. Grace La Margna is due to welcome its first guests in summer 2023 – but there was opportunity to sample its interiors when it hosted the Nomad art and design fair in February.
gracehotels.com (opens in new tab); @gracestmoritz (opens in new tab)
Ovaverva
Mineral springs have sparkled in St Moritz for over three millennia, so it's little wonder that the resort town is today home to the soul-affirming oasis that is Ovaverva (from the local Romansch language, meaning 'living, bubbling water'). With panoramic mountain views of the Upper Engadine plateau, there's plenty to explore at your leisure – and we mean leisure – including four pools, three water slides, a fitness centre, a bistro with a terrace and a spa with a wellness zone.
ovaverva.ch (opens in new tab); @ovaverva (opens in new tab)