Supergraphics pioneer Barbara Stauffacher Solomon: 'Sure, make things big – anything is possible'
94-year-old graphic designer Barbara Stauffacher Solomon talks radical typography, 'supergraphics', motherhood, and her cool welcome for St Moritz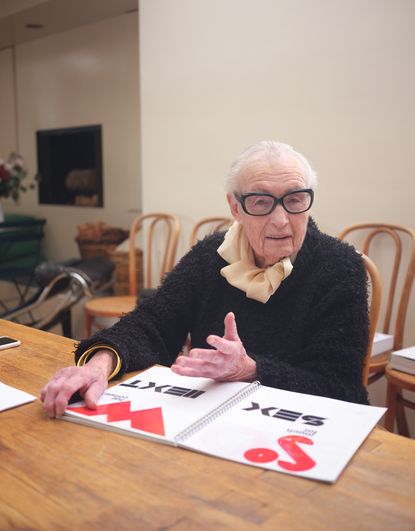 (Image credit: Photography: Chris Grunder. Courtesy the Artist)
At 94 years old, Barbara Stauffacher Solomon shows no signs of slowing down. The American artist and graphic designer is currently housebound – she tells me over the phone with an immediately captivating vigour in her voice – but, she enthuses, 'my mind is fine' and is preoccupied with an upcoming project at SFMOMA. Renowned for her colourful 'supergraphics', she is also a keen author: her publications and artist books include Making the Invisible Visible, Utopia Myopia: Plays on a Page, and a memoir, Why? Why not?
Born in 1928 in San Francisco, Barbara 'Bobbie' Stauffacher Solomon worked as a dancer before studying painting and sculpture at the San Francisco Art Institute. At 20, she married experimental filmmaker Frank Stauffacher, who died suddenly from a brain tumour six years later, leaving Stauffacher Solomon widowed with a young daughter. She relocated to Switzerland to study at the Basel Art Institute under the tutelage of pioneering Swiss graphic designer Armin Hofmann – a formative relationship that would continue to ripple throughout her career.
In 1962, Stauffacher Solomon returned to the West Coast, later connecting with landscape architect Lawrence Halprin, a founding designer for Sea Ranch – a private community with a utopian vision in Sonoma County, California. Her logo and large-scale interior and exterior signage for Sea Ranch combined minimal Swiss sensibilities with Californian abstract expressionism. Solomon earned a master's degree in architecture at the University of California at Berkeley in 1981, publishing her thesis, 'Green Architecture & The Agrarian Garden'.
Barbara Stauffacher Solomon's 'Welcome' in St Moritz
Now, the nonagenarian is celebrating a homecoming of sorts. Overlooking the lake of St Moritz, Switzerland, Welcome, at 4m high and 29m wide and rendered in steel, is the latest monumental expression of Solomon's self-created alphabet and typeface – the 'BSS alphabet' – which the artist has designed and developed over the years. For Welcome, the artist explains, 'I had just designed a new alphabet– a very minimal version of Helvetica. The "e", for example, is three horizontal lines'. The ever-evolving alphabet stemmed from an editorial project in 2019, when Stauffacher Solomon was invited to be a guest designer for Francis Ford Coppola's literary magazine Zoetrope – the artist reimagined the letters in the masthead to divide the eight stories in the edition.
Realised by St Moritz's tourism board in collaboration with the Serpentine Galleries, publisher Elena Foster and Von Bartha gallery, Welcome is the first public artwork to be displayed in the Alpine resort – a small surprise given its art-centric character (museums and blue-chip international galleries have taken up residence there, while the latest edition of the Engadin Art Talks recently took place in the nearby town of Zuoz). But the idea for the project first formed further afield in the artist's native San Francisco after an encounter with Benedikt Wechsler, then the Swiss Consul General of the city. Several locations were proposed and vetoed for various logistical reasons before the installation found a home in St Moritz. 'We need to find a way of negotiating a space which is both local and global. And interestingly enough, the Welcome sign has a lot to do with that,' says Serpentine Galleries artistic director Hans Ulrich Obrist. 'Every city needs a "welcome" sign.'
Unable to travel, it's Stauffacher Solomon's artistic practice that preserves her energy. I ask her how she wants to be remembered: 'As a mommy,' she replies instantly. 'I have two kids and a granddaughter whose birthday is today. Nobody thinks of me as a mommy. But that's why I [pursued graphic design] – I needed to make money, otherwise I would have been a painter. That's what I was trained for in the first place. And that's why when I was faced with walls at places like Sea Ranch, I thought "Fine, sure, make things big – anything is possible".' Ultimately, the allure of Stauffacher Solomon's work lies in its brash simplicity and scale. After all, aren't we always looking to commune with something bigger than ourselves?
'Welcome' is on view until April 2023. stmoritz.com (opens in new tab); serpentinegalleries.org (opens in new tab); vonbartha.com (opens in new tab)