Culver City is a vibrant California destination with art and design must-sees aplenty
Culver City is fast becoming one of California's most vibrant and creative neighbourhoods, with a swanky Downtown, an Arts District and design-forward restaurants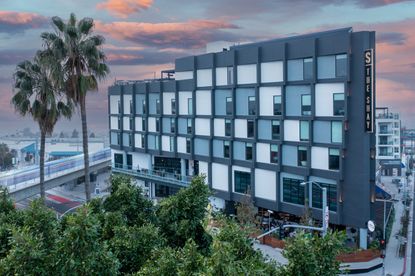 (Image credit: Courtesy The Shay, a destination by Hyatt Hotels)
Wedged between Los Angeles and Santa Monica, the old movie town of Culver City is almost unrecognisable from a decade ago. Best known as the home of Sony Pictures and the Helms Bakery complex, the area has a lot more to offer today, with a swanky Downtown, an Arts District that boasts some of the best galleries in LA, and a swathe of new transit initiatives.
For an area just over 13 sq km, it's architecturally diverse too: from its handsome Beaux-Arts buildings like The Culver Hotel, to the nearby neighbourhood of Hayden Tract, where local architect Eric Owens Moss has turned a declining warehouse district into a thriving beehive of architectural experimentation.
With Amazon, Apple and HBO helping to fuel a revitalisation – bringing with them an influx of design-forward shops and restaurants – Culver City is fast becoming one of California's most vibrant and creative neighbourhoods.
Best of Culver City: what to see, where to stay
Juliet
Having opened its floor-to-ceiling French doors on 1 February 2023, Juliet marks interior designer Jeremiah Brent's hospitality debut, and is a love letter to contemporary Parisian dining. Located in Culver City's Platform Design District, the long brasserie-style dining room feels intimate thanks to Brent's design decisions: wicker-covered arches divide the space, while considered details include scalloped-edge tables, chairs upholstered in ticking stripe fabric and saffron-coloured velvet banquettes.
Emphasising seasonal and locally sourced ingredients, dishes range from oysters with cucumber and trout roe, and a traditional endive salad, to duck confit 'cigars' with sauce valois. The wine list is a highlight, with nearly 50 wines available by the glass from solely French producers, served up by a charming and knowledgeable (also French) sommelier.
juliet.la (opens in new tab),@juliet.restaurant (opens in new tab)
Blum & Poe
An art tour of Los Angeles isn't complete without a trip to the 2,000 sq m complex of Blum & Poe, one of the founding galleries of the Culver City Arts District. When tastemakers Tim Blum and Jeff Poe moved their Santa Monica gallery to an industrial warehouse in 2003, it became a catalyst for the development of the area's arts corridor.
The gallery is a vocal advocate of efforts to lower the commercial art world's carbon footprint by rethinking the way it approaches auctions and fairs. Blum & Poe exhibits both established and up-and-coming contemporary artists, and programming highlights include an exploration of the art of ikebana by Japanese-Brazilian artist Asuka Anastacia Ogawa (11 March – 15 April 2023), and a Thornton Dial retrospective (29 April – 10 June 2023).
blumandpoe.com (opens in new tab), @blumandpoe (opens in new tab)
Ballona Creek Bike Path
Running through one of Los Angeles' most important ecological reserves, this bike path begins at Syd Kronenthal Park and plots a direct course to the beach. The 11km route dates from the 1930s, when Ballona Creek was channelised to protect the LA basin from flooding, transforming a natural waterway into a storm drain, and causing massive ecological disruption in the process.
Today, the 225-hectare Ballona Wetlands are protected, and a new public access conservation project approved last year is set to restore and enhance rich habitat for birds and native plant species. In recent years, bike path improvements have included native landscaping, installation of public artworks, murals and other projects by local non-profits.
ballonacreek.org (opens in new tab)
Arcana: Books on the Arts
Selling rare and out-of-print art books since 1984, this Culver City stalwart is a must-visit if you're in the market for a perfect coffee-table book or a lost architectural tome. Owners Whitney and Lee Kaplan's monastic approach to curation of Arcana's collections has long made the store a Holy Grail for art and design lovers. Visitors are greeted with a quiet and reverent atmosphere, while staff are helpful and well informed.
The Kaplans frequently build art libraries for collectors across the country, and began to accumulate published materials on Black artists in the late 1980s. Last year their archive of over 3,500 books, catalogues and materials on African American art and artists, amassed over the past four decades, was acquired by the Getty Research Institute.
arcanabooks.com (opens in new tab), @arcanabooks (opens in new tab)
The Culver Hotel
This venerable Beaux-Arts landmark opened in 1924 and has played host to myriad Hollywood legends. Having shuttered its doors over the pandemic, it reopened in 2022. The owners used the down time to make tasteful interior updates, while retaining the charm of this historic gem. The Culver Hotel's flatiron building ensures that none of its 46 rooms are alike, and owner Maya Mallick has paired antique and vintage finds with luxurious amenities, to guarantee a comfortable stay.
A new grand bistro and garden, Lillie's (named for city founder Harry Culver's wife) weaves raw bar starters with modern French cuisine from local Californian producers, and has a focus on natural wines. Lillie's hosts intimate cafe-style live music nights at the hotel, while a separate speakeasy-style cocktail bar will be opening over the summer.
culverhotel.com (opens in new tab), @culverhotel (opens in new tab)
Obsolete
Pairing antique furniture and curiosities with industrial lighting and contemporary figurative art, owner Ray Azoulay has a flair for display, evidenced in his atmospheric store and gallery on Washington Boulevard in Culver City. In Obsolete, Azoulay presents his unique take on the world, sourcing interesting and mostly European pieces that are sensitively restored or reupholstered and presented in dramatic, and often macabre, vignettes.
Obsolete describes its collection as including the modern and the primitive, the functional and the defunct. From Belgian and Italian modernist lighting, French farm tables and garden pieces, by way of deep English armchairs from the 1820s, 17th-century Swedish ceremonial weapons, and life-sized timber artist models. 'It's really about form, materials and patina, no matter what period something comes from,' explains Azoulay.
obsoleteinc.com (opens in new tab), @obsoleteinc (opens in new tab)
Blind Barber
Transported from New York, this part-barber shop, part-cocktail lounge mash-up has a disquieting moniker, but an amusing concept. By day, a friendly team of local stylists offer men's cuts and classic barbershop shaves in a crisp white space with mirrored walls and antique barber chairs (nothing particularly surprising there). By night, the lights dim, the candles come out and through a nondescript door in the back, expertly crafted cocktails and good tunes fill the hidden bar.
You get a fun mix of characters, and with a DJ spinning on weekends, the parlour stays open until the early hours. Blind Barber has two LA locations (Culver City and Highland Park) with both hosting a monthly comedy club featuring local stand-up talent.
blindbarber.com (opens in new tab), @blindbarber (opens in new tab)
And Relax…
Sporting the only rooftop pool in Culver City, the buzzy new Canopy Club on top of The Shay Hotel offers panoramic views of Downtown and the Santa Monica Mountains. While we feel the restaurant's décor misses the mark, this is still a great spot to pull up a lounger and spend the day recharging poolside. The all-day menu includes crowd-pleasing classics that are light and fresh, and a selection of mostly agave-based cocktails are available by the glass or carafe.
Community is important at The Shay, and its industrial-style lobby by Venice Beach design firm Studio Collective doubles as a co-working space for guests and locals alike, while hotel amenities are all sourced from local partners, including the excellent Milk + Honey spa, which is next door.
canopyclub.la (opens in new tab), @canopyclub.la (opens in new tab)
Timothy Anscombe-Bell runs Sustainable Design Collective (SDC), a Los Angeles based design resource and consultancy, bringing together some of the brightest in modern craft-based manufacturing. He works on healthy, sustainable and green building schemes – from offices, cultural institutions, schools and universities, to hotels, restaurants and specialist retail. @sdc_inc (opens in new tab)