Scotts Fish & Chips — Chengdu, China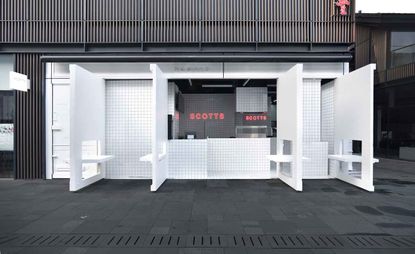 (Image credit: press)
Having magnetised waves of Chinese tourists to its original base in Bilborough, near York, the thoroughly British Scotts Fish & Chips has set its sights on Chengdu, making the unorthodox leap to China for the opening of its second venue.
It's a long way from home, a distance punctuated by the fact that the sister outpost's aesthetic is the modern vision of Unknown Works, a London- and Hong Kong-based design and research studio. Led by three dimensional scans of fish and chip shops across the United Kingdom — including the original Scotts — the studio has channelled a series of textures, patinas, interiors and exteriors into this creative interpretation of the chippy, located in the upmarket Taikoo Li shopping district.
With space at a premium, this contemporary reimagination sees every facet of the venue utilised to full effect. The shop's façade is maximised via a series of expandable foldouts that sees the alabaster white exterior transform into integrated furniture by way of movable screens that reveal unfolding tables.
Inside, simple white floor-to-ceiling grid tiling bears the name of the outlet in fluorescent tube lighting, while a customer-facing counter gives visitors full view of the preparation of food: faithful replications of Scotts' original Yorkshire recipes created using sustainable, high-quality fish. The result? A wholly contemporary spin on a British classic, with no compromise on authenticity.
INFORMATION
ADDRESS
Location 2342, Taikoo Li
Chengdu
VIEW GOOGLE MAPS (opens in new tab)
Melina Keays is the entertaining director of Wallpaper*. She has been part of the brand since the magazine's launch in 1996, and is responsible for entertaining content across the print and digital platforms, and for Wallpaper's creative agency Bespoke. A native Londoner, Melina takes inspiration from the whole spectrum of art and design – including film, literature, and fashion. Her work for the brand involves curating content, writing, and creative direction – conceiving luxury interior landscapes with a focus on food, drinks, and entertaining in all its forms