Grill power: Aby Rosen's dynamic taming of the Seagram Building's restaurant space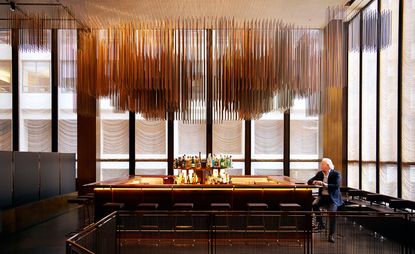 (Image credit: press)
There's no doubt that Aby Rosen has an exacting eye for detail. It's an unseasonably warm spring morning and the New York property developer is providing a first-look tour of his much-discussed new restaurant, which commands the lower floors of Mies van der Rohe's Seagram Building (the former home of The Four Seasons Restaurant). Rosen flips switches and dimmers, determined to get the light near the women's lounge just right. Later, in an adjacent room, he'll find a loose panel on a mother-of-pearl bar and ask an assistant on the status of the uniforms that Tom Ford is designing for the project.

What a difference the past year has made. Ascending into the Grill Room (now simply called The Grill), 'you know you're in one of the world's most classical and architecturally significant rooms,' says Rosen. This is what $30m gets you: freshly cleaned ceilings, complete restoration of the vast architectural elements, including the famous 20ft-high panels of French walnut and Marie Nichols' anodised aluminium beaded curtains; and a dramatic new lighting scheme, by French designer Hervé Descottes, which lets you really take in Richard Lippold's delicate tubular bronze sculptures anew.

Today, Rosen is sanguine and affable, but let's not forget that this is a site with a tangled and often controversial history. From the beginning, Rosen was determined to pull off its reinvention. His firm, RFR, retained architect Annabelle Selldorf to restore the building's structural features, while new interiors were done by architect and interior designer William Georgis. As in the days of Philip Johnson, who designed the original restaurant interiors, the dining chairs are Knoll's 'Brno' (here bronze plated and upholstered in dark brown leather). The powder-coated 'Four Seasons' banquette seating, upholstered in David Adjaye's 'Kampala' fabric, is also a special reissue by Knoll. In a business sense, Rosen and hospitality partners Major Food Group (Carbone, ZZ's Clam Bar, Dirty French) tamed the enormous 30,000 sq ft space, not to mention its prohibitive operating costs, by splitting the space into two separate restaurants. This decision very much informed the design details of the renovation.
'We injected so much love and care into the place,' says Rosen. 'The Grill is obviously the most classic of all the rooms, so we kept it all as it was, and added a special colour for everything. For me, it's a meat restaurant, so the animal prints on the carpet should give that away.'

If The Grill is all strong architectural panelling and richly-coloured upholstery, The Pool is significantly brighter, with a muted whale-blue colour scheme that speaks to its light, seafood-focused menu. Here, in a room that's played witness to many indelible celebrity moments, the raised Carrara pool has been restored to its original glory. Rosen wanted the space to feel optimistic, festive and not too stuffy.

The new rear lounge was the project's most pronounced architectural intervention. Unlike its predecessor – a dour private dining room – the wooden walls open out to the main dining area below. 'You can see all these beautiful details,' says Rosen, pointing out the hand-loomed carpet, new chairs designed by Georgis and walls padded with silver silk thread.

We want it to be upbeat, a place people can come and hear live music and stay late into the night,' says Rosen. This being a project by Aby Rosen – a man whose enviable collection spans some 800-plus artworks – talk often turns to art, an essential component of any RFR project. 'The whole story is about bringing back the art from 1958, when the building was constructed,' says Rosen, listing works by Franz Kline, Joan Miró and Joan Mitchell. In the entrance foyer, which now contains a reception desk, the developer chose a monumental sculpture by Alexander Calder, complemented by a starkly beautiful Cy Twombly painting. On the mezzanine of The Grill, the Lee Krasner Private Dining Room features three abstract expressionist pictures from the underappreciated female painter.
While Rosen intends to move in certain new pieces, he believes restraint is the overarching rule to the hotel's art programme. 'I will rotate in different works from time to time, but only in certain areas of the restaurant,' he says. 'The story is all about the New Yorkers of that time and I wanted it to feel very American. This is not an art gallery, and you must always remember the architecture here is dominant.' Before the restaurant opens its doors in late April (The Pool is slated for autumn), Rosen has previewed the space to a few key tastemakers and critics, including 'the dreaded old timers'. He says the response has been almost entirely positive. Phyllis Lambert, one of The Four Seasons' original founders and a longtime adversary of Rosen, even held her 90th birthday party at the space.

Unflappable, Rosen seems confident in his vision, taking a long view in the face of criticism. 'With change comes resistance,' the developer says. 'I'm not a pioneer. It's about taking something that's already great and making it greater – that's my schtick.' As the restaurant's grand opening nears, Rosen brings up the current political climate and compares it to the happenings of 1958, when the restaurant was built. 'In my opinion, it's time to party as we live through these interesting four years. Rather than mope around, go and enjoy yourself – it's all about glamour and entertainment, architecture and design and fashion. You need to go out and wiggle your tush.'

As originally featured in the May 2017 issue of Wallpaper* (W*218)
INFORMATION
For reservations, email the restaurant
ADDRESS
The Grill
99 East 52 Street
New York