New books: how designers see the world
Our round-up of new books spans James Dyson on his hits and misses, Stephen Bayley on the combustion age, an exploration of vintage synthesisers, and an axe lover's handbook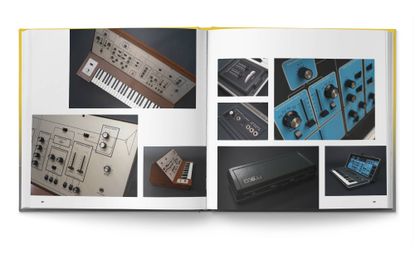 (Image credit: press)
Enjoy this eclectic selection of new books, tackling everything from ancient technology to modern histories, archive research, industrial might and cultural shifts. Each of these books tells intriguing stories about designers and the way they see the world.
Designing a World for Everyone
Designing a World for Everyone: 30 Years of Inclusive Design explores the work of the Helen Hamlyn Centre for Design at the Royal College of Art. Author Jeremy Myerson was one of the co-founders of the department, one of the pioneers of inclusive design research, and subsequently directed it for 16 years. The centre has had a huge impact on every field of product design, from ambulance interiors to beer glasses, clothing to app design, looking at the often unintended consequences of well-meaning products, the social and economic price of inaccessible designs, and the ways in which research and enquiry can contribute to a fairer world.
Until Proven Safe
Writers Geoff Manaugh and Nicola Twilley have always combined their interest in the built environment with a fascination for how spaces have evolved to serve highly specific functions. Until Proven Safe: The History and Future of Quarantine is a timely look at the architecture of exclusion – spaces designed to save ourselves from each other. As soon as contagion and transmission was understood, there have been physical measures put in place to contain plague and pestilence from spreading. This intriguing travelogue takes us from medieval lazarettos, or quarantine stations for sailors, through to the spaces shaped by the concerns of the modern era, from Ebola to HIV and Covid-19
Buchanan-Smith's Axe Handbook
Buchanan-Smith's Axe Handbook cuts straight to the heart of why we love books. An ode to the 'oldest tool known to humankind', the Axe Handbook offers up literally everything you need to know about the history, evolution, craft, care, and use of this most essential of everyday tools. The author, New York-based designer Peter Buchanan-Smith, set up Best Made Co in 2009, a company dedicated to selling clothing and accessories that endures for generations. This deep dive into a truly enduring object is beautifully laid out and should probably only be shelved in a true rural retreat.
Synth Gems
Bjooks is a publisher of lavish music-themed monographs, each dedicated to a specific aspect of contemporary electronic music production. Their titles include Patch & Tweak, Pedal Crush, and Push Turn Move, the last looking at the myriad devices developed to shape modern sounds, and the creativity imposed by limitations, tweaks, and hacks. Bjooks' newest tome, Synth Gems, delves into the graphic and industrial design of the golden age of small synthesiser manufacturers, quirky machines and timeless classics.
Patented: 1,000 Design Patents
Billing itself as a field guide to the art of the patent application, Thomas Rinaldi's new book is both a history of the industrial design we have and the objects that never made the cut – sometimes for very obvious reasons. Rinaldi's survey sometimes feels like an 'origin of the species' for archetypal objects, as well as a chronicle of stylistic changes and a parade of misguided ideas. Along the way he includes some familiar forms and well-known names, reminding us that every innovation, no matter how significant, has to start out somewhere.
Invention: A Life
Part inspirational business book, part personal history, and all engineering, Invention: A Life is James Dyson's autobiography. The entrepreneurial British engineer is at heart a pragmatist, someone who believes in drilling down until the right path or solution presents itself. Famously, Dyson and his team built over 5,000 prototypes of the cleaner that made his name, and his fortune, but there have been many other products (and prototypes) that didn't quite have the same impact. Dyson's faith in progress shines through, and he's to be lauded for devoting as much attention to the projects that failed – including a chapter devoted to the Dyson car, one of the most tantalising 'what-ifs' of recent automotive history – as the ones we know so well.
An Alphabet of Architectural Models
Twenty-six essays on every facet of the role played by the architectural model, from history to digital design. Beautifully illustrated throughout, the book includes written pieces by Dow Jones architects, Roz Barr and Spencer de Grey, and (unsurprisingly) concludes that the physical model will continue to have a role to play.
The Age of Combustion
Stephen Bayley has always had a fascination with the automobile, and in particular the fascination it holds for us. In The Age of Combustion, the design historian, writer, and curator engages the reader with a rambling collection of notes on automobile design, replete with anecdotes both personal and historical, and plenty of waspish asides. Bayley has both industry connections and strong convictions, and he occasionally feels adrift amidst a changing car culture that no longer worships the idols of old. Nevertheless, there are still some fascinating tales of the road to be told.
Receive our daily digest of inspiration, escapism and design stories from around the world direct to your inbox
Jonathan Bell has written for Wallpaper* magazine since 1999, covering everything from architecture and transport design to books, tech and graphic design. He is now the magazine's Transport and Technology Editor. Jonathan has written and edited 15 books, including Concept Car Design, 21st Century House, and The New Modern House. He is also the host of Wallpaper's first podcast.