Pixel 6 Pro is 'premium redefined' says Google's Ivy Ross
Ivy Ross, Google's vice president of Design for Hardware Products, on the design decisions behind the new Pixel 6 and Pixel 6 Pro phones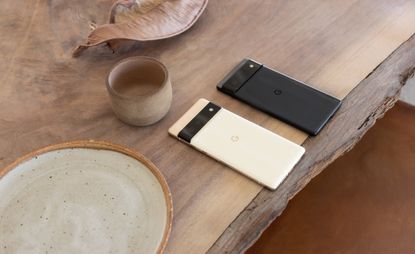 (Image credit: press)
Google's release of its hotly anticipated Pixel 6 and Pixel 6 Pro phones underlines that the smartphone technology race shows no sign of abating. Flagship devices continue to be launched on a regular basis, boosting sales and profile and inducing upgrade envy.
It's just over five years since Google released its first true home-grown phone, the Pixel, a replacement for the Nexus phones that were previously heralded as the ultimate implementation of the Android OS. From the outset, the Pixel impressed with its camera and industrial design, and the seamless integration with Android made it the go-to device for those who wanted the very latest iteration of the OS.
Now it's time for Pixel 6, available as a regular phone and as the slightly larger Pixel 6 Pro, with boosted photographic capabilities and other enhancements. Launched alongside Android 12, the Pixel 6 family is intended to be a showcase for the software's new Material You theme and extensive customisation options.
We spoke to Ivy Ross, vice president of Design for Hardware Products at Google, and Philip Battin, Head of Seed Studio at Google, about the design process behind Pixel 6 and its integration of software and hardware.
Ivy Ross on Google Pixel 6 and Pixel 6 Pro
'Pixel 6 is a major evolution of the phone's design language,' says Ross. 'It's designed to deliver a much more fluid experience. It also houses a completely redesigned camera system – the phone has been designed around it.' As sensors and lenses blossom across camera backs, Ross and her team have decided to group everything together in a raised band that runs right across the back panel.
Throw in a new processor unit, Tensor, Google's first ever custom-built 'System on a Chip', and you have the most powerful, and most premium, phone ever to carry the Pixel name.
Photography is the major area to benefit, with new features like an enhanced sensor system, a new Motion Mode for action and long exposures, and a telephoto lens in the Pixel 6 Pro. There's also the spooky Magic Eraser, which can perform Soviet levels of picture retouching using AI, scrubbing photobombers from the background at the touch of a button.
There are other smart innovations, like Interpreter Mode, which can supply live translation over the air for more than 50 languages, as well as Google's excellent Recorder app, which transcribes as you talk. The 6 Pro ships with 12GB of memory and the regular 6 has 8GB, while both can have up to 256GB of storage. They're both capable of shooting RAW, stabilised 4K, timelapses, and slow-motion films; in short, everything you could possibly need. The fingerprint sensor is swift and accurate and the clumsiest among us will be happy to hear the phones are water- and scratch-resistant.
Celebrating the camera
'We designed the phone to celebrate the camera,' says Ross, 'so the lines are very clean and architectural.' The official case is also designed to fit around the camera bar, with a translucent recycled material that allows the new colour choices to filter softly through. Ross explains that the Pixel 6 Pro comes in bolder colours than ever before. The colour combinations are playful and a world away from the drab utility of early mobiles.
The 6.4in Pixel 6 comes in Kinda Coral, Sorta Seafoam, and a more sober Stormy Black, while the larger 6.7in Pixel 6 Pro's exclusive colours are Sorta Sunny and Cloudy White, along with the black.
Ross also demonstrates how the slim recycled aluminium edging that marks the border between the Gorilla Glass screen and the rear panel and camera is subtly picked out in silver or gold. 'In the past we covered up the materials but now we celebrate them,' she says. 'The Pixel 6 Pro is premium redefined. It was inspired by jewellery and watch design.'
Ross acknowledges that creating a smart phone is ultimately constrained by a relatively limited materials palette. 'In the future, our ideal approach would be to invent materials. We're already using recycled materials as much as we can. The fewer processes you use, the more responsible you are being.'
Ross also stresses how important it is that we keep our phones for longer. 'The most sustainable thing we can do is improve the phone you already have,' she admits. 'We will support this phone for five years, as well as take back your old phone and recycle it.' Android 12 is a big part of this push for longevity. Although the operating system is debuting on the Pixel 6, it'll eventually be available to install on tens of millions of existing devices around the world, giving them a welcome refresh that should stave off the desire to upgrade.
A tweaker's delight
Philip Battin says the integration of hardware and software was unique for a launch of this scale. The Material You theme is a tweaker's delight, not least because the system can generate a palette from the selected wallpaper, adapting the entire UI to suit. There are even themed icons for a more unified homepage (although mixing and matching old and new icons can be a bit jarring), plus the team has commissioned new photography and art for the launch.
'Our long-term goal is to have as many unique expressions as there are customers,' says Battin. 'There's a very deep level of colour customisation.' Text and icons are designed to be easier to read. 'The new UI is also a truly universal and inclusive design system,' he adds. 'Accessibility isn't just an afterthought. That's a big responsibility as a designer.'
As a result, every attribute can be changed, whether it's contrast, colour, size, or line thickness. The overall on-screen appearance is also flatter than before, with no drop shadows, faux 3D or skeuomorphic design elements. Subtle animations are triggered by actions like plugging in chargers, or scanning your fingerprint, giving you a more immediate, tactile relationship.
'When you pick up the phone it should feel alive. These devices need to feel like they're part of our lives,' Ross says. 'With Pixel 6, we have opened up a whole new design dialogue.'
INFORMATION
store.google.com (opens in new tab)
design.google (opens in new tab)
Jonathan Bell has written for Wallpaper* magazine since 1999, covering everything from architecture and transport design to books, tech and graphic design. He is now the magazine's Transport and Technology Editor. Jonathan has written and edited 15 books, including Concept Car Design, 21st Century House, and The New Modern House. He is also the host of Wallpaper's first podcast.