'Make Something Wonderful' is the first publication from the Steve Jobs Archive
The ultimate exploration of a singular mind, 'Make Something Wonderful' is Steve Jobs in his own words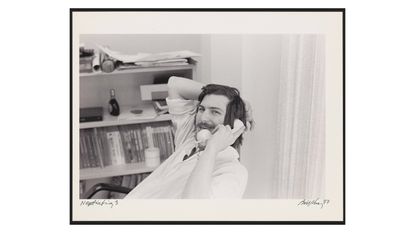 (Image credit: Steve Jobs Archive)
To learn from the history of the recent past, one needs a strong filter. The accumulated cruft of modern life means that most people's legacies will be buried deep beneath the digital detritus of day-to-day life. The Steve Jobs Archive was launched in autumn 2022 as a repository for the life, work, writings and correspondence of the late Apple CEO.
The website's minimal interface was shaped by Work & Co, and offers up curated snapshots of Jobs' thought processes, from speeches, interviews, writings and letters. Whereas most archives focus on the physical ephemera of a life or lives, the Steve Jobs Archive is explicitly about ideas, and how they gestate, emerge, and evolve upon contact with other ideas.
Make Something Wonderful is the archive's first conventional publication, albeit with a twist. Taking a carefully selected number of Jobs' speeches, interviews, and correspondence, the physical book sets them out in a uniquely immersive format. The design team behind the physical book is none other than LoveFrom, the post-Apple consultancy that Sir Jony Ive established.
However, that version of the book is for Apple, Disney and Pixar employees only, making it an instant, limited-edition collectible. For the web publication, which will be made free to access from 11 April 2023, Ive and his team have taken another tack, splicing the dynamic accessibility of online design with the craft and detail of print. A ribbon of text can be zoomed into freely, a format that deploys the typographic precision that Jobs was so invested in. The online book uses the studio's own LoveFrom Serif, combined with fullscreen images and a discrete right-hand scrollbar for chronological navigation.
The reading experience is designed to be fluid and immersive, regardless of the subject matter. It spans speeches, interviews, writings, and notes, along with candid emails from behind the scenes, whether negotiating his return to Apple, negotiating on behalf of Pixar or just offering everyday tech support. In addition to the web format, a conventional eBook (not designed by LoveFrom), will be made available on Apple Books. Edited by writer and historian Leslie Berlin, executive director of the Steve Jobs Archive, the book also has an introduction by Jobs' widow, Laurene Powell Jobs.
Jobs is often hailed as a visionary who saw the potential of technology to change people's lives, while being unafraid to take risks – both personal and corporate – in order to bring his ideas to life. Make Something Wonderful is a journey into his mind.
'Make Something Wonderful: Steve Jobs in his own words', will be available from 11 April 2023 at stevejobsarchive.com/book and Apple Books, with other platforms to be announced soon
LoveFrom, LoveFrom.com
Sarah Douglas is Editor-in-Chief for Wallpaper*, where she is responsible for the content across the print magazine, digital platforms, in-house creative agency Bespoke, brand partnerships, and events. Joining Wallpaper* in 2007 as Art Editor, Sarah became Creative Director in 2012, before being named Editor-in-Chief in 2017. During this time she has commissioned an array of illustrious artists and designers including Jean Nouvel, Yayoi Kusama, Tom Sachs, Nendo, Virgil Abloh and Jenny Holzer; championed talents such as Formafantasma, Sabine Marcelis, Martino Gamper, Bethan Laura Wood, Philippe Malouin, and Craig Green; and overseen partnerships with leading brands including B&B Italia, Prada and Rolex. Sarah is also a member of the judging panel for the London Design Medal, and regularly judges for international design competitions.