Jony Ive remembers Steve Jobs ten years on
In a published remembrance in WSJ Magazine – marking ten years since the death of Steve Jobs – Jony Ive, former chief design officer of Apple, reflects on his friendship and collaboration with Jobs, and how it inspired his LoveFrom creative collective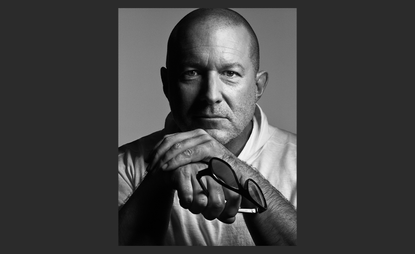 (Image credit: Craig McDean)
Wallpaper* Newsletter
Receive our daily digest of inspiration, escapism and design stories from around the world direct to your inbox
Thank you for signing up to Wallpaper. You will receive a verification email shortly.
There was a problem. Please refresh the page and try again.
Jony Ive, former chief design officer of Apple, reflects on the tenth anniversary of Steve Jobs' passing, in a published remembrance in WSJ Magazine.
Jobs, who was Apple's chairman, CEO and co-founder, appointed Ive as Apple's senior vice president of industrial design in 1997. After Jobs died on 5 October 2011, following an eight-year struggle with a rare form of pancreatic cancer, Ive delivered a eulogy at a celebration of Jobs' life on the Apple campus in Cupertino.
Since then, 'I have not spoken publicly about our friendship, our adventures or collaboration,' Ive states in the remembrance. 'But I think about Steve every day.'
Jony Ive: 'I think about Steve Jobs every day'
In the eulogy, Jobs had declared Ive his 'closest and most loyal friend'. In the new remembrance, he elaborates on a close creative partnership that became an enduring friendship: 'We worked together for nearly 15 years. We had lunch together most days and spent our afternoons in the sanctuary of the design studio. Those were some of the happiest, most creative and joyful times of my life.'
Most people have an innate curiosity, but Ive contends that after a conventional education, or in a collaborative work environment, curiosity becomes a decision that requires 'intent and discipline'.
Jobs liked to explore tentative ideas. As Ive describes, 'for Steve, wanting to learn was far more important than wanting to be right'.
It was a reverence of tentative ideas, and a lack of fear for the 'terrifyingly new', that made Jobs a visionary. 'He understood creating should be afforded rare respect – not only when the ideas were good or the circumstances easy and convenient.'
Design as an expression of love for humanity
Ten years on, Ive says that his understanding of Jobs continues to grow and evolve.
Ive recalls that Jobs was obsessed with 'simplicity, truth and purity'. 'Above all else, I have come to appreciate and understand his singular and beautiful clarity that defeated the chaos, the roar of opinion and ugly rush to judge.'
In 2019, Ive left the chief designer officer role at Apple to create LoveFrom, a London- and San Francisco-based creative collective of designers, architects, musicians, filmmakers, writers, engineers and artists. He now attributes the collective's name to 'Steve's singular and powerful motivation'.
LoveFrom announces its collaboration with the Emerson Collective
Beyond Apple, which became LoveFrom's first client, the collective is working with leading global companies such as Airbnb and Exor (Ferrari's holding company). To this list of collaborators, it now adds The Emerson Collective, set up by Jobs' widow, Laurene Powell Jobs.
'Laurene and I are close,' Ive describes. 'Our families have been close for nearly 30 years. We have endured deaths and celebrate births. We talk all the time. [...] Mostly, we talk about the future and her extraordinary and inspiring work with the Emerson Collective.'
Founded in 2004, Emerson Collective is an organisation that works towards a more equal and just America, with a focus on 'creating systemic change in education, immigration, climate and cancer research and treatment'.
Ive continues: 'Laurene and I are at last working together. In truth, we have been working together for decades.'
Jony Ive on missing Steve Jobs
Ten years ago, as Jobs and Ive bade each other farewell, Jobs' last words were that he would miss talking together.
After Jobs died, Ive walked out into the garden. Ive recalls, 'I thought how talking often gets in the way of listening and thinking. Perhaps that is why so much of our time together was spent quietly walking or eating.'
He concludes: 'I miss Steve desperately and I will always miss not talking to him'.
INFORMATION
The remembrance article appears in WSJ Magazine
Receive our daily digest of inspiration, escapism and design stories from around the world direct to your inbox
Sarah Douglas is Editor-in-Chief for Wallpaper*, where she is responsible for the content across the print magazine, digital platforms, in-house creative agency Bespoke, brand partnerships, and events. Joining Wallpaper* in 2007 as Art Editor, Sarah became Creative Director in 2012, before being named Editor-in-Chief in 2017. During this time she has commissioned an array of illustrious artists and designers including Jean Nouvel, Yayoi Kusama, Tom Sachs, Nendo, Virgil Abloh and Jenny Holzer; championed talents such as Formafantasma, Sabine Marcelis, Martino Gamper, Bethan Laura Wood, Philippe Malouin, and Craig Green; and overseen partnerships with leading brands including B&B Italia, Prada and Rolex. Sarah is also a member of the judging panel for the London Design Medal, and regularly judges for international design competitions.
With contributions from