LoveFrom's Jony Ive and Marc Newson join forces with Ferrari
Jony Ive and Marc Newson's creative collective LoveFrom is teaming up with Ferrari just as the carmaker gears up for its first all-electric model. A wider collaboration with Ferrari's holding company Exor 'will explore a range of creative projects in the business of luxury'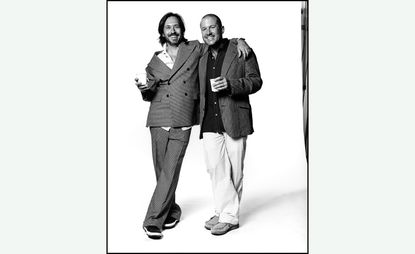 (Image credit: David Bailey)
Jony Ive and Marc Newson gear up with Ferrari
Jony Ive and Marc Newson of creative collective LoveFrom are joining forces with Exor, Ferrari's holding company, for a long-term, multi-year partnership.
According to Exor's announcement, released on 27 September 2021, 'the first expression of this new partnership will bring together Ferrari's legendary performance and excellence, with LoveFrom's unrivalled experience and creativity that has defined extraordinary world-changing products'.
The partnership represents LoveFrom's first major project beyond Silicon Valley, a highly anticipated move from the creative collective. Comprising designers, architects, musicians, filmmakers, writers, engineers and artists, LoveFrom was founded in 2019 after Ive left the chief design officer role at Apple. It maintains a close relationship with Apple (its first customer), and began to work with Airbnb last year to design the sharing economy platform's next generation of goods and services.
Jony Ive and Marc Newson gear up with Ferrari
Says John Elkann, chairman and chief executive of Exor and chairman of Ferrari: 'Soon after LoveFrom was founded, we began to talk with Jony and Marc about opportunities to combine their world-renowned creativity with ours in complementary and incremental ways. Ferrari represents a first exciting chance to do great things together as we build our future.'
Ferrari had previously confirmed that it would launch its first all-electric car in 2025, anticipating the European Union's effective ban on new fossil-fuel cars from 2035 – so LoveFrom is poised to make its mark on the luxury carmaker at a historic moment.
RELATED STORY
Add Ive and Newson: 'As Ferrari owners and collectors, we could not be more excited about collaborating with this extraordinary company, and in particular with the design team, expertly led by Flavio Manzoni. We see some uniquely exciting opportunities of working together.'
The Ferrari partnership follows a flurry of high-profile design collaborations by the carmaker. In 2017, it celebrated its 70th anniversary with a blockbuster exhibition 'Under the Skin', with 3D design by Patricia Urquiola; while the following year saw the publication of a monograph, published by Taschen and enclosed in an aluminium engine-inspired case designed by Newson. An ambitious brand diversification project rolled out earlier this year, with a fashion collection overseen by Rocco Iannone, formerly of Pal Zileri, and a new flagship store in Maranello, Italy, by Sybarite.
LoveFrom's next steps
Beyond the Ferrari collaboration, 'LoveFrom will explore a range of creative projects with Exor in the business of luxury', says the announcement, fuelling speculation about next steps. Other brands in the Exor portfolio include Italian football team Juventus, Italian media conglomerate Gedi, Chinese luxury fashion label Shang Xia, and Britain's The Economist Group; collectively they could offer a wide range of possibilities for design innovation.
Exor additionally announced that Ive would join its Partners Council, an annual forum that 'draws on the experience, expertise and insights of a group of highly successful Exor friends and partners to share ideas and explore potential business opportunities'.